Six-times a winner of the UK Championship, Steve Davis recently ensured that he will be back at the tournament again this with victories against Ian McCulloch and Andrew Higginson in qualifying. Steve spoke to the press following his 6-2 win against Higginson and following that he also took time to speak to PSB about a range of subjects including his own form at present, a potential move to a money list, the UK Championship format change and much, much more…
Press Conference
World Snooker: How was today?
Steve Davis: It was pretty nervy and horrible! It was a bit of an ugly one and while I think that I was all over the place, especially at the start, he was more all over the place. I wouldn't say that it was a comedy of errors but we really struggled out there to get any fluency. But it's quite a nerve-wracking match, not least because you want to get to the main event and also it should be easier for me having had one match.
It's harder for the player coming in cold. That has always been the case but you take your chances being higher up the seeding list, that's the way our game works so you can't moan about that, but from Andrew's perspective that's one match he would really like to win to get through to the UK's. For me I think great, I'd love to get through to the final stages so I don't have to sit with John Parrott for a day at least, you know that's my whole reason for playing the game!
WS: The fact that the winner was playing Ronnie, was that an extra thing?
SD: I wasn't aware of that until I saw someone on Twitter saying it…
PSB: Sorry!
SD: Oh was it you? To be honest I don't look at the draw any further than one round at a time, don't worry about that! To some degree I have always done it so I was aware that the outcome would be a match against Ronnie. You can't ask for…that's what you are playing the game for; you have got to enjoy that.
I wouldn't say that really changed anything out there. It was one of those bread and butter grafting in the qualifiers where both players are tearing their hair out trying to get in amongst the balls and if they do they are messing it up and have to have another go but it is enjoyable grafting away as well.
Steve fields the questions
I don't get upset when I play rubbish stuff, I just hope that there is another shot around the corner and he might play just as rubbish. Take today's matches, sometimes one player plays great like Tom Ford probably did or Rory McLeod and the other guy probably feels a bit aggrieved. But if they had seen the standard on ours then they might have thought 'can we join that one?' Barry might have played better than we both did and he's out, it's funny how it works like that.
WS: Do you think Stephen [Hendry] will take a while to get used to it if he doesn't get back inside the top 16?
SD: It's still snooker, it's just a game of snooker. It's not a terrible thing being out there in that arena [the main arena at the South West Snooker Academy], it's as nice an arena as you can play in. It's how you cope with where you think you are in the game and your confidence levels really. I think it's how Stephen is with his game and how confident he is feeling, qualifiers or not. If he can up his standard then that's not a problem. He'll win some and lose some, that's the nature of the game these days.
I don't think Stephen has got anything in particular to worry about, so long as he is optimistic rather than pessimistic. So long as he gets the attitude right I don't think there is a problem because he can still play. It's a bit of a blow to the ego but he can take a few dents in that.
PSB: Can you remember your first match at the qualifiers when you first slipped out about a decade ago?
SD: Yeah, I slipped out for a couple of years didn't I? At that stage the qualifiers were in Burton on Trent and I went there and just got stuck in and really enjoyed it. I didn't lose a qualifying match that first year. It was a good strike rate at the very least and I enjoyed the challenge to be honest.
Stephen Hendry
I didn't think that I wasn't supposed to be there, I just thought that's how it is, results speak for themselves, I'll roll my sleeves up and see what happens. I think Stephen will have that attitude, even if he might not have immediately had that attitude as far as some of the PTCs are concerned but he hasn't got a problem, he's a competitor.
But I'm delighted to get through because I haven't really done that well in the rankings this year and I was looking at my PTC performances to keep me on the tour. I think I have done that now but it's not the best way to stay on the tour. I need to do well in a couple of the big ranking events to really keep afloat but having said that going through the PTCs or the Q School would have been a challenge somewhere down the line anyway, for everybody. I would enjoy playing in that, even if that was all I was ever going to play in. I was thinking about that the other day and if you get worse and end up dropping off the tour, if you can play in those PTCs, it's still a challenge to get back in.
Janie Watkins: Would you still play if that ever happened?
SD: Yeah I would.
JW: Would you go and play in those world events and so on as Darren Morgan has?
SD: I don't think I would play in the IBSF stuff. The challenge would be the thrill of playing against the top players and the chance to get through to play one. My plan is also not to get there though!
PSB Interview
PSB: Your thoughts on both of your matches, starting with Ian McCulloch yesterday…
SD: I think I've played a hell of a lot better than that and lost, in both of those matches if I try to judge my performance. That's the vagaries of form but also you mustn't get upset if you are not playing brilliantly, it does depend on how the other guy is playing and when sometimes you have players that don't play that well against you it's actually quite nice because half the time people do play well against you!
You expect the standard to be high and play well against you, so when it doesn't happen you have got to try and grasp it because it doesn't happen very often and I didn't play great against Ian McCulloch at all and I was thinking that I have probably played better and lost matches. I played against Shaun Murphy over in a PTC in Ireland and played great, I didn't play anywhere near like that against Ian but he helped me out and the same today.
In action against Shaun Murphy
I expected Andrew to come out with a lot better standard and he didn't which in a way added a little bit of pressure because you think 'blimey the bloke isn't playing well, he's not showing too much form yet, I have got to make the most of it' and then it puts you a little bit on edge as well.
Sometimes you feed off each other in the bad play, in the scrappy play because you are both thinking 'if I can get going…' but if one player is playing well sometimes you play well accordingly, you both raise your game.
PSB: Like you say when you played Shaun in Ireland that was terrific…
SD: Oh yeah I loved it.
PSB: Looking at the state of your game at the moment, you seem to be playing well, having had the run in Poland and that performance in Ireland…
SD: I feel much more in the competitive zone at the moment. I feel like I have got my competitive head on than one that had lost touch a bit last year.
I really felt that I did well in the World Championship against John Higgins and fell apart against Neil Robertson in the first session but that was a good World Championship for me and I was quite optimistic coming into last season and it just…I don't think I ever played well one match, I can't remember.
It was my most disappointing season and also it didn't really seem like I was getting any flow in my matches. I wasn't playing more than one match and getting any consistent match play before I was going home again before the next tournament, so this year I've played myself into a little bit of competitive form so I have quite enjoyed the challenge.
PSB: Does that just come and go at this stage of your career?
SD: I have always been a believer that you can always try to improve things like technique…
PSB: Even now?
SD: Yeah, even though your body doesn't like the experience of standing up when you have got to pot game ball as much as it used to. The tightrope walk gets harder as you get older, the body doesn't quite react as well as it used it, it betrays you a little bit but that's the way it is.
But I don't try to give up improving on something technically, or just see if there is something going wrong in that department, but it doesn't really help you when you are trying to hold yourself together to pot game ball.
So it's nice when you pot a few of those because they give you the confidence that you need. Once a player starts knocking in a few winning shots you can see them get a spring in their step at the next tournament I'm sure.
PSB: Obviously recently you had that run in Poland, once you got to the semi-finals did you have your eye on winning it?
SD: I had a chance to win the semi-final against Ricky Walden and I felt a lot more competitive so from that perspective I am really looking forward to the rest of the season and not shying away from it. I think it is the attitude of being optimistic and not pessimistic as to what is going to happen when you get on the table or I can't wait to see what happens
PSB: Now we've got the majors coming up as opposed to the PTCs, are you looking forward to that?
SD: Yeah I am. Obviously I lose a lot of points when the World Championship drops off and it is something new for the players to study and to be quite honest I think you can go mad looking at all the points, when really you have just got to go onto the table and play. But I am aware that I will drop points so I was quite pleased that my PTC performances were quite strong.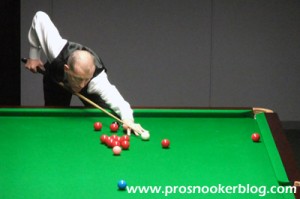 Davis at the 2011 World Championship qualifiers
What I would like to do is to get into the PTC finals; I think that would be great. I think that would be a really good achievement for me. It's hard for me to judge myself as to what is a successful season these days because there are so many good players, but to make it to the PTC Finals would be a bit of a performance. With only 24 players, that is something I am really going to try hard to do.
PSB: Talking about the rankings, on my blog I keep a running total of the points situation, as a player how conscious are you of the points and the cut-offs and so on?
SD: I think we all are conscious of it but whether I play one more round of qualifying or not, does it make any difference? Yeah fractionally, but it doesn't stop me playing snooker.
More importantly I don't want to drop off the tour. That is my challenge. If I did have a long-term ambition it would be to see how long I can stay on the main tour and set the benchmark and say 'go on then, beat that!'
Barry said to me the other day that I have got to try and stay on until I am 60 and I said 'leave me out of it, I am just about holding myself together as it is', but then I'm thinking I might as well just see how long I can stay on. Every year is another one that someone else has got to do, it's one in the bank. By hook or by crook, even by the PTC backdoor so long as it counts!
PSB: One match I did want to mention was last year at the World Championship when you beat Jack Lisowski from 7-3 down with back to back centuries which I was there for, the way you played that second session was incredible…
SD: Funnily enough back against the wall I've done alright in a way, sometimes starting off in a match has been a bit s**t, or it has been, but once I have got going and the guy has gone in front, sometimes you have got nothing to lose and I have done ok.
But I sensed that he wasn't guaranteed to get over the line from the way that he was fairly open and I just sensed that it wasn't over.

Stephen Lee during his 2011 World Championship win against Steve
But then [in the next round] Stephen Lee absolutely annihilated me, wow he played like a God, I might as well have not been there, he just cued so well. A bit unlucky for him that he came up against John Higgins and he wasn't the same player, but then again it's a different venue and everything. For me Stephen Lee was a tough match and getting through to the final stages is getting harder and harder so if you have got to play three or two, well I'm not too sure it makes much of a difference.
PSB: On another note we have just had the World Seniors, generally what did you make of that experience?
SD: Oh excellent, there is a good vibe around it, all of the players are pleased to see each other, they are all more relaxed than they would be. It is funny seeing everyone walk around saying that they haven't practised, that they don't play anymore and you go 'oh ok' and they clearly have practised which was hilarious.
I thought that it was an excellent event and something that might as well be on the calendar, so long as they can get the format right and I think that three frames is enough. We're not trying to find the best player so much in the World Seniors as another tournament. If we wanted to try and find the players we would have another best of 17 or whatever if that's what it was all about, but it's not. It's about celebrating the fact that some of the older players can still hit a ball and it might be enjoyable.
PSB: Terrific crowds as well…
SD: Fantastic, absolutely marvellous and you know when you come up against a crowd like that, you think this is what you play for. You play a lot of these bread and butter matches at PTCs which there are not that many people at and you think where are your priorities, playing well in that?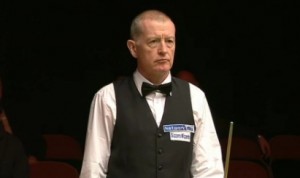 Steve at PTC8
But that is a one-off, so you can understand why a player might get motivated for that rather than the qualifiers. That's a problem that every player has to come up against and deal with where you have to get yourself up for it because the crowd won't do it for you, but at the Seniors, everyone was just buzzing playing their matches. Not everybody played great but it was still exciting.
PSB: Are you enjoying the whole Twitter thing at the moment?
SD: Yeah, I decided to do it because the BBC started me off doing it during events but I hadn't really worked out how it all worked. I hadn't embraced it properly so I thought that I would embrace it and see what the outcome was and I am thoroughly enjoying the camaraderie that seems to be there amongst the people. I didn't really understand that it's a bit like being at the pub really with people dipping in and out of conversations. It's quite useful, not just for information but for finding out things.
I think the snooker side of it you can keep it up to date with what is going on, you are relentless like I said before, but that's good. You don't have to go onto the internet anymore to find out the results, it has overtaken a lot of things, so I'll keep it up. Sometimes on match days I don't but I did do one about the poppy thing that I was talking to Martin Clark about the other day…
PSB: And I saw you having a bit of fun with Michael Holt too…
SD: I saw Holty's one and that was hilarious, it was quite funny really but somebody like Michael you can have a laugh with someone you don't necessarily see all the time.
PSB: You probably sense it from Twitter, the blogs and the standing ovations that we were getting at the Crucible that there is such a wave of support for you at the moment, how do you find that?
SD: It's very nice, that's something that I really do enjoy so I shall thoroughly enjoy my moment of going out at the UK.
If you are going to argue what is one of the plus points about the tournament being a best of 11, every match is a TV match so from that perspective I didn't really know who I would be playing, but I knew that if I did qualify then I'm on the main table. I won't be put on one of the back tables because my match coincides with one of the heavy hitters and I am playing against somebody unfashionable in the backyard, so I think that is the good part about it.
So I think that funnily enough whilst lots of people don't like the fact that it has gone from best of 17's to best of 11 and obviously there is less breathing space, I was actually thinking maybe it's better to have it all done and dusted in one day. Two sessions is like a different mindset, it's a different match, but when you look at prize monies and how big an event it is compared to the World Championship or compare it to the events in China, it aint that much bigger. It's on BBC but what are you talking about? The difference between a hundred grand and 60 grand or whatever? Unless you win it some of the prize money isn't that different and you have got to play twice and I was thinking actually I'm not too bothered.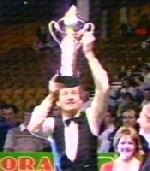 Steve with his first UK title back in 1980
It's not going to make or break my season and it's a fair test best of 11 and you don't have to hang around. One of the worst things is when you are 7-2 down and have got to hang around to get slaughtered. Ok fair enough at the World Championship but the bottom line for me is that it's only us who cares. Nobody else gives a monkeys if it's best of 11. This is a snooker factory and we are getting a result for the main event and I don't think that it will detract from that.
People are going to turn on the television and see a result, rather than sit through sessions where nothing happens. Whilst it would be easy for me because my mate is running it…I actually thought about it and thought well, overall does it really make a blind bit of difference and is best of 11 a fair test? It's a couple of more frames than a best of 9 and a lot more breathing space than at the PTCs. Wimbledon is the best of five all the way through, what are we moaning about?
PSB: What would your opinion be on the proposed change to a money list compared to the points-based ranking system that we have at the moment?
SD: When Barry first mooted the idea I thought well how are you going to do it without it being more protective for the top players because anyone seeded through is automatically on more points and more prize money whereas we have got a structure which while it may be argued that it's not perfect with half points for not winning, but that was the only way that they could make it fair.
So then if they change to a money list then that is far more protective, unless they say half money (that would be quite funny, you could save a bit of money!). So unless they change the contracts next time around to say that no longer are the top 16 seeded through to the televised part, it is going to be far harder.
I don't know how he does it with the darts but there is the big problem. I think he likes the idea of it because people can relate to it, but I don't know how it is going to work. There may be a lot of unease with the lower ranked players if he tries to steam roller it through without taking into account the fact that they have already got their seeding through to the latter stages.
PSB: Have you got a view at the moment on the PTCs?
SD: I don't really know what the general feeling is. It costs money to play in them. It's not necessarily that much reward, there is obviously the problem of them thinking that they are having their arms twisted to play in them because of the ranking points and of course that is the case.
I can see that if the game is going to grow in these countries it is a much easier task if the players embrace it and go with it. It is match play and you could argue that you can't buy it. Well you can, you can buy your place in the PTCs and if you don't have all those matches you are short on match play. Ok you can play somebody in the club but there is nothing like those and that can kick-start somebody's season off.
So you can't just say it's all about how much it costs, there is a bigger picture. There is a possibility if you make it into the top 24 there is a big prize at the end, if you have got a sponsor he is going to get his logo on television. It is a glass half full job and from my point of view I am thoroughly enjoying sticking my head in the deep end.
It is easy for me to say I don't have a problem with how much it costs, I understand that. I understand that it is tough on some of the players but if you look at some of the Euro Pro Tour Golf events and all those young kids playing on the golf tour and how much those kids have to pull up to try and be a golf pro then I would say that is probably far more. You have got to stump up a bit of dough.
I think the future for younger players is that they have got to be a little more self-promoting, getting themselves known in their areas to get someone to sponsor them. I think that you can't just sit and wait for somebody to come and sponsor you.
Perhaps the WPBSA could probably help you with how to promote yourself because when you think of how much people spend on racehorses, if you get some bloke who throws money at a racehorse trainer every week for the upkeep of hay or whatever it is…if you can't find somebody in your local area to invest six grand in you rather than throwing six grand down a horse's mouth, then you could say you are not doing your job right because they have got to be out there.
There have got to be people, businesses with a good few quid who for a bit of fun will say 'go on then, you seem like a nice young lad', there has got to be a bit of that. I am sure that young golfers do it so that is the future. They have got to be a little bit more proactive.
PSB: Yeah, for example there is a young amateur called Ben Harrison at the moment who has been on Twitter, got 500 followers and so on which has boosted his profile and he has now got a couple of sponsors, perhaps from that…
SD: People spend fortunes on racehorses but what do you do? You watch it run and talk to the trainer. What if you are sponsoring a young kid to play in the PTCs and you go along and watch him and talk to him and gee him up and you have got some sort of human interaction. You can't talk to a horse. So that's something I think that the future might be.
PSB: One last thing, we spoke yesterday about the recent article that I did and you mentioned that you felt that the 1997 Masters victory would probably be your choice…
SD: Following up from that actually, the other thing was that I am a lot further down the line with how old I am which negates a little bit of…well it's quite a tough question. In '97 I was 40-years-old, so I don't know how much difference per year you could shave off your performance as you get older in a non-athletic sport, but there is some difference as you get older.
It gets harder so all-things considered I think that the game against Higgins and the Masters final are on a par perhaps. Though I still gravitate towards winning…
PSB: Looking at your other achievements, what I found interesting is that growing up I had assumed that your last world title had perhaps been more of a struggle but looking at it properly it was perhaps your most dominant…
SD: Yeah, I know yeah, but then Stephen Hendry came along and I started the next season winning the first two ranking events of the season and then it all went tits up from what I remember.
The other thing that I am most proud of was winning eight Irish Masters in a venue that was superb [Goffs] – that was a proper venue, full houses all the time, a melting pot of pressure and I did so well there. That is something that I was very proud of to have had eight wins in that. I never did very well at the Masters in London, bottled that venue and never really felt at home there, but I did feel at home at Goffs and I am proud of that.
Thanks to Steve for his time and good luck to him for the rest of the season. You can follow him on Twitter by clicking @SteveSnooker.