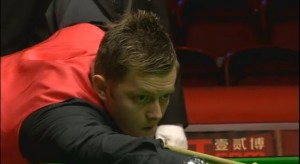 Following Mark Allen's comments on Monday, there has been a tremendous amount of discussion generated on the various blogs, radio stations and unsurprisingly Twitter. Click below for the best of the views that I received, both in support of and against Mark's comments, as well as my own thoughts…
UPDATE: I have since been informed that Adrian has been misquoted in the article with the Shropshire Star
Following the initial discussion yesterday evening in respect of Mark Allen's press conference remarks, this evening it came to light that fellow professional Adrian Gunnell has been quoted as being in full support of the Northern Irishman, telling the Shropshire Star the following:-
"I totally agree with him."
"It's very brave of him to say it because he's put his head on the chopping block and we are gagged these days – we can't say what we feel because we start getting fines. It is the players who voted for Barry Hearn so they only have themselves to blame. It is getting like darts in that people are encouraged to shout and they're drinking and getting drunk."
"There is nothing wrong with the sport, it doesn't need these drastic changes and they are cheapening it."
"When the vote was imminent and it looked like it was going to be pushed through, I advised everyone this would be the case but no-one listened."
"I still feel I could happily walk away from it," he added. "But at the moment I've got nothing else I want to do."
What struck me about the comments is that aside from the Shootout and the Power Snooker event, a tournament which despite now falling under the World Snooker banner is not a concept devised by Hearn, I don't particularly see a shift towards a 'darts style' atmosphere in the game at present.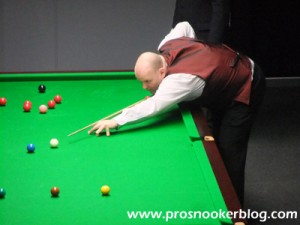 Having made this observation on Twitter, I then asked for your views on the debate as a whole and to me slight surprise I must admit, the response was sharply divided where I had perhaps anticipated a more one-sided reaction.
Those in the pro-Hearn camp so to speak included the following:
Regardless of the issues Hearn's reign have created, have folks forgotten the paucity of the Walker era not long ago!?
i'd be interested to know who they think should be running the game. Lee Doyle maybe?
 Tell Gunnell tonight is another sell out almost. Customers are king. Still a great event.
I understood that correct, that allen and gunell want the 6-tournament-season back? i mean… what the f… ?
If all players played the game like Gunnell the sport would be dead!
I think the only thing that's wrong is there is too many ptcs. He's put snooker back on the map again.
More ranking events = fantastic. "Darts atmosphere" = personally, don't enjoy. Overall, Hearn = excellent.
2 years ago there was hardly any snooker, every player has responsibility to develop the game.
What on earth is he going on about? Barry's only been in charge 5 mins & at least he's not dragging his heals like last lot
In particular there were a couple of responses from current professional players that whether you agree with them or not are well worth reading, the first coming from Australian Open champion Stuart Bingham:
I'll put my 2 pennies worth in so here goes! A lot of the players were moaning about the UK being shortened but 14 out of the top 16 got thru because we've been playing so much! Everyone is moaning about Barry Hearn but someone with his credibility running our game we should be thankful that he wants to! There are too many selfish people in snooker, that's why the game was in the state it was! Most of the snooker players don't see the bigger picture what Barry is trying to do! Everyone wants everything perfect right now but we all have to work together but it'll never happen because as I said, too many selfish people in the game at the moment! 2 years ago we had 6 tournaments, now over 25! Hearn resign…..get real!!!
The second comes from Leeds' David Grace, a player at the other end of the rankings who is fighting to establish himself on the main tour:
Here goes nothing my view on snooker. I'm a snooker player, I want to play snooker. And I'd rather be doing it in a box in Sheffield for £200 than in the club practising. Barry Hearn is a professional sport promoter with a proven track record. Who is better qualified to make decisions about the direction the game should head in, him, or the players who know nothing about business? Turkeys wouldn't vote for Xmas and the players have never voted to do more work for the same money, why would they? New tournaments and sponsors aren't going to appear from thin air and they aren't going to rush to invest when all they see in the papers is negativity. The players have run the game for 30 years and was dead on its arse 2 years ago, 6 tournaments in places like Sheffield, Newport, Aberdeen, Telford. How could anyone expect the game to grow with such a UK centric circuit? Some players were and still would be happy with a circuit like that, but if they want the kind of prize money the golfers and tennis players are on then they're gonna have to work as hard as those guys do and it isn't going to happen over night. If you don't want to play snooker why did you become a snooker player? Rant over
As I explained however, such sentiments are not unanimous and there are those who over the past 24 hours have agreed with Mark's comments, or at least expressed reservations as to the purported progress that is being made:
Maybe it is because

@pistol147

is just saying the things aloud that a lot of other players think. As a fan I agree with him.
Allen was a bit contradictory in saying that he believed Hearn would do good for snooker in the long run.seems a bit selfish, if he truly believes that Hearn will do good in the long run. Having said that I do agree with Allen, aside from the point that he'll do well in the long run. It is being changed too much, and if he continues in that vein he should go. Changes do need to be made…but not at the expense of top players. O'Sullivan, Maguire, Higgins, Allen all unhappy. To clarify, there needs to be a balance. Can't just come in and try to do same as he did with darts. Very different sports.
I think you're wrong to say the game needs Hearn, Matt. It needed someone,sure, but I don't think Hearn is necessarily best. Just don't think a sport should be 'owned' by one man. No other sport is owned in such a manner.Players should 'own' a sport.
If snooker is in a healthy state pls explain why half the snooker clubs in london have closed & whats left added pool tables…clubs closing is linked to a decline in the pro game, no one playing means no one watching means no sponsors for the pros
Surprised that Mark has been the one to say this, theres a few that arnt happy with the way things r going
I have t agree with Mark Allen. We dont want snooker turning into Darts! I like the good old traditions.
he's right. Disgraceful what he's doing to the big events. Plus having these smaller tournaments show on eurosports is pathetic. I could cover it better with my camcorder. No interviews? What is Hearn playing at? Plus messing about with the uk? What next women in bikinis in between the frames? Get him out or tone it down!!
All of which begs the question then – what do I think?
For me I can understand why some might have reservations concerning some of the things that Barry Hearn is currently trying to do. The PTC events and the expenses incurred, particularly for the amateurs are a genuine concern in my view and there are issues there that need to be addressed by Hearn and the governing body going forward.
Furthermore the reduction of the UK Championship format has not only caused controversy, but perhaps more worrying has led to a sense of mistrust between Hearn and both the fans and the players given his previous promise not to alter the formats of the 'crown jewels' such as that event, with fears that the World Championship may be next in the firing line.
However, when looking back 18 months ago to when we had just six ranking tournaments, with in some cases a couple of months between events, for me it is impossible to argue that snooker is in a worse place than it was back in those dark days when players could barely describe themselves as professional given their relatively light workloads. As both David Grace and Stuart Bingham have astutely pointed out above, the game was allowed to drift into that situation in the past and only now are we beginning to see any change.
For sure the situation is not yet ideal, far from it in fact and following his previous comments, Mark Allen has since given an in-depth interview to his management company On Q Promotions during which he does in my view talk a lot of sense.
Ultimately however, what must be considered when attempting to assess any of Barry Hearn's changes is that they are all part of a long-term plan and as such cannot be taken in isolation, nor can they fairly be judged now. There are also decisions such as the shortening of the UK Championship format which while I do not agree with from a fan perspective, were as I understand it necessary for a commercial one if the tournament was to remain televised by the BBC.
Looking back to where the game was before he arrived, I think that the game continues to need Barry as much as ever and continue to believe that he should be supported in what he is trying to do.
And ultimately, as Ali Carter told the press on Sunday:
"At the end of the day we haven't really got a say in it because we sold the game to Barry and he can do what he wants."