Not only did Tom Ford's victory at PTC11 mark the end of the regular PTC season in 2011, but it also concluded what must have been one of the most hectic snooker years on record as the players now head off for their Christmas break. As was the case in 2010 I will again be posting a series of 'Best of' polls for you to vote in and tonight I begin with that of best match…
Please note that the matches are listed purely in date order and you are free to vote for any other match from the year in the above poll, my choices are merely suggestions! Also I have not mentioned the 2011 World Championship and Shanghai finals below due to them being late additions to my list, however they are both included in the poll below.
Xiao Guodong 10-9 Kurt Maflin (World Championship, last 96)
At first glance a first-round match between two lower ranked players away from the television cameras would not appear to have any place on a list such as this, but anyone else who was watching during the second session in particular will understand exactly why I have chosen this as one of my selections.
It is often the case that when two players meet, only one of them is able to bring their 'A' game to the table but this was one of those rare occasions where both players were not only able to do so, but also sustain it throughout the course of a best of 19 frame match.
The match was to be tight from the off as the players traded high breaks, indeed there were six over fifty throughout the course of the first session which saw Xiao come out with a 5-4 lead. With his tour status on the line though, Kurt Maflin responded brilliantly, breaks of 91, 81 and 77 enough to give him three of the first four frames of the evening session and a narrow 7-6 advantage.
Maflin and Xiao shake hands ahead of the decider
The best was yet to come however as on their resumption from the final interval, between them the pair hit four successive century breaks (130, 135, 100 and 114), before Xiao was eventually able to take it with a run of 65 which given that it included a number of yellows and for the match, was as impressive as any of the century breaks.
I spoke to Xiao at the recent UK Championship qualifiers about the match and it was obviously one that he has not forgotten, indeed alongside his recent PTC win against Ronnie O'Sullivan, he described the match as the highlight of his career to date.
Stephen Lee 5-4 Mark Williams (China Open, last 32)
100(100)-32, 113(113)-0, 13-111(86), 34-60(46), 49(42)-60(52), 104(104)-8, 137(137)-0, 16-84(32, 48), 70(53)-72(61c)
Coming into the match as the defending champion and in with a chance of securing a return to the summit of the world rankings for the first time since the 2003/4 season, Mark Williams was a justified favourite to defeat Stephen Lee and he made the best possible start with breaks of 100 and 112 to lead 2-0.
To his credit however, Lee dug in, taking the next two to level before moving ahead with the aid of the best positional shot that I have seen in in 2011. Behind in the match for the first time, Williams again found his scoring boots with two further century breaks moving him into a 4-3 lead, before Lee forced a decider by taking frame eight in two scoring visits.
The early running in the final frame was made by the two-time world champion as Mark opened up a lead of 70-11 with just 67 remaining. Incredibly however it was Stephen who was to have the last laugh, an excellent break of 61 under extreme pressure enough to give him a 5-4 win and ensure that Mark Williams would have the unfortunate honour of becoming the first man to lose a ranking event match played over the best of nine frames having made four century breaks.
Judd Trump 10-8 Mark Selby (China Open, final)
0-104(104), 101(94)-21, 46-76, 0-104(104), 90(90)-34(30), 53(52)-69(57), 39(39)-67(61), 66(59)-65(36), 49(32)-89(68), 132(132)-0, 66(66)-0, 0-113(113), 134(134)-0, 40(32)-72(30), 124(124)-7, 82-31, 49-60(57), 41-51(51)
The first of four matches matches in this list to involve arguably the man of 2011, Judd Trump, this takes us back to the match that proved beyond doubt that not only does he have both the skill and the temperament to fight with the best players in the game, but that he is now himself one of those elite players.
The tone for the early part of the match was set early on, both players making their intentions clear as Judd took a ten minute opener with a break of 104, before Mark drew level with 94 of his own.
From there however it was Judd, in his first ranking-event final, who looked to be in the ascendancy as he moved into a 5-2 lead and in a position to make it 6-2 at the end of the first session as he lined up a relatively straight-forward frame-ball red. Surprisingly however Judd was to miss, leaving Selby in to complete a fantastic clearance with one safe red close to a side-cushion as well as a difficult yellow with the rest. At 5-3 the question on everyone's lips was how would Trump react?
The initial signs looked to be good as Judd took the first frame of the evening session to restore his three-frame cushion, but while he continued to play well, Mark Selby had shown in the past that he was capable of coming back from behind and started to find his very best form, breaks of 132 and 134 reducing the gap to 7-6 at the final mid-session interval despite a 113 from Judd in frame 12.
Having spent seemingly the whole final chasing, Selby was finally able to draw level for the first time since the second frame thanks to a break of 124 and at this stage the smart money appeared to be on Mark drawing on his experience to push on and take a second full-ranking event title.
Incredibly however it was not to be as faced with Mark's best form, Judd was able to find his own and having seen Mark miss a brown off the spot when attempting to force a decider, made no mistake with a break of 51 to become China Open champion.
Mark Selby 13-4 Stephen Hendry (World Championship, last 16)
125 (125)-5; 5-114 (114); 108 (108)-7; 98 (98)-1; 70-45; 135 (129)-0; 112 (51)-6; 68-31; 100 (100)-21; 27-66 (62); 128 (127)-5; 104 (87)-19; 37-75 (75); 5-74 (74); 119 (117)-0; 77-76; 120 (81)-6
An entirely different type of contest to those already mentioned on the list, the match which may yet prove to be Stephen Hendry's last at the Crucible as a top 16 player has earned its inclusion for the record-breaking performance of his opponent Mark Selby.
During the early stages of the match it appeared as though we might see a close contest between the two as they split the opening two frames with breaks of 125 and 114, but from there it was Selby who showed his class with further breaks of 108, 98 and 129 during a dominant first session which saw him come out with a 7-1 lead.
He began the second as he had done the first with another century break before further tons of 127 and 117 helped to extend the lead to 11-4.
To his credit Hendry dug in with breaks of 75 and 74 to ensure that there would be a third session but for all of the century breaks, it was probably the 16th which would prove to be the most memorable that Selby would take as he recovered from having needed four snookers at one stage to take it by a point.
Rather predictably, the third session of the match proved to be brief as Mark capped off a terrific performance with a break of 81 to advance.
Ding Junhui 15-17 Judd Trump (World Championship, semi-finals)
121 (102)-0; 0-110 (110); 37-52; 38-89; 57-50; 13-81 (51); 65-9; 0-74 (59), 92 (91)-23, 21-66 (51), 47-80 (31, 49), 78 (35)-19, 75 (75)-20, 67 (60)-56, 53-39, 71 (31)-34, 75 (66)-0, 0-77 (67), 0-83 (71), 77 (77)-22, 12-76 (61), 1-106 (102), 0-123 (123), 113 (87)-0, 26-75 (74), 1-89 (89), 145 (138)-1, 62 (47)-53, 127 (119)-0, 48 (48)-59 (38), 27-79 (68), 29-105 (105)
Despite Selby's brilliance during that match against Hendry however, his World Championship campaign was to end at the quarter-final stages as he lost out to reigning Masters champion Ding Junhui, who would go on to meet Judd Trump who was also making his first appearance at the one-table stage at the Crucible.
After a few average semi-finals during recent years, this match would live up to all of the billing and the early stages were typified by the opening two frames which saw Ding begin with a break of 102 before Judd drew level with 110 of his own. As was the case in China however, it was Judd who would open up an early advantage, leading 5-3 at the end of the first session before adding the first frame of the second to move three clear.
Having come through largely untroubled since not only the start of the World Championship, but in reality the China Open that he had won just weeks previously, Judd was about to suffer his first crisis as he endured a nightmare period of the match during which Ding was able to win seven successive frames to lead 10-7.
With the inevitable difficult session now behind him, the question was as to how Judd would react and with back to back centuries of 102 and 123, he demonstrated that he was now very much over that and at 12-12 heading into the final session, back in the zone.
Back on level terms, the momentum now looked to be with Judd as he began the fourth session with breaks of 74 and 89 to lead by two, only for Ding to bounce back in fine style by first equalling the tournament-high break of 138 before then clearing with 47 in the next to draw level at the interval.
Another break of 119 continued Ding's charge as he moved 15-14 clear before incredibly the match would swing a final time, this time back to the irresistible Trump who took three in a row himself, securing a place in his first World Championship final with a cool break of 105.
Stuart Bingham 9-8 Mark Williams (Australian Goldfields Open, final)
The first match on my list to come from the 2011/12 season is Stuart Bingham's popular victory against Mark Williams out in Bendigo to capture his first ranking event title.
It was Stuart who made the stronger start to the match by moving two frames clear at the mid-session interval, only for a three-frame winning streak from Williams to turn the tables before Stuart produced a strong clearance to end the first session level at 4-4.
During the evening session it was the Welshman who took command as a visibly nervous Bingham failed to get anything going, trailing 7-5 at the mid-session interval and as Williams took the next after their resumption, it looked as though it would be the two-time champion who would take home the trophy.
From there however the match changed dramatically as a fluked snooker from Bingham in frame 14 led to him reducing the arrears to 8-6, before a further couple of strong breaks gave us what had looked an unlikely decider at 8-8.
As can often be the case in deciding frames for a ranking tournament, the early exchanges were tense as both players made sure of leaving the cue ball close to the top cushion as more and more reds were being pushed out from the pack.
Eventually it was Stuart who was left with what looked to be an impossible situation, prompting him to jokingly ask the crowd for help, but incredibly he was able to extricate himself with a do-or-die cross double to the left-centre pocket to set up a chance for frame and match.
Although Stuart could not wrap it up in one-visit, eventually seeing the cue ball drop into the left-centre pocket having glanced off another red, he was not to be denied his first full-ranking event title as Williams could not take advantage.
Judd Trump 4-3 Ronnie O'Sullivan (PTC9, final)
5-67 (63), 90-6 (68), 69-0 (69), 79-0 (69), 7-118 (118), 0-132 (132), 85-16
While the match was played over the best of just seven frames, the final of PTC9 in Antwerp between Judd Trump and Ronnie O'Sullivan proved to be a real classic and one that would go down as perhaps the greatest ever televised best of seven encounter to date.
The first frame began as a somewhat tactical affair as the pink and black ran safe early on, but following an in-off from Trump it was O'Sullivan who made the decisive break of 63. From that point on however the action was to be quick-fire, Judd settling down with a break of 68 to level at 1-1 before two consecutive breaks of 69 left him just one away from the title in no time.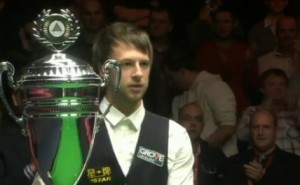 Ronnie was not about to give up without a fight though and with breaks of 132 and 118, forced a deciding frame in little over an hour to the delight of the enthusiastic Antwerp crowd.
The first chance in frame seven fell to O'Sullivan who opened with yet another excellent long red in the match before being forced to play safe on just 16. Following a rare safety exchange it was Judd who earned the next scoring opportunity and thanks to a terrific long pot on the green, gave himself a real chance to take the match. Though Judd could not do so in one-visit, a poor safety from O'Sullivan let him back in and once he fluked a further red to a corner pocket, there was only to be one outcome.
Judd Trump 10-8 Mark Allen (UK Championship, final)
Featuring in my list for a fourth time is Judd Trump who rounded off what has been a momentous year for him by taking his second full-ranking event title at the UK Championship in York earlier this month.
Making a flying start to the final against Mark Allen with a flamboyant break of 70, it was Judd Trump who justified his status as the favourite with the bookies early on but to his utmost credit it was Allen who would emerge with a 3-1 lead at the interval, his charge highlighted by a majestic break of 141 in frame three.
As had been the case during his previous match in the tournament against Ricky Walden however, the match was to turn against Mark in the fifth frame as he missed a red to the left-centre when leading 49-0, before breaks of 75 and 61 saw Judd power into a 5-3 first session lead.
Early in the second session it appeared as though there might be a swift conclusion to the match as Judd took the opening frame to move three clear with a break of 109, before further runs of 78 and 74 saw him effortlessly move into an 8-3 lead.
Mark Allen however was not about to go down without a fight and took the final frame before the mid-session interval with a sublime 139 total clearance to just about keep himself in the match at 8-4. Another ton as they resumed, this time of 129, helped him close the gap further before a further break of 125, following 76 from Judd, saw the score progress to 9-6.
On the brink of defeat, Allen continued to fight as he took the next to frames with a top break of 95 but eventually it was to be Trump who would polish off a fine victory with a closing break of 91 to become the UK Champion for the first, but probably not the last time.
Those are just my suggestions, but what was the best match of 2011 for you?