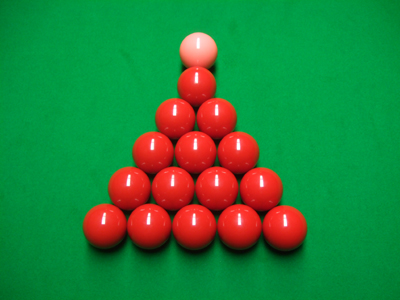 Hot on the heels of part one of my 2011 Pro Snooker Awards as published a couple of days ago, here is part two when I consider the best events, venues and controversies of the year…
Tournament of the Year: World Championship
Maintaining my 100% hit rate of giving the best tournament award to the World Championship as part of my awards, this year's 17-day extravaganza in Sheffield proved to be among the most memorable in years as John Higgins fought his way to an emotional fourth world crown.
As well as the run of Judd Trump as mentioned during part one of my awards, what really stood out this year was that for the first time in a while we were treated to three excellent matches on the one-table set-up and unquestionably the best world final since at least the 2005 victory of Shaun Murphy against Matthew Stevens.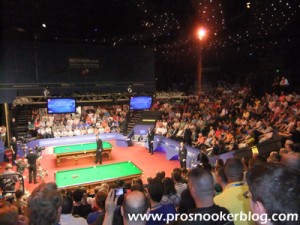 As ever for me the event was a joy to attend for me as a fan, whilst for the first time I was able to see how the tournament works behind the scenes which was an unforgettable experience. There is a real snooker vibe in Sheffield, so many people there from around the world who are all connected by snooker that make it a truly special event both on and off the table.
Click here to view my collection of archive articles and blogs from the tournament.
Final of the Year: Trump 10-8 Allen, UK Championship
Following a year during which we were spoilt for choice as far as classic finals were concerned, as was the case in 2010 I have gone for the final of the UK Championship which saw young duo Judd Trump and Mark Allen light up the baize with a display of terrific potting and break-building.
It could easily have been the China Open final however during which both Judd and Mark Selby produced similarly brilliant snooker, Judd coincidentally winning that one too by the same 10-8 scoreline.
See my previous 'Best Match' post for more.
New Event of the Year: German Masters
For years we in England have heard how there is a great snooker fanbase in Germany, indeed during my first ever match at the Crucible back in 2005 I attended with a German spectator who had come over to the tournament for the first time to watch the snooker, but they didn't have the tournament to show for it.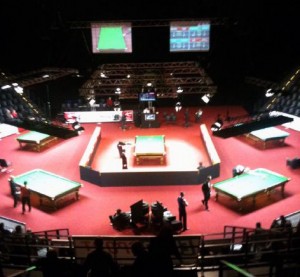 That all changed this year in Berlin however as ranking event snooker hit the capital and was well-received by the enthusiastic spectators who attended each day, despite the last-minute absence of Ronnie O'Sullivan. The tournament proved to be an unqualified success which left us all wondering quite why it had taken so long to stage a tournament over there.
Back in 2012 and with a sponsor already secured, there is every reason to believe that the tournament can now go from strength to strength in years to come.
Venue of the year: Southwest Snooker Academy
As as the case in 2010, my award for venue of the year goes to the South West Snooker Academy which having held a further two PTC events as well as the UK Championship qualifiers, Pink Ribbon tournament and Q-School Preparation Series continues to establish itself as the place to be for snooker and was rightly awarded 'Centre of Excellence' status by World Snooker earlier in the year.
[youtube=http://www.youtube.com/watch?v=DRgbsZreUdI]
Now with a new and improved themed bar as well as two streamed tables, I would recommend that any snooker fan pays the facility a visit during 2012 if at all possible or if you are not able to do that, at least watch my video tour to get a feel for the place!
I will also take the opportunity to wish SWSA owner and all-round good guy Paul Mount the best of luck with his recovery from his recent health problems.
Off-table Controversy of the Year: The Expenses Debate
While for fans the increase in tournaments has been a fantastic development during the past 18 months, among the players the vibe is not quite so positive which culminated in Mark Allen's decision to speak out against Barry Hearn and the PTC events during the recent UK Championship.
Being a fan first and foremost, but also someone who has got to know a few of the players whilst writing this blog, I can easily see both sides of the argument and think that there are valid points to be made from both sides. Only time will tell as to whether Hearn's vision will prove a successful one, but for all of the negatives I would still rather have what we have today than the sparse calendar that we had just a couple of years ago.
Click here to read my article from earlier in the year addressing the issue of player expenses
Click here to read my take on Mark Allen's recent comments
On-table Controversy of the Year: Red or Pink? Shanghai Masters final
Meanwhile the on-table talking point of 2011 proved to be what would become known as the 'red or pink' saga which occurred during the Shanghai Masters final between Mark Selby and Mark Williams, a decision which ultimately turned the final in Mark Selby's favour.
For all of the debate at the time, please click here.
Innovation of the Year: Live Streaming of Qualifiers and PTC Events
Following the introduction of a much-improved and relatively reliable livescoring service in 2010, World Snooker followed that up with the introduction of live streaming at the qualifying stages of tournaments as well as PTC events.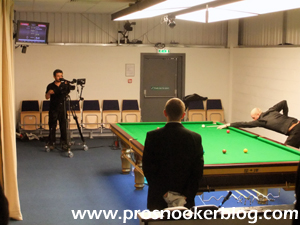 Despite a rather curious 'soft-launch' which involved not telling anybody that it was coming until it was live, the quality of the broadcasts have been as slick as you would expect from production company Perform, and played a significant part in allowing fans out there to see players who they would not otherwise have had the chance to watch live.
Thumbs up to World Snooker for this one.
Tweeter of the Year: Steve Davis
One aspect of the online snooker community which has really exploded this year is that of Twitter which as Steve Davis told me during my recent interview with him, almost gives the feel of being down the pub with fellow snooker people:
I didn't really understand that it's a bit like being at the pub really with people dipping in and out of conversations. It's quite useful, not just for information but for finding out things.
I think the snooker side of it you can keep it up to date with what is going on, you are relentless like I said before, but that's good. You don't have to go onto the internet any more to find out the results, it has overtaken a lot of things, so I'll keep it up.
There are countless brilliant snooker people on Twitter these days but my Tweeter of the year award has to go to Steve who despite (or perhaps because of), not being the most prolific tweeter in the world, never disappoints in terms of quality.
Steve shows off his award
Being in the media room at events recently there have been a number of moments when somebody in there (usually Janie Watkins), had randomly burst out laughing, only for it to turn out to be their reaction to a Davis tweet, whether it relate to poppies or the Stephen Hendry iphone app or something else!
Commentator of the Year: Neal Foulds
In a time when not only snooker players, but also snooker commentators find themselves under increasing scrutiny thanks to the advent of the aforementioned Twitter, which has given everybody a voice, there is one who I cannot recall having come in for criticism and that is former world number three Neal Foulds.
Perennially underused by the BBC, Neal has recently taken advantage of the opportunity to commentate on tournaments via the livestream service offered on the betting sites amongst other places and has done so with great success, notably tweeting recently mid-way through Ding's 147 break at PTC11 so that we could turn on to watch.
As Neal himself told me during his recent interview, it is important for commentators to be credible that they do not forget how difficult snooker is and that is something that he in particular has obviously not forgotten. Similarly, Stephen Hendry is another who during his stints in the commentary box during 2011 has impressed, only speaking when something is worth saying and as a current professional still has a clear understanding of how tough the game is.
I for one hope that we will hear more of these two during the coming months.
Snooker Website of the Year: WWW Snooker
With the bar continuing to be raised in terms of the number of good quality snooker websites out on the internet, the easiest way for me to decide this one is to consider which of them I read the most which for all of the quality narrows it down to two choices.

The first would be Dave Hendon's Snooker Scene Blog, about to head into its seventh year and still the only snooker website that I make a point of checking on a daily basis. While Dave's tournament predictions continue to be the only predictions to be more of a curse than my own, the information given and the quality of writing is still very much at the top of the tree.
My award however has to go to Hermund's fantastic WWW Snooker website which during tournaments offers by far the easiest way around to see the day's latest scores and results in a clear format. Furthermore the site is an invaluable resource for being able to quickly see a player's match results at a glance and therefore an invaluable resource for me when compiling tournament previews, updating player profiles and ultimately producing my own blog.