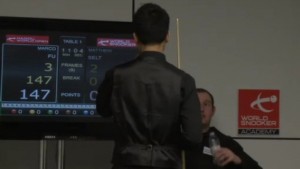 Congratulations to Marco Fu who has this morning made the second maximum break of his professional career in the sixth frame of his last 48 match against Matt Selt. The 86th 147 in professional competition and the first of 2012, the break puts Marco 4-2 ahead and at the time of writing within a frame of a place at the venue. Provided that nobody else makes one in the competition, the break will also earn Marco a £500 bonus, though given the recent flurry of maximum breaks that is hardly something that can be taken for granted.
As a side-note, the break also represents the fourth professional 147 officiated by referee Andy Yates, following those of Tom Ford, Liang Wenbo and Kurt Maflin in previous seasons.
Click here to view my updated 147's list.