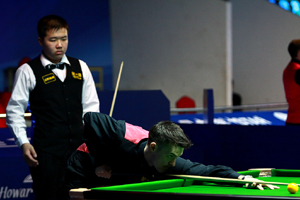 Top147.com
This morning saw the start of the Haikou World Open from Hainan Island with the always contentious wildcard round and it was not to be plain sailing for all of the main tour players as two were sent crashing out of the tournament on day one…
Sam Baird became the first current main tour professional to exit the competition today as he lost out 5-3 to China's Jin Long in the wildcard round. An experienced player who rose as high as 60 in the world rankings as recently as 2010, Jin made the faster start to today's match with breaks of 60 and 50 helping him into a 3-0 lead, before Sam was able to take the last before the interval to keep himself in the match.
After the break it was Jin who restored his three frame advantage, before a spirited comeback from Sam saw him take the next two before Jin eventually wrapped it up in the eighth on the black.
As is often the case during the ranking events to be staged in China, the validity of these wildcard rounds has taken something of a battering on Twitter and on the face of it I can certainly see why.
Indeed this match-up offered the perfect illustration of the unfairness posed as Jin is not a young rookie looking to gain experience, but instead a 30-year-old who has completed many seasons on the professional circuit, certainly more than his opponent today. When taking into account the fact that Baird qualified for this event with four impressive wins, it does not seem right that he now misses out on a televised match with Ding Junhui at the venue to a player not on the main tour.
While there will no doubt be more to the inclusion of the wildcards than meets the eye, it would be interesting to hear the arguments for them in competitions such as this, where there is to those of us looking in, a case to say that the events have now outgrown the need to generate additional interest with the inclusion of local wildcards.
The other professional to lose out was Nigel Bond, who slipped to a 5-4 defeat against 18-year-old Lu Ning, while Tom Ford and Michael Holt both avoided a similar fate by coming through in deciders against Lu Haotian and Zhu Yinghui respectively.
More comfortable winners were Jimmy Robertson, Joe Perry and Mark King, while Robert Milkins survived a brave comeback from Thanawat Tirapongpaiboon, which included this spectacular fluke on the final black in frame six.
The last 32 starts tomorrow from 6:30am and you can view the schedule here.