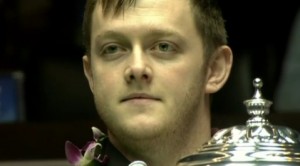 It has been quite a week for Antrim's Mark Allen who courted controversy with his Twitter comments a few days ago, but today he hit back in the best way possible by taking an overdue first ranking event title at the 2012 Haikou World Open, with a 10-1 demolition of Stephen Lee…
Following yesterday's semi-finals it appeared as though we had a close final in prospect between the week's two best players, but from an early stage today it was all Allen as he raced into a 5-0 lead with breaks of 127, 104, 43 and 50.
The next two frames were shared to leave the scoreline standing at 6-1, however the eighth frame proved to be another key moment as Lee moved into a lead of 67-31 with just one red remaining. It was not to be enough however as having been left in a difficult snooker, he not only failed to escape from it but he could only watch as the white came around the table, glanced off the pink and went in-off to a corner pocket, leaving a free ball.
From there Allen duly cleared the table to steal the frame before a further break of 123 rounded off the session and ensured that he would need just two more from the remaining ten.
As the players resumed, frame ten proved to be a scrappy affair, again won by Allen before he wrapped up the crown with a fine clearance of 104.
For many years we have been waiting for Mark to make the breakthrough, indeed as I have said before on this blog, I have never been as impressed by a Crucible débutante the way I was by Mark when I saw him back in 2007 and the only surprise is that it has taken him this long to take a major title. Having reached a number of semi-finals previously, including at the Masters, World Championship and UK Championship, this season has seen him reach the UK final in York before Christmas, before taking the top prize this week in China.
Having now won his first title, it will be interesting to see whether Allen can now maintain this momentum and establish himself as one of the leading players in the game. Up to a career high of number seven in the official rankings, ninth in the end of season projected list and perhaps most impressively, third in the one-year list for 2011/12, he has to have every chance. The result also confirms that later this year he will make his début in the Premier League competition.
For Stephen meanwhile it has nevertheless been an excellent week which has seen him rise to eighth place on my latest projected seedings list. It remains to be seen whether the manner of this defeat will hit his confidence however or whether he can bounce back quickly at the PTC Grand Finals in Galway which will be his next event.