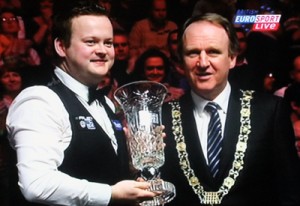 So after a week off for snooker's top professionals, this week sees a return to the action as the PTC Grand Finals are played to a conclusion over the next five days in Galway. Click below for my tournament preview…
The Top Quarter
We begin with an interesting clash between former PTC winner Dominic Dale and the ever-improving Chinese youngster Xiao Guodong at the head of the draw. The pair have met on just one previous occasion, coming at the qualifying stage for the 2011 German Masters when the Welshman came through a 5-3 winner. The recent form of both has been solid if not spectacular, Xiao continuing his accumulation of ranking points as he bids for a place inside the top 48, while Dominic too is well-placed to improve upon a career-high ranking to date of 19.
Based on his greater experience in front of the TV cameras, Dale will be favourite to win and set up a re-match with Judd Trump at the last 16 stage, following on from their match at the 2011 UK Championship which Judd came back to win en route to his second full-ranking event title. That said, the same could have been said when Dominic played Sam Baird at the recent Welsh Open before Sam came through that match to win, so I would not rule Xiao out by any means. Either way however, I would expect Judd to move past either and secure his place in the quarter-finals.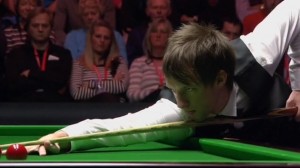 There he could possibly face Andrew Higginson, or the winner of the clash between reigning world champion John Higgins and Welshman Jamie Jones, who meet for the first time in Galway. In better form of late, Higgins will be favourite to come through against his young opponent, though Jamie does have the experience of having played in this tournament last year before losing out to eventual finalist Martin Gould. Having recently broken his qualifying duck and made it through to the last 32 of the China Open, Jamie will be full of confidence (and toothache judging by recent Twitter activity), and hoping to spring a surprise.
The Second quarter
The second quarter gets underway with a clash between Ding Junhui and Ben Woollaston, the latter through to the venue courtesy of a number of good PTC results including victory at the PTC3 event, his first professional title. He will however begin this match as an underdog against the recently crowned 2012 Welsh Open champion, who was a 4-0 winner at their only previous meeting back in 2007 at the round robin stages (remember those?), of the Grand Prix.
Ben though is a much-improved player since back then and while Ding is one of the top players in the sport, he is not prone to poor displays as recently proven at the Haikou World Open where he was a shock 5-1 loser against countryman Jin Long. If Ben can come through then he will again be the underdog against fellow Leicester pro Mark Selby, while if Ding were to progress, we would have a re-run of the recent Welsh Open final to look forward to.
Elsewhere, Martin Gould and Stephen Lee meet for the right to play Michael Holt in the last 16, a rather curious section where either would progress to a match with a lower-ranked opponent. That said, Michael's form of late has been strong enough and consistent enough to see him well-placed to reclaim a place in the top 32 at the end of the season.
For Martin it has been another strong season, though 2012 has not started as well as it might have with defeats to Shaun Murphy, Ricky Walden and Jamie Cope in the early stages of recent events. Lee meanwhile comes into the tournament on the back of his first ranking event final since 2006, however having lost that 10-1 to Mark Allen it remains to be seen whether his confidence has taken either a boost or a hit following his week in Hainan.
The Third Quarter
Kicking off the third quarter are Barry Hawkins and Jack Lisowski, who meet for the right to face Masters champion Neil Robertson in the last 16. Having started the year well, boosted by his success at the Shoot Out tournament in Blackpool in January, Barry will be hoping to maintain that run in Galway against an opponent who has struggled to string together results on a consistent basis.
Whoever comes through that opener however will begin as second favourite against Robertson in the second round as the man who won two PTC events overseas earlier in the season, including that in Killarney, will be looking to add another piece of silverware to his collection in Galway. Though his results have been less impressive since his Masters victory in January, I personally would not read too much into this generally, indeed there was little more he could have done against Stephen Lee recently during their high-scoring World Open encounter.
The other half of this quarter is similarly tough to call, Graeme Dott awaiting the winner of an evenly-matched first round tie between experienced duo Joe Perry and Fergal O'Brien. Both having enjoyed solid seasons, I cannot pick a winner between Joe and Fergal, who last met during the Australian Goldfields Open qualifiers earlier in the season, while both are more than capable of giving Graeme a tough encounter in the last 16.
The Bottom Quarter
Moving to the final quarter, SightRight stablemates Mark Davis and Tom Ford meet in the opening round for the right to face Scotland's Stephen Maguire in the last 16. Having threatened to break into the top 16 at every cut-off point this season without quite having made it, Mark has suffered a couple of narrow defeats in recent months with deciding-frame losses to Sam Baird and Michael Holt in qualifying, while also losing 4-0 to Ding Junhui in Newport. Tom on the other hand has been very impressive of late, not having lost a qualifier since the Shanghai Masters early in the season, while also having claimed victory at the PTC11 event in Sheffield.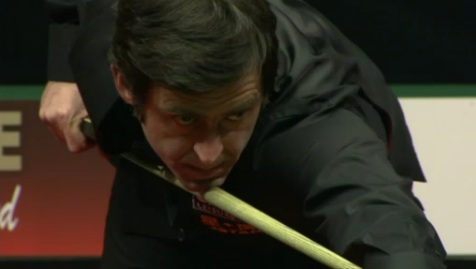 Rounding off the draw, Ronnie O'Sullivan awaits the winner of what promises to be a close encounter between Ricky Walden and Matthew Stevens, who last met in a ranking event at last season's PTC2 event in Sheffield when Ricky emerged a 4-1 winner.
All in all, it promises to be another entertaining week in Galway, each match being played on the one table, although unfortunately there appears to be no live coverage on Eurosport until day two on Thursday. Please see the normal links on the sidebar for all of the key links.
Predictions:
SF: Trump def Selby, O'Sullivan def Dott
F: Trump def O'Sullivan