Congratulations to Peter Ebdon who has tonight defeated Stephen Maguire 10-9 in a match that lasted over seven and a half hours to win his ninth ranking event title at the 2012 China Open. Taking the top prize of £70,000 together with 7,000 crucial ranking points, the result caps off a remarkable week for the 2002 world champion…
It seems like a long time ago now but the day began at 7:30am BST with the first couple of frames being shared between our finalists Peter Ebdon and Stephen Maguire, both former winners of the event in Beijing.
Having taken the third frame however, it was Peter who would then assert himself on the match, taking a 40 minute fourth frame to lead 3-1 at the mid-session interval, before adding an hour-long fifth as it became clear that the session would be cut short long before the scheduled nine frames were played to a conclusion. As it happened there was just time to squeeze another frame in and with Maguire bereft of any fluency or rhythm, Peter took full advantage with his second century of the match to lead 5-1 at the break.
To his credit however, Maguire to the surprise of some what able to keep his discipline, despite the slow-burn nature of the final that had up until now played into the hands of his experienced opponent. The Scot took a crucial seventh frame to keep himself just about in touch, before the following frames were to be shared, Ebdon just about managing to keep his nose in front.
The pace however was quickening and this undoubtedly suited Maguire who began to take frames in one-visit, eventually reeling in his opponent to level the match at 8-8 as the clock approached midnight.
Having started to miss a few balls, the pressure was now on Ebdon. Was he starting to tire after not just a long day, but a long week with gruelling matches against Ding Junhui, Neil Robertson and John Higgins behind him?
If he was, he did not show it in frame 17 as he moved in front once again with a terrific century break, his fourth of the final and notably, the 300th of his 21-year professional career to date. The match though had a decider written all over it for a while previously and after a tight penultimate frame, Maguire was able to clear to the final pink to ensure that the match would go the distance.
The early exchanges were tight in the decider and for a long time it was Maguire who looked to have the upper hand, but the run of the ball was not to be with him and he could never quite work the cueball into perfect position. Eventually it was to be Ebdon who would earn himself the best chance with a stunning red and despite a miss when at full-stretch, the subsequent miss from Maguire would prove to be his last shot as Ebdon ended a memorable match.
Following the disappointing opening session to the final, the standard was much-improved during the second and credit has to go to Maguire who aside from wild shot in frame nine following a stroke of luck for his opponent, maintained his composure well and exhibited the underlying confidence that he has in his game at present. The way that he has played thus far in 2012, I hope that his next major ranking event title is not too far away as he is playing as well as most at the moment.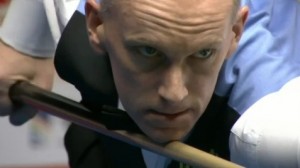 Today however belongs to Peter who after a deeply disappointing season on the table to date which saw him drop out of the top 16 of the world rankings at the first cut-off, has hit a rich vein of form in Beijing, just as in 2009 when he last captured the title after a similarly difficult run. As well as his determination and will to win which as ever were in evidence today, what really impressed  was his scoring and particularly his pressure balls, indeed while Maguire missed a few to the centre-pockets, Ebdon was near-flawless in that department.
The result lifts Ebdon to 20th in the latest projected seedings list from a starting position of 28th this week, and makes him one to avoid in the upcoming draw for the World Championship, if of course he is able to qualify in a couple of weeks time. One word of caution however, following his last victory in China back in 2009, he could not reproduce that form at the Crucible where he lost an opening round clash against Nigel Bond.
Another bonus for Peter is that victory also sees him become the ninth player to assure himself of a place in the 2012 Premier League, something that will no doubt be interesting to see given the shot clock in operation in that particular competition. How will he handle that I wonder?
But that is for next season. For now, April is all about the World Championship, with the qualifiers set to begin on Thursday. Stay tuned for extensive coverage of the tournament here at PSB from Monday…