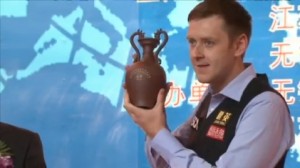 Congratulations to Ricky Walden who has today defeated Stuart Bingham 10-4 to capture his second ranking event title at the 2012 Wuxi Classic.
Stuart Bingham 4-10 Ricky Walden
59-57, 53-43, 69-1 (69), 62-22, 54-24, 0-147 (147), 57-1 (56), 65-33, 76-34, 74-24 (73), 0-103 (103), 0-100 (100), 20-92, 84-41 (74)
Coming into today's final it was Stuart Bingham who had the momentum, but as it would transpire his opponent Ricky Walden would prove too strong as he dominated the scrappy frames of a slow opening session, before sealing victory in the 14th frame.
The pattern of the match was established early on, the opening four frames requiring approximately two hours to complete and as Stuart failed to find his form, it was Ricky who won each of them to establish a commanding lead at the first mid-session interval.
This soon became a five-frame lead as Ricky added the next, before Stuart produced a magical maximum break in the next to finally get his side of the scoreboard moving. as the old cliché goes however, a maximum is only worth one frame and as Walden quickly added the next two to lead 7-1 at the end of the session, the outcome looked to be inevitable.
On the resumption of play it appeared as though a final mid-session interval would not be required as Walden moved into a 9-1 lead, but to his credit Stuart never gave in and with a top break of 103 took the next three frames to give himself a glimmer of a chance at 9-4. In truth however, it would only be a matter of time before Ricky would get the chance that he needed and with a match-high break of 74, he was able to wrap up a 10-4 victory and secure his second career ranking event title.
Coming four years after his first victory, in many ways it is a surprise that it has taken Ricky this long to add to his trophy cabinet. From a personal view, Ricky's triumph in Shanghai in 2008 was the first tournament that I covered having decided to start this website, so it is a tournament that I always remember and to think of all of the changes in the game that have happened since them, it somehow makes it all the more remarkable.
Now up to 10th in the latest projected seedings list however, Ricky has a chance to establish himself as one of the world's top 16 players and who knows, if he can maintain the form that he has shown on occasions during the past year, perhaps he can go higher still.
For Stuart however, maximum aside it was a disappointing way to see his unbeaten start to the season end, but like Ricky he is another with a chance to cement his place among the elite after many years of trying and despite his defeat today, it has been a terrific few weeks for him.
Next stop for the snooker tour, Thailand for the SangSom Six Red World Championship, details of which will follow…