It's Friday at the South West Snooker Academy and the first half of the professionals have entered the fray in what is the first UKPTC event of the 2012/13 season. Click below for my updates from the venue as the day progresses…
Click here to view the latest results from the event at snookerorg
Following the customary lengthy drive down to Gloucester I arrived mid-afternoon and quickly began to catch up with everybody, Shaun Murphy congratulating me on finding my hotel (eventually), while it was good to catch up with Mark Davis and Stuart Bingham, both of whom have fared well during their month away in Asia in recent weeks.
As far as the snooker is concerned, results have so far gone largely to form, though Gerard Greene, Nigel Bond and Marco Fu are among the more surprising early exits. Nigel's conqueror Pankaj Advani briefly popped into the media centre after his win and told us that he had missed a maximum attempt while on 73, though he was not too keen at the suggestion of Janie Watkins that we put that on Twitter!
One frame that I did manage to watch was the fourth between Mark Joyce and amateur Ben Harrison, a frame which proved to be pivotal to the match as Joyce recovered from needing two snookers on the green, before clearing to the black to secure a 3-1 lead. Ben had been particularly unfortunate on the second foul as he hit the green off one cushion and could only laugh and shake his head as the cue ball headed into the corner pocket. Credit to Mark though, he held himself together well and would go on to take a 4-1 victory in the next frame.
Pankaj Advani
Over on the next table, Barry Pinches was in action against Thai youngster Thanawat Thirapongpaiboon, but despite taking the sixth frame on the black to force a decider, he could not stop his opponent from taking victory.
Elsewhere, Shaun Murphy had arrived at the venue what he thought was a 3pm match, but having received a first-round by against Egypt's Mohamed Khairy, it transpired that the 2005 world champion would not be in action until 7pm. That being the case, I took the opportunity to grab him for a interview for PSB which I will hopefully be able to bring to you over the coming days.
Looking at the match schedule for the rest of the day, one match that particularly stands out is that between Xiao Guodong and Anthony McGill, which with Anthony leading 2-0 I am going to head up and watch…
Or at least that was the plan, instead I found myself distracted by the match between Dominic Dale and Peter Lines, which had seen Dominic take three frames in a row to force a decider. Both had chances, Peter missing a cut-back red on 21 before Dale broke down on 16 thereafter, but it was Lines who was to suffer from a particularly tough run of the ball, twice going into reds and finishing on nothing. Despite a kick on the final red (which Dominic was stunned to see stay true and drop into the right-centre), Dale would go on to clear to the pink and complete an excellent comeback.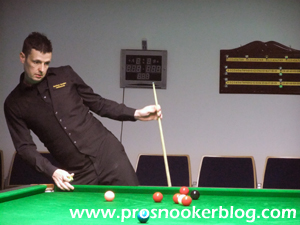 Peter Lines eyes up what would prove to be his final shot against Dominic Dale
I caught Dominic for a chat afterwards and he told me that he has recently completed a move to Berlin where he will now be based, while he has also changed his cue ahead of the new campaign and has some work to do before he is entirely happy with that. He also explained to me that his Australian Open preparations had been disrupted by a mistake with his flight, which saw him land just three hours before his scheduled match, leaving him no time to adjust to conditions which were markedly improved from those in the previous tournaments that he had played in around Asia.
With Xiao Guodong 3-2 ahead of Anthony McGill, I headed over to watch the conclusion of that match as McGill looked to force a decider, before wobbling a black while stretching. From there it looked as though Xiao would take a 4-2 victory but the clearance was not to prove straight-forward and a missed brown eventually allowed McGill to draw level at 3-3.
First chance in the decider fell to Xiao, who in with a good opening red looked like he might take the frame in one-visit. Having gone into the reds however, a surprising miss to right-centre was to give Anthony a reprieve, but a miss from distance was to prove his last shot as he left the reds scattered far and wide.
Having come through against Ben Harrison earlier in the day, Mark Joyce has moved into the next round with a surprisingly one-sided 4-0 victory against Robert Milkins. That said, Robert's record in PTCs is not the best, indeed he spoke to me last season at the UK Championship qualifiers when he explained:
"It's just the PTCs have cost me, I have done well in ranking events for the past few years but with PTCs, maybe with me not being physically fit I struggle more so now than say 15 years ago when I would have breezed through a lot of them, these qualifying days as I was fit and I as the games went on like at pro-ams I got stronger and stronger and now I seem to get weaker."
Elsewhere, Mark Selby came through his match on the second TV table against Rory McLeod, while Shaun Murphy suffered a surprise defeat at the hands of James Wattana. Hopefully it was worth the trip down to be interviewed by me, something that Shaun had described as the highlight of his life earlier in the day, though I have a suspicion that he might not have been deadly serious on that score.
With the clock approaching 9:30pm, the majority of the final matches are now underway, though as is often the case at the PTC events, a couple of matches have overrun which is likely to result in a late finish for one or two.
Following on from this I headed upstairs to take in some of the match between Mark Selby and Dave Harold which surprisingly for me was not on one of the televised tables. As one would expect, there was some tough matchplay involved, but only one spectator in the form of Mark's manager Mukesh Parmar, who I noticed that Mark was constantly looking up at and exchanging smiles.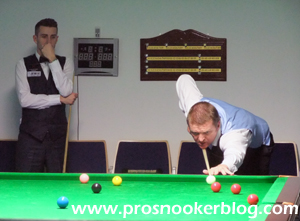 One particularly amusing incident occured when over on the next table, Xiao Guodong and Dechawat Poomjaeng were struggling to agree on the position of the balls following a miss from Xiao and Dechawat's rather loud opinions seemed to tickle Mark, who was sat in his chair and laughing as Harold was on a break.
As Harold wrapped up that frame, I shuffled over to take a few photos of Xiao's match and was soon joined by Tony Drago, who (as ever), has spent a lot of today watching the snooker. Regular readers may have seen me comment previously on Tony's tendency to commentate during matches from the gallery and tonight was no different, much to the amusement of Dechawat Poomjaeng at one point who after a loud 'good shot' from Tony, just looked at him and burst out laughing!
Meanwhile, Stephen Maguire wrapped up a win against Paul Davison and almost immediately is back on against amateur player Gary Wilson, while Ricky Walden and Barry Hawkins, our last two ranking event winners, are still battling on in their second round match with the winner set to face Michael Holt. It could be a long night in prospect for two of those players…
A bit of fun and games tonight with the livescoring, the cause of which is a power cut that occurred earlier tonight, but hopefully things should sort themselves out over the next hour or so…
Elsewhere, a tired sounding James Wattana is through to the last 16, his latest victory coming against On Q's Andy Hicks, while Barry Hawkins is finally over the line against Ricky Walden and now faces a match with Michael Holt which seems destined to progress into the early hours…
0:21 and Alan McManus is through a 4-3 winner against Dominic Dale following what was a dramatic decider which last up to almost 50 minutes. The reds went scrappy early on and it was McManus who gained the early advantage by moving 20 (ish) points ahead, before laying a snooker which would extract a further 11 from his opponent.
The momentum seemed to switch however with a missed blue to green pocket from McManus, which allowed Dale to gain a foothold in the frame and lay a devilish snooker from which McManus would surrender the frame lead. With green/brown between the cue ball and the red, Alan had to play around the table off three cushions, but try as he might he couldn't find a way to hit the red. With no alternative shot on, Alan became understandably frustrated as the referee continued to call a miss, but eventually no miss was given and Dominic asked him to play from where the cue ball had finished, thus ending the stalemate.
With the frame now in the balance, it was Alan who would eventually go on to seal victory, a very good pot on the brown under the circumstances followed by a double on the blue enough to leave Dominic needing a snooker which would never come.
Meanwhile, Dave Harold has completed a fine 4-2 victory against world number one Mark Selby to move into Sunday's last 16, while as the clock hits 0:35, Barry Hawkins has taken the second frame of the last remaining match against Michael Holt…