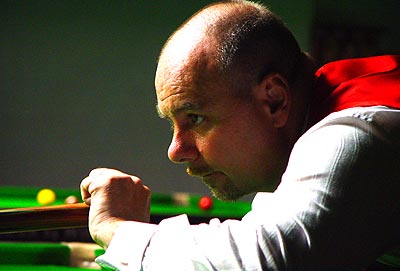 While PSB was down recently, the draw was made for the 2012 edition of the World Seniors Championship, which will this year be held at its new home in Portsmouth. Click below for the details…
Click here for the qualifying draw
Steve Davis will meet Cliff Thorburn in the first round of the Seniors World Championship in Portsmouth next month.
The random draw for the opening round of the 16-man event pitched Davis and Thorburn together for a repeat of the 1983 World Championship final, which Davis won 18-6.
The Mountbatten Centre in Portsmouth will stage the over-45s event for the first time on October 27 and 28. It will be televised live by Sky.
Whirlwind Jimmy White will take on Mike Hallett while defending champion Darren Morgan will meet 1986 World Champion Joe Johnson. Dennis Taylor will face one of the four players who come through the qualifying rounds.
The full draw is:
Dennis Taylor v Qualifier 2
Darren Morgan v Joe Johnson
Alain Robidoux v Qualifier 1
Dene O'Kane v Qualifier 3
Jimmy White v Mike Hallett
Tony Knowles v Karl Townsend
Steve Davis v Cliff Thorburn
Tony Drago v Qualifier 4
TICKETS ARE ONE SALE NOW, starting at just £10. There are also some outstanding VIP packages available. For details call 02392 626509 or visit www.worldsnooker.com/tickets
The qualifiers are on September 29 and 30 in Sheffield.