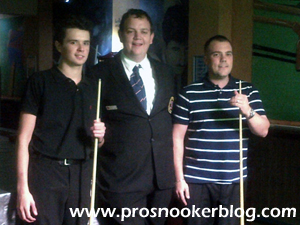 Today saw the start of the 2013 Snookerbacker Classic tournament in Leeds and therefore I was at the Northern Snooker Centre to watch local boy Oliver Lines win four successive deciding frame matches to book his place in finals day next February. Click below for a round-up of my day…
Click here for all of the results from the SBC today
Arriving at the venue fashionably late as usual, I was greeted by Mr Snookerbacker himself, who was manning what was no ordinary tournament desk. Indeed this is no ordinary tournament, with the famous cakes of Mrs SB, together with silver doilies, a silver cake stand and some rather clever artwork on display.
Best of all however was the 'Robbo shrine', in honour of 2010 world champion Neil Robertson, who coincidentally was due to make an exhibition appearance at the venue from 7:30pm, and no effort was spared by Team SB with a special cake and goodie bag awaiting him.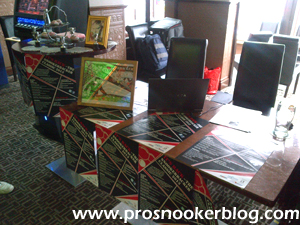 Having caught up with SB, I headed on up to the tables as the quarter-finals were underway, initially choosing to watch Oliver Lines take on John Whitty in the latest match to get on. With father and former UK Championship quarter-finalist Peter Lines watching on, Oliver won a tense second frame to draw level with John, the decisive shot a snooker on the last red in behind the yellow.
At this stage I moved over to watch Ben Harrison and Gary Wilson, deep in a decider which as dominated by Wilson, a 4-3 winner having at one stage trailed 3-1. As Gavin Lewis and Antony Parsons made quick progress into the last four, the schedule was quickly becoming somewhat lop-sided. with Parsons then going on to defeat Lewis in the first semi-final, prior to Oliver Lines completing his quarter-final victory against John Whitty.
While the action unfolded, I took the opportunity to catch up with a number of the other characters at the venue, including Roland of Snooker Island, The Wizard of Gloucester, Mrs Snookerbacker and @killamabob, while taking the opportunity to take a few photos of what is an excellent snooker club, one I had not been to for three years, but hadn't changed a bit since.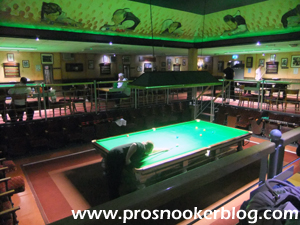 Following a nervy deciding-frame victory against John Whitty, having survived an attempt for snookers and a couple of free balls, Oliver Lines fell 2-0 down to Gary Wilson early on, before eventually recovering to come through his third decider of the day and set up a final appearance with Ant Parsons, who had been waiting patiently for a few hours by this point. Having been in action for much of the day, Lines could have been forgiven for wanting a break by this point, but as he was asked how long he wanted by SB, he appeared keen to get back on as soon as possible, a good sign I think.
As the final approached, Neil Robertson made his arrival at the venue, surprisingly early for him and was greeted by his shrine, goodie bag and best of all, special cake. His reaction a combination of bemusement and gratitude, but I think that he took it well and he proceeded to pose for photographs and sign autographs for the fans.
With the club relatively quiet during the day, I had wondered how many people would be around for Neil's exhibition, but as his start-time edged ever-nearer, the venue soon filled up and any fears of a quiet evening were allayed.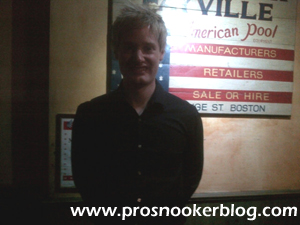 As the SBC final got underway, there was entertainment to be had in the bar as a Snookerbacker lookalike was coerced into having a photo taken with the 2010 world champion, while Ant Parsons moved 2-0 up on Oliver Lines. As with his matches earlier in the day however, Lines was not to be left behind and he recovered to force a deciding frame, taking the sixth on the final colours to do so.
At his home club and with his long game on song, the script seemed written for Lines to somehow come through, and still watched by father Peter, he duly did so to become the first player to book their place in the finals next February.
Having not seen Oliver at such close proximity since here at the same venue in 2009, his development as a player since then was clear to see and added to his recent maiden professional win against Joe Perry, he looks to be a player of some potential. He still has a way to go, but compared to a couple of other players that I saw today, his temperament looks to be strong and that is always such an asset for one so young.
Disappointment for Ant Parsons, but he too had a good run to the final, although unfortunately I was not able to see much of it.
With the venue somewhat packed now, I elected not to stay for the remainder of the Neil Robertson exhibition, though I was able to briefly introduce myself to him (and come out with some gibberish as usual when a little star-struck), and catch-up with Matt Selt who had arrived at the venue. As a few people commented, Neil does have a real presence, an aura about him, whether that is because of his world champion status, or something else I am not sure, but he definitely has something.
But with all due respect, Neil was not the focus today, and it is Snookerbacker and Mrs SB who again deserve a huge amount of credit for putting on a terrific event, which cannot be accused of lacking character. The next event comes from the South West Snooker Academy in Gloucester on 12th October 2012.