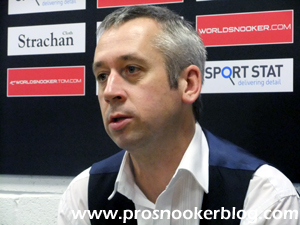 Somewhat under the radar, today saw the completion of the qualifying rounds for the 2012 World Seniors Championship take place at the EIS in Sheffield…
Heading the four players through to the final stages in Portsmouth is last season's pre-tournament favourite Nigel Bond, who qualified with a top break of 101 in defeating Peter Williams, Steve James and Gary Wilkinson. Bond will now play Dennis Taylor at the venue and will be hoping for an improved performance against the man who pulled off a shock win against him at the same stage of the event a year ago.
Elsewhere, Les Dodd qualified for a venue clash with Alain Robidoux following victories against Andrew Milliard, Bill Oliver and Stephen Meakin, while Tony Chappel joined him with wins against Patsy Fagan, Ian Stark and Stefan Mazrocis.
Completing the line-up is Barry West, who defeated Dave Harold's surprise conqueror Ian Brumby amongst others to make it through to the venue and a match with New Zealand's Dene O'Kane.
The venue stages will be played at the Mountbatten Centre, Portsmouth between 27-28 October 2012.