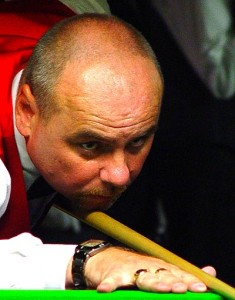 World Snooker is delighted to announce Wyldecrest Park Homes as the title sponsor of the World Seniors Championship for the third consecutive year.
The Sky Sports televised tournament will be known as the Wyldecrest Park Homes World Seniors Championship and will feature many of snooker's all-time legends including Steve Davis, Jimmy White, Dennis Taylor and Cliff Thorburn.
It was staged for the first time in 2010 and won by 'Whirlwind' White, then last year Darren Morgan captured the title by beating Davis in the final.
This year the event is on October 27-28 at the Mountbatten centre in Portsmouth. Tickets and VIP packages are on sale – for details call 02392 626509 or visit www.worldsnooker.com/tickets
Wyldecrest Parks is one of the UK's largest mobile home park operators, priding itself on having high quality parks and giving residents a peaceful and stress free life.
Alfie Best, chairman of Wyldecrest, said: "We are thrilled to again be involved in a fantastic event which brings great entertainment to all sports fans. Many of our residents are avid snooker fans so we look forward to joining World Snooker for a wonderful weekend."
World Snooker Chairman Barry Hearn said: "Wyldecrest have been outstanding supporters of snooker in recent years and it is a pleasure to welcome them back for the World Seniors Championship. Sky Sports provide extensive live coverage of the tournament which clearly offers tremendous exposure for the Wyldecrest brand.
"It's fabulous to see the great names of the 1980s and 1990s battling for this prestigious crown. They will have some fun with the crowd, but winning still matters to them above anything."
The full first round line up is:
Darren Morgan v Joe Johnson
Dennis Taylor v Nigel Bond
Dene O'Kane v Barry West
Steve Davis v Cliff Thorburn
Tony Drago v Tony Chappel
Karl Townsend v Tony Knowles
Alain Robidoux v Les Dodd
Mike Hallett v Jimmy White