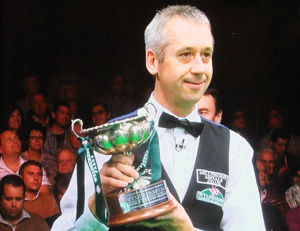 Congratulations to Nigel Bond, who has tonight defeated surprise finalist Tony Chappel 2-0 to become the 2012 World Seniors Champion and the Mountbatten Centre in Portsmouth.
Click here to view all of the results from the tournament
Having come to the tournament a year ago as the favourite with the bookmakers, only to fall at the first hurdle, there was to be no repeat in 2012 as qualifier Nigel Bond came through the field without the loss of a frame to capture the title.
A winner against 2011 conqueror Dennis Taylor in two tight frames yesterday, Nigel began today with a quarter-final victory against Tony Knowles, to set up a tie with defending champion Darren Morgan in the semi-finals.
By far the most impressive player on display yesterday, Morgan was actually the bookies favourite for their encounter, having already defeated Steve Davis despite being the non-tour player, but from the start against Nigel, he did not appear to be the same player and eventually succumbed to a 2-0 defeat.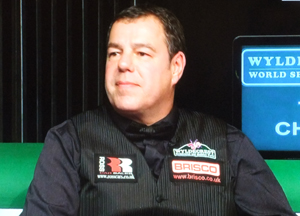 Awaiting Nigel in the final would be Welshman Tony Chappel, who having surprisingly defeated Tony Drago yesterday, added the scalps of Alain Robidoux and Dene O'Kane to set up the showpiece encounter.
Ultimately Bond's experience and sharpness were to prove too much for Tony, particularly once Nigel had taken a tight opening frame on the black and it was not long before the former world finalist wrapped up the title.
While not a ranking event, Nigel will be pleased to take home both the trophy and the winner's cheque for £18,000 and continues his run of success on Sky TV, having previously won the Shoot Out tournament in 2011, as well as his maiden ranking event at the 1996 British Open on the channel.
Overall the event proved again to be a successful venture, the first day appearing to be a relatively relaxed affair with nostalgia the order of the day, before the tension noticeably increased throughout Sunday as the top prize drew ever-nearer.
While the standard was understandably hit and miss, there were some good matches and some impressive performances, notably I felt from Cliff Thorburn yesterday who dominated Steve Davis in the safety exchanges for a while, as well as Darren Morgan who put up a strong defence of his title.
Amidst rumours that Sky are planning to downsize their commitments to snooker, I hope that there is still place for this tournament to appear on our screen in a year's time. It is not the biggest event on the calendar, but the crowds looked good and while there is much talk of snooker's growth in new areas, it is just as important not to lose sight of the great history that the sport already has.