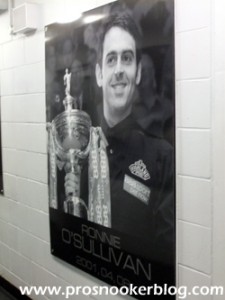 As I am sure that you will all be well aware by now, World Snooker have today announced that four-time world champion Ronnie O'Sullivan has informed them of his intention not to compete on the main tour for the remainder of this season. Click below for more thoughts on the news…
Today's announcement means that Ronnie looks set to miss out on tournaments such as the UK Championship, Masters and even the defence of his World Championship crown at the Crucible.
Having stated his intention to take a break from the game over the summer, Ronnie had intended to return to action at the recent International Championship (a PTC cameo in Gloucester aside), but later announced his decision to withdraw from the tournament just days before its start.
The next tournament on his agenda was then the upcoming UKPTC4 event at the South West Snooker Academy, before his return the big stage at the UK Championship in York. Now though it would appear that he has decided to take a far longer break, citing 'personal issues' for his continued absence.
For me it has been interesting over the last few years to observe the evolving attitude of those both within and outside of the sport when Ronnie has decided to miss events. It is probably fair to say that many have become rather cynical to the reasons for his absences, though ultimately without having the first idea as to what is going on behind the scenes.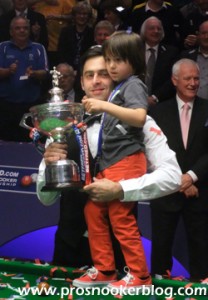 Personally I am very much of the view that O'Sullivan has the right to enter whichever events he chooses to. I would not criticise him or any other player for failing to enter an event, particularly one at the stage of his career that he is now at and having effectively won everything that there is to win in the game.
On the flip side, it does become a problem when players, in particular one of Ronnie's standing, decides to enter tournament, only to later withdraw from the events at short notice. Not only does this affect the drawsheets, meaning that others have missed out on a higher seeding, but also it is ultimately not meeting the expectations of the fans who have paid their money expecting to see him play, having entered the event.
That said, it must also be noted that the entry deadlines for tournaments are now coming earlier and earlier, as demonstrated by the fact that the deadline for next year's World Championship comes next week, some five months before the event [EDIT: It appears as though that particular deadline may in fact be a little later]. For someone in O'Sullivan's position, it is very difficult for him to be able to plan that far in advance which tournaments he wants to play in and make that commitment.
I think that it is probably sensible that Ronnie has made his intentions clear at this stage (both for him and everybody else), and it will be interesting to see whether he remains in the draws for tournaments that he has already entered this season, leaving the door open for him to change his mind as the season progresses.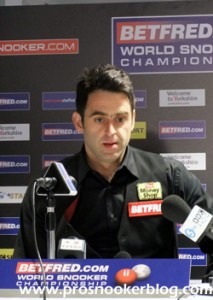 The announcement does of course beg the longer-term question as to whether we will again see Ronnie O'Sullivan in action on the main tour, or whether this could really be the end of a glittering career.
On the face of it, if Ronnie were to miss the remainder of this season and perhaps drop down to the lower reaches of the top 32, with a significant number of points to defend in 2013/14 following his strong 2011/12 season, it would look to be some way back for someone at his stage of his career. Would he have the patience to play in one, maybe two qualifiers for each major tournament, with no hope of a regaining a top 16 place until potentially 2014 or 2015?
What could change things however, is the planned change to a money based ranking system in 2014/15, together with flatter draws for tournaments, meaning less qualifying matches. If everyone were to come in at the first round for example, with the prospect of even one major title assuring a player of a high ranking for another two years, it would make the prospect of a comeback all that more appealing and ultimately realistic.
Ultimately it is up to Ronnie and time will tell, but if he wants to, he will still be young enough to compete in one, two or three years time and somehow I cannot believe that we have seen the last of him on our screens just yet.
World Snooker Statement
World Snooker has been informed that Ronnie O'Sullivan does not intend to compete on the World Snooker Tour for the remainder of the 2012/13 season.
World Snooker Chairman Barry Hearn said: "I have spoken to Ronnie and he has decided to withdraw from any events he has entered, and he will not be playing for the rest of this season. He has some personal issues which he needs to resolve and we wish him all the best for the future."