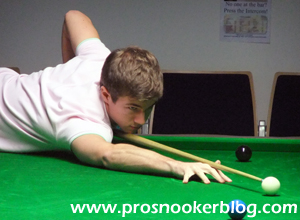 Among those to qualify for the venue stages of the UK Championship yesterday was maximum man Jack Lisowski, and today I caught up with the current world number 43 on his 147 break, his victories and what lies ahead in York…
Having taken the opening two frames of his last 64 match against Chen Zhe on Thursday, Jack Lisowski then set about constructing the sport's 94th maximum break in professional conditions. As Jack told me however, the run was far from straight-forward:
"I was a little bit edgy as it is a big tournament, but I went 1-0 up and then had a century break to lead 2-0."
"Then came the maximum. The balls were not very nice and I remember that they just kept going in. I was basically on a roll, so I just kept going but on the last red I hampered myself. I got a bad kiss on the pink, it was not a great shot but it was a horrible kiss and I thought 'oh no, not good!'
"Then I was able to screw the last red in, the last black was in the cushion and I had to top it in for the yellow. But I was just on a roll, I felt really good and that I was just going to do it no matter what. I was just potting them and potting them and that was it."
"As soon as I got comfortable position on the green, that was the first time I was in perfect position. I just knew that I was going to do it."
"I didn't even think about it. I just potted the black and the referee shook my hand and that was it."
While maximum breaks have become more common in recent years, indeed Jack's break was the second in as many days following that by Andy Hicks in the previous round and the sixth of the season, it nevertheless remains a special achievement for any player. More important however was the match itself and Jack was able to maintain his focus and concentrate on the task in hand:
"It didn't feel like a massive deal at the time and I should have had another century and missed the pink. I was just in the groove and it didn't put me off in that particular game."
"But then you get all of the messages and you realise and think 'that was good!' It is special, I realise that now."
"It is quite distracting for the next match. I had finished my game and then everyone was speaking to me about that [the maximum] and I was just wanting to win tomorrow so badly. I have worked as hard as I ever have for this tournament, I really wanted to qualify and if I hadn't, I would have been gutted and I wouldn't have cared about the 147 as it was only one frame."
"It is like the icing on the cake now though. I did my job because I am now off to York next week."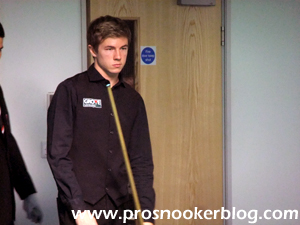 Jack's victory against Perry was not without a scare however, as Joe fought back from 5-2 down to run him close:
"I had a chance to win 6-2 and then he started coming back at me. It went 5-3, 5-4 and then my back was right against the wall."
"I have been working really hard the last two months though and thought 'let's just finish it in one visit, try to smash the balls open and finish it in one break, not muck about it.' I was able to pot a good long red, get into the pack and finish it off. It was a nice way to win because I was definitely under pressure at 5-4."
Jack's reward is a trip to York and a place at the final stages of one of the traditional 'majors' as broadcast by the BBC for the first time in his career and he is looking forward to the challenge.
"It's a BBC tournament which is really good, because there are only two chances for me to do that a year at the World and the UK Championship."
"It's another good experience. I have played on TV a few times now so I am getting it, taking it in and learning from it. I am feeling less pressure every time I go out there, so it's all just really good experience. I am just genuinely looking forward to it and want to do as well as I can."
The result is another landmark for Lisowski in what has been a strong start to the season, after what by his own admission was a disappointing second season in the professional ranks in 2011/12. No longer flat sharing with world number one Judd Trump, Judd is again fully-focused on improving his game.
"I got to the final of the first PTC [lost to Stephen Maguire] and then had a little slip up and I lost a few games."
"But I have got my focus back and it's going good now. I feel like I am getting better."
With a useful amount of ranking points secured, Jack can now look forward to a last 32 match with Stuart Bingham at the venue, which will take place on Sunday 2nd December 2012 at 7pm at the Barbican Centre, York.