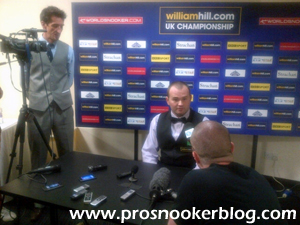 Drama at the Barbican Centre this Sunday evening as defending champion and world number one Judd Trump has crashed out of the 2012 UK Championship following a 6-5 defeat to qualifier Mark Joyce. Click below for quotes from both players…
Despite having defeated Judd Trump two years previously en route to the quarter-finals of the 2010 UK Championship, few gave Mark Joyce a prayer of repeating the feat here in 2012 and as he fell 4-1 and 5-2 behind, it looked as though it would be a fairly routine victory for the world number one.
Mark though had other ideas, and as Judd struggled to close the match out, the world number 50 completed a remarkable four-frame winning streak to win what must surely rank as the biggest victory of his career.
Mark told the press shortly afterwards:
"I'm over the moon, it wasn't a vintage performance by any means, I think we both struggled but at the end of the day it's the result that counts. I lost a match in the German Masters a couple of days ago from 3-0 and 4-2 up so I drew strength from that really, I knew it was possible to come back and win."
"It's probably the hardest game in the world when you are under pressure, anything is missable, I'm still shaking now. When Judd got in first and got 30, I was fearing the worst, but I played a good couple of safeties to create chances and managed to get back into the frame."
"I've grown up with Judd since we were both juniors, we have played a lot of times so I certainly don't fear him. I beat him a couple of years ago as well so drew confidence from that. Obviously I've got Ali Carter now and i beat him two years ago, hopefully I can do him as well!"
"The draw was amazing, even to qualify I got Jamie Cope and Steve Davis who I beat to qualify two years ago. It's amazing how it has panned out."
"Just after the UK two years ago I got attacked and had a fractured elbow and a fractured eye socket which ruined the rest of that season. Physically it cost me four months, but mentally it cost me a lot longer. I can count on one hand how many matches I won in 2011, so my ranking of 50 odd is in my mind a false ranking anyway, I think I'm a better player than that, but you have got to go out there and get the results to prove it."
Judd meanwhile had the following to say:
"Nothing seemed to go right, I didn't play well. I felt like I was going to play well but he dragged me down at the start and I couldn't get out of it and he started to play well."
"I said in the Premier League that there was too much snooker going on so I took a couple of days off for this but I felt alright out there and as soon as he started missing it just affected me and I couldn't get in the balls and in the last frame I thought the yellow was straight in the middle and it seemed to roll off."
"I've done well to go 5-2 in front but I didn't have any clear cut chances, my long potting was awful, I think that's what let me down. My safety wasn't great but I was just struggling, struggling with my tip, struggling with everything."
"I've prepared as well for this as any other tournament, but at the end of the day you can't win them all. It's disappointing but fair play to Mark, there was a lot of pressure in the last frame and he hasn't been there very often so realistically I should have won it but he done well in the end to be fair"
"He played alright the last four frames but to be fair, he'll have to raise his game a lot to even get close to Ali Carter."
"I started off alright, the first frame he should have won and I stole that one so I thought I would get a bit of confidence, but nothing seemed to happen, but I couldn't get going. Then in the last four frames I didn't really get a chance, apart from the last frame when the yellow rolled off I think."
"I should never play that bad, you won't ever see another number one play as bad as that!"
The result means that Mark Selby can now reclaim the world number one ranking from Judd with a run to the final, while Mark Joyce moves on to a last 16 tie with Ali Carter, who he also defeated two years ago on his way to the quarter-finals of this event.
An excellent win for Mark, it is also an important one, as he defends the points that he earned from his quarter-finals of this event two years ago. Can he repeat his win against Carter though?