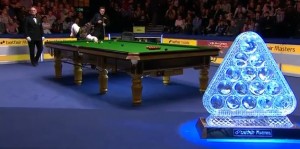 Following the outstanding success of the Betfair Masters, prize money for snooker's greatest invitation event will be increased from £500,000 to £600,000 next year.
The top prize for the 2014 Masters will be £200,000, up from this year's £175,000, while the runner-up prize will increase by £5,000 to £90,000.
Mark Selby won the Betfair Masters on Sunday night, beating Neil Robertson 10-6 in a thrilling final at Alexandra Palace.
World Snooker Chairman Barry Hearn said: "We are thrilled by the success of the Betfair Masters, we had excellent crowd figures throughout the eight days and we're grateful to the fans who braved the snow to come to Ally Pally and create a sizzling atmosphere.
"The viewing figures on BBC Sport were also superb. So many millions of people love watching snooker and that's why the BBC have just extended our broadcast deal until 2017.
"There were some sensational matches during the week and the standard of play was top class. The Masters is for the elite 16 players in the world and next year they will have the chance to chase an incredible top prize of £200,000.
"This is in line with the increases we have made in prize money in recent years. The total has gone from £3.5 million to £8 million and continues to rise. It's a massive incentive for players to work hard and climb to the top of the sport."
2014 Masters Prize Money Breakdown (2013 figures in brackets)
Winner: £200,000 (£175,000)
Runner-up: £90,000 (£85,000)
Semi-finals: £50,000 (£40,000)
Quarter-finals: £25,000 (£20,000)
Last 16: £12,500 (£9,000)
High break: £10,000 (£8,000)
Total: £600,000 (£500,000)