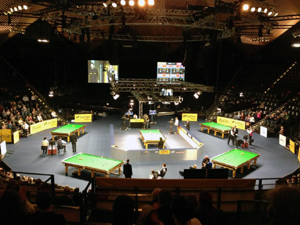 Day one from the Tempodrom in Berlin, as the venue stages of the 2013 German Masters got underway. Generally there were few upsets, but the stand-out result saw four-time world champion John Higgins exit at the hands of Leeds' Peter Lines…
Less than a week ago Peter Lines took victory against John Higgins at the Shoot Out in Blackpool, but this afternoon he recorded a victory of far greater significance against the four-time world champion to progress to the last 32 stage.
Having drawn level at the mid-session interval following a slow start to the match, it looked as though Higgins would kick on and secure victory, but it was not to be for the Scot, as Peter won the next two with breaks of 52 and 96 on his way to what would finish up as a 5-3 victory.
An excellent result for the former UK Championship quarter-finalist, it means that he will now face former world champion Ken Doherty at the last 32 stage, while for Higgins it is a surprising loss for a player who in recent tournaments has struggled to recapture the form that took him to the Shanghai Masters title earlier in the season.
Elsewhere in the final last 64 matches to be held over to the venue it proved to be a day for the favourites, including world number one Mark Selby, who hit breaks of 123 and 104 against Thailand's Thepchaiya Un-Nooh to progress to the next round, as well as Shaun Murphy, Mark Williams, Neil Robertson, Mark Allen and Stephen Maguire.
It was not to prove so straight-forward for Judd Trump and Ding Junhui however, as the former UK Championship winners required a deciding frame in order to come through against James Wattana and Liu Chuang respectively.
Having opened with a brilliant total clearance of 141, before moving into a 3-1 lead at the mid-session interval, it appeared as though Judd would make relatively smooth progress into the last 32, but a number of uncharacteristic errors were enough to let his experienced opponent back into the match.
In fact it was Wattana who would take the next three frames, a century break of his own seeing him hit the front at 4-3, but a combination of bad run, a missed green and a couple of nerveless breaks from Trump when he most needed them, were enough to see the reigning International Championship winner win the next two frames and live for another day.
There was a scare also for Ding Junhui, who trailed 2-0, 3-2 and 4-3 in his match against Liu Chuang, before finishing strongly with breaks of 72 and 134 to edge into the next round.
As far as the last 32 matches played today were concerned, there was a surprise 5-1 victory for Andrew Higginson against Stuart Bingham, while Ali Carter, who judging by some of his comments on Twitter had seemingly had the day from hell, dug in well from 3-1 down against amateur Fraser Patrick, to win 5-3 and move into the last 16.
Barry Hawkins and Matthew Stevens were able to enjoy somewhat more comfortable journies into the second round, while Kurt Maflin won what (given their previous history of decider), always seemed likely to be an inevitable ninth frame to progress.
The action continues tomorrow, live on Eurosport…