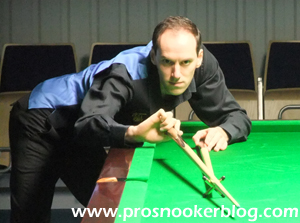 It is no secret that in recent weeks, UK and Masters champion Mark Selby has emerged as the man to beat at the top of the game, while the likes of Mark Davis and Stuart Bingham are also players widely recognised to be men very much in form at the moment.
As I updated my player profiles here at PSB over the Christmas period however, there were a few other players, across the rankings, who struck me as having quietly played their way into a good run of form, without quite gaining the same attention.

Click below then for a round-up of those players who going 'under the radar', have particularly caught my eye recently…
Mark Joyce
While his terrific victory against defending champion Judd Trump at the UK Championship grabbed the headlines, perhaps more telling for Mark this season is that fact that he has successfully qualified for three of the last four venues, arguably representing the most consistent spell of his career to date. In fact, Mark has won 10 out of his last 11 matches in events carrying ranking points, many coming against higher-ranked players.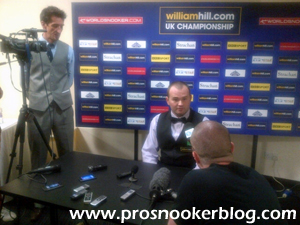 Having looked well-placed to push on up the rankings following a similarly strong run at the UK Championship a couple of years ago, only for an injury sustained following an attack shortly after that tournament to intervene, Mark will now be targeting at least a place inside the top 40 for the first time in his career.
Ian Burns
Having qualified for the main tour for the first time with a dramatic victory against Rod Lawler at the first Q School event of 2011, Ian Burns made a solid, if not spectacular start to his professional career, with his best early-season run coming at the Shanghai Masters qualifiers as he won two matches before losing out to Scotland's Jamie Burnett in a deciding frame.
Of late however, Ian's results have noticeably stepped up a level, reaching the last 16 of a PTC event for the first time at the UKPTC4 event in Gloucester, before he then defeated Michael Leslie, Kurt Maflin and Anthony Hamilton to reach the final qualifying round of the UK Championship, eventually losing out to Welshman Dominic Dale a week later.
Ian followed this up by winning two matches to qualify for the final stages of PTC6 in Munich, before then reaching the quarter-finals of the ET5 event in Ravenscraig, losing only to eventual champion Ding Junhui.
The results have since kept on coming, 2012 ending on a high with successful qualification for his first major venue, the Haikou World Open, while he won another couple of matches at the China Open qualifiers, before losing out to Jack Lisowski.
With his ranking on the rise as a result of his consistent run of victories, Ian is one of the early-round players to avoid during the remainder of the season.
Thanawat Tirapongpaiboon
Another lower-ranked player to have made a mark in recent weeks is Thailand's Thanawat Tirapongpaiboon, back on tour for his second professional season in 2012/13.
With that experience under his belt, Thanawat hit the ground running, reaching the final qualifying round of the Australian Goldfields Open early on in the season, before repeating the feat at July's Shanghai Masters qualifiers.
Of late however, it is perhaps his consistent runs in the PTC events which have really caught the eye, beginning at the UKPTC4 event in Gloucester. There at the 'pink PTC' the young Thai won three matches against higher ranked opposition to make it through to the final day, before then shocking then world number one Judd Trump with back-to-back centuries on his way to a 3-0 lead.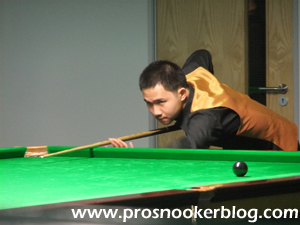 Unfortunately for Thanawat, he could not get over the line, as Judd showed his class to hit back and come through a decider, and it was to be the same story at the ET5 event in Scotland, as he lost a similarly commanding lead against eventual finalist Anthony McGill at the quarter-finals.
Again however, Thanawat was not to be dispirited, winning two matches at the UK Championship qualifiers, before reaching his second successive European Tour quarter-final, losing only to world number one Mark Selby in Munich.
Still just 19-years-old, Thanawat's best years are still very much to come, but with a maximum break and a string of impressive performances already under his belt of late, he looks to be another to avoid in the early rounds…
Chen Zhe
Highly regarded by many prior to his ascension to the main tour, Chinese youngster Chen Zhe struggled to make a mark early in the season. Indeed excluding his semi-final run at the APTC1 event, Chen won just one of his first nine matches on the circuit.
A last 16 run at the UKPTC3 event in Gloucester however, appeared to mark a turnaround as from there he again performed well at the UKPTC4 event, before he won two matches at the UK Championship qualifiers.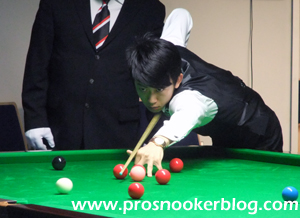 Since then, he has won six matches to reach the final qualifying round of successive full-ranking events, losing narrowly to Michael Holt and Jamie Cope respectively.
As with Thanawat, Chen's best years are still to come, but at the moment he too looks to be full of confidence.
Anthony McGill
Following a mixed second season as a professional in 2011/12, Scotland's Anthony McGill has in recent weeks reminded us of just why he was as highly rated a junior as he once once. Having enjoyed a solid season beforehand, Anthony recently reached his first professional final at the ET5 event in Ravenscraig, before recording excellent wins against David Grace, Yu Delu and Martin Gould to qualify for the final stages of the China Open for the first time.
With that added confidence and a rather stylish new waistcoat to go with it, Anthony too looks like he could do some damage at the moment in the earlier rounds.
Sean O'Sullivan
Having lost 15 of his first 16 matches as a professional, it might seem a little odd that I am including Sean O'Sullivan in this bracket.
Of late however, it is interesting to note that Sean has shown signs that he is finding his feet, defeating Jack Lisowski, Paul Davison, Craig Steadman and Alfie Burden in recent weeks, the latter on his way to the third qualifying round of the China Open.
Perhaps more notably, Sean has also recorded the tournament high breaks at both of the last two qualifying events, first a 134 at the Haikou World Open qualifiers, before he raised the stakes with a brilliant 142 at the China Open qualifiers.
Those are just a few of my suggestions, but who do you think has perhaps not got the acclaim that their results would deserve in recent weeks? Let me know @prosnookerblog