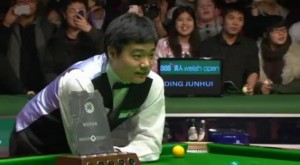 Hot on the heels of the 'qualifying' rounds of this event which concluded in Sheffield yesterday evening, tomorrow sees the continuation of the Welsh Open in Newport as Ding Junhui looks to defend the title that he won against Mark Selby twelve months ago…
Click here to view the tournament drawsheet
Click here to view the latest projected seedings
Click here to view the match schedule
A week on from Ali Carter's victory in the German Masters over in Berlin, the snooker circus rolls on to Newport from Monday for the venue stages of the Welsh Open.
As the qualifiers have been played over recent days, it has been interesting to note the various reactions from a few of my fellow bloggers, in particular the criticism of the format, which sees matches played under the best of seven format that we are used to seeing in the PTC events, up to and including the last 16 stage, with many of the top seeds required to play a match at the EIS in Sheffield to make it to the venue. Among others, Berlin champion Ali Carter will not be making it to Newport, as well as Mark Davis and Martin Gould.
While I have never been a fan of shorter formats, I could at least see the reasoning behind it at this event in previous years, allowing all of the matches to be played in front of the television cameras, eliminating the need for a third, non-televised cubicle. This year however, three sessions will not be televised, removing this justification for the change.
Another talking point has been the fact that as with the German Masters, certain last 64 matches have been held over to the venue, including those of Welsh players such as Dominic Dale, while higher-ranked players such as Neil Robertson and Shaun Murphy were forced to play in Sheffield.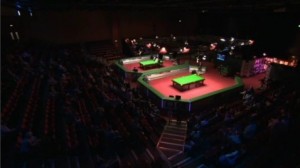 Regardless of the rights and wrongs, it is with these held-over matches that the tournament begins tomorrow, before the last 32 kicks off on Tuesday.
As far as points of interest from those held-over matches are concerned, the stand out for me will be to see how Welsh amateur Gareth Allen gets on against three-time event winner John Higgins. Having qualified for what will surely be the biggest match of his career to date with an excellent win against Rory McLeod, Gareth has nothing to lose and has a playing style that is easy on the eye, so win or lose I expect him to gain a few fans this week.
Elsewhere, world number two Judd Trump will be looking to get his season back on track, starting his campaign against a rejuvenated Mike Dunn, while last year's finalists Ding Junhui and Mark Selby will also looking to start strongly against Dechawat Poomjaeng and Steve Davis respectively.
Welsh foursome Mark Williams, Matthew Stevens, Ryan Day and Dominic Dale will also play their opening matches tomorrow, Stevens having arguably looked the strongest in recent tournaments, though it is probably fair to say that none of them have looked like winning an event recently.
Where is the tournament winner likely to come from? As ever, the clutch of players at the head of the rankings including John Higgins, Mark Selby, Judd Trump and Neil Robertson appear to stand as good a chance as anyone, though Higgins and Trump have not hit their respective heights since before the UK Championship now, for whatever reason.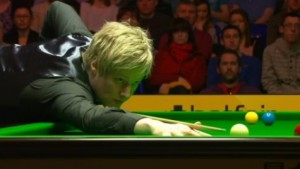 Selby on the other hand has won three of his last four tournaments and is a former winner of this event, as is Robertson, who has threatened to win an event all season, without quite having been able to do it so far.
Of the other contenders, Shaun Murphy is another who has been in good form of late and always seems to be knocking on the door, while Mark Allen is another who is perhaps overdue a title at the moment, notwithstanding his European Tour event win earlier in the season.
Who could surprise of the less obvious names? In my predictions I have taken an outlandish punt on Anthony Hamilton, who has performed well in Newport in the past and seems to be in a decent vein of form at present, to reach the semi-finals. He opens against Stephen Maguire, who dodged a bullet against Mark Joyce yesterday, winning the last three frames at 3-1 down.
Also in that section is Barry Hawkins, who is another who I have a sneaky feeling could cause Mark Selby some trouble in the last 16.
Elsewhere, like Mike Dunn, it is good to see Gerard Greene winning again, and he faces fellow On Q player Sam Baird at the venue, Sam looking to slay the ghost of Mark Selby and that missed blue from a year ago.
So we shall see. As ever the event will be broadcast on Eurosport, while it will also be on BBC2 Wales, which people with Sky will be able to watch on television also.
Predictions:
SF: Robertson def Fu, Murphy def Hamilton
F: Robertson def Murphy