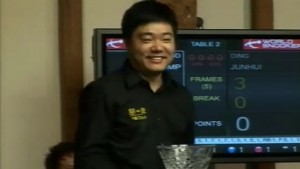 Hot on the heels of the conclusion of the PTC Grand Finals yesterday, today sees the start of the final four days of the 2013 Championship League, with Group 7 being followed by the Winners' Group on Wednesday and Thursday…
Click here to view all of the results and tables from the 2013 Championship League to date
Click here to view the latest results from Group 7
Now in its sixth season, the Championship League is an event that as the years have gone by, I have tended to cover less and less as a blogger, undoubtedly due to the increase in tournaments generally which has left me needing to prioritise in terms of covering events to some degree.
I also find the event to be a very curious one, which while being a useful addition to the calendar for those involved, fails to capture my imagination as a viewer, with no crowds or television coverage to speak of.
Still, the event does not do any harm, being played on dates around qualifying events for example, which could not be used for other events and with a total prize fund of £205,000, including a £10,000 top prize to the eventual champion, will be keenly contested over the coming days at Crondon Park.
Of course the primary purpose of the event historically has been to fill one of the ten places in the Premier League competition for the following season, however rumour (and only rumour), has it that this season's winner will not be guaranteed a place in the competition in 2013, with changes to the SkySports competition reportedly a possibility. With next season's calendar yet to be finalised, we can only wait to see what the future holds for both competitions.
More immediately, the six players through to the 2013 Winners' Group already are:
John Higgins (Winner of Group 1, 3-1 v Carter)
Ali Carter (Winner of Group 2, 3-0 v Gould)
Ding Junhui (Winner of Group 3, 3-2 v Trump)
Mark Allen (Winner of Group 4, 3-2 v Maguire)
Martin Gould (Winner of Group 5, 3-1 v Maguire)
Barry Hawkins (Winner of Group 6, 3-1 v Maguire)
Those six will be joined by either Tom Ford, Robert Milkins, Ryan Day, Stephen Maguire, Andrew Higginson, Dominic Dale or Marco Fu, who will battle it out in Group 7 during the course of today and tomorrow.
With its round robin format and matches played over the best of five frames, it is difficult to predict who will emerge victorious, though on current form defending champion Ding Junhui and former finalist Mark Allen would perhaps be my tips, with Martin Gould another who I have a feeling may win the tournament.
We shall see, as ever the event will be streamed on the various betting sites, with the overall final to come on Thursday evening.