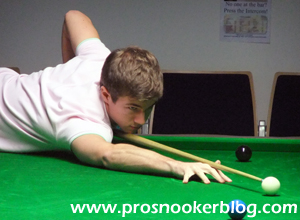 Following a relatively quiet opening day yesterday as six of the tournament's seven wildcard matches were played, today saw some of the big hitters hit the baize in Beijing and for John Higgins and Judd Trump in particular, all would not go to plan.
Click below for a round-up of the day's action, together with an explanation as to how results will affect the World Championship draw as it stands…
Click here to view the updated tournament drawsheet
Click here to view the latest projected seedings
Back in November 2012, with the pair having recently contested the final of the Shanghai Masters, as well as back to back PTC event finals in Gloucester and Bulgaria, it appeared as though Judd Trump and John Higgins were the men to beat at the very top of the game.
Since then however, the fortunes of both have changed somewhat and that continued to be the case today as both fell at the first fence in this season's penultimate ranking event tournament.
First to bow out was Higgins, as the Scot let slip a 3-1 lead against qualifier Robert Milkins, eventually losing out in a deciding frame. It was Higgins who had the upper hand in the scoring department, with breaks of 116, 64 and 60, but despite not making a break over 50 himself, it was Milkins who was able to progress and maintain his chase for a top 16 point at one of the upcoming cut-off points. Next up for him will be either Stuart Bingham or Liang Wenbo, who play their last 32 match during tomorrow's evening session.
As for Judd Trump, he was to lose out to former flatmate Jack Lisowski, who hit breaks of 131, 94, 85, 80 and 63 to record what is arguably a career-best result, coming at the last 32 of a full-ranking event tournament in China. Lisowski has been highly-rated for a long time, not least by myself, but after a difficult second season on the main tour last year, he now looks to be heading in the right direction once again and it will now be interesting to see how far he can progress this week.
For Judd meanwhile, the result means that he will lose his current world number one ranking following this tournament, if either Mark Selby can reach the quarter-finals in Beijing, or Neil Robertson can lift his first professional title in China. Interestingly if both of those scenarios were to happen, then Judd could find himself seeded fourth for the Crucible and in the same half of the draw as Ronnie O'Sullivan…
Back to Beijing however and there were further 'upsets' today as defending champion Peter Ebdon and recent World Open finalist Matthew Stevens both exited the tournament, at the hands of Marcus Campbell and Rory McLeod respectively. In terms of Campbell's win, the result was perhaps not that surprising as Ebdon has struggled for form for much of this season, though of course that has not always stopped Peter from leaving with the trophy on previous occasions!
Elsewhere, Shaun Murphy finished strong with breaks of 89 and 61 to win 5-2 against Andrew Higginson, while Dechawat Poomjaeng avoided an upset against wildcard Zu Yinghui to book his place in the main draw proper.
Perhaps the most important result of the day however was Ali Carter's victory against wildcard Zhao Xintong, which could prove a decisive result in terms of ensuring that the 2008 and 2012 finalist will be back at the Crucible in 2013. Had he lost, then a last 16 run for Mark Davis would have been enough to have secured him a place at the venue, but Ali's victory now means that Mark must reach at least the semi-finals in order to stand any chance of usurping the Captain for that final spot.
As it stands, with Murphy, Maguire and Dott gaining places this week, the provisional Crucible drawsheet is as follows:
O'Sullivan (1) v Carter (16)
Ding (9) v Allen (8)
Murphy (5) v Williams (12)
Stevens (13) v Robertson (4)
Selby (3) v Hawkins (14)
Dott (11) v Maguire (6)
Higgins (7) v Bingham (10)
Walden (15) v Trump (2)
In terms of what can change, most obviously, Mark Selby and Judd Trump would switch positions should Selby make it through to the last eight in Beijing, while Neil Robertson could also affect the higher seedings if he were able to run deep in the tournament this week.
With both Stephen Maguire and Shaun Murphy moving above John Higgins this week, Mark Allen could join them with victory tomorrow against Scotland's Anthony McGill in China. Interestingly, this would get him out of Ronnie O'Sullivan's quarter in Sheffield and see him replaced by none other than John Higgins.
Otherwise, no doubt Ali Carter will be hoping to earn enough points this week to not only see him qualify for the Crucible as of right, but also to climb higher than 15th place in the rankings and therefore see him avoid a potential last 16 contest against Crucible nemesis Ronnie O'Sullivan.
Daily updates on this issue will of course follow…