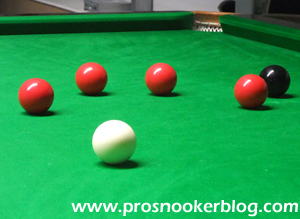 While in the midst of the build up to the start of the 2013 World Championship I am yet to thoroughly analyse the provisional tournament calendar published for next season, as well as the implications of Barry Hearn's players letter, there was one thing that stood out, namely the following paragraph:
"For those events which remain on the old system (The World Championship, Australian Open and Shanghai Masters), any player seeded through to an advanced stage, who loses their first match, will be paid in full but will only receive 50% of this money in their Official Rankings (i.e. similar to the current 50% rule on ranking points) and this system will be applied to all tournaments following the 2012 World Snooker Championship."
Back in February, I posted a comparison of ranking points and prize money earned to date this season, at that point up until the German Masters, kindly provided to me by fellow snooker fan @JoanneBallantyn.
I am pleased to say therefore that Joanne has helped to provide me with an updated list, comparing ranking points earned to date this season, against prize money earned, taking into account the qualification stated within Barry's letter that seeded losers will only receive 50% money to their official ranking total.
For illustration purposes then, please click below to see what that means, all figures are approximate…
| | | | | | |
| --- | --- | --- | --- | --- | --- |
| One-Year Ranking (points) | Player | 2012/13 Points | One-Year Ranking (money) | Player | 2012/13 Money |
| | | | | | |
| 1 | Neil Robertson | 41040 | 1 | Neil Robertson | £274,415 |
| 2 | Mark Selby | 39460 | 2 | Mark Selby | £238,872 |
| 3 | Stuart Bingham | 35600 | 3 | Judd Trump | £220,406 |
| 4 | Shaun Murphy | 35320 | 4 | Ding Junhui | £184,021 |
| 5 | Judd Trump | 34700 | 5 | Mark Allen | £159,118 |
| 6 | Barry Hawkins | 31020 | 6 | Shaun Murphy | £154,439 |
| 6 | Stephen Maguire | 31020 | 7 | Stuart Bingham | £141,047 |
| 8 | Mark Allen | 30720 | 8 | Stephen Maguire | £135,209 |
| 9 | Marco Fu | 29925 | 9 | John Higgins | £134,908 |
| 10 | Ricky Walden | 29640 | 10 | Ricky Walden | £134,415 |
| 11 | Mark Davis | 29350 | 11 | Ali Carter | £120,075 |
| 12 | Ding Junhui | 29320 | 12 | Barry Hawkins | £115,265 |
| 13 | Robert Milkins | 27935 | 13 | Marco Fu | £111,073 |
| 14 | Ali Carter | 27395 | 14 | Mark Davis | £95,304 |
| 15 | Graeme Dott | 25720 | 15 | Matthew Stevens | £92,824 |
| 16 | John Higgins | 25635 | 16 | Peter Ebdon | £75,769 |
| | | | | | |
| 17 | Mark Williams | 25180 | 17 | Robert Milkins | £70,897 |
| 18 | Matthew Stevens | 25180 | 18 | Graeme Dott | £68,349 |
| 19 | Ken Doherty | 23335 | 19 | Mark Williams | £65,804 |
| 20 | Marcus Campbell | 21595 | 20 | Tom Ford | £62,601 |
| 21 | Dominic Dale | 20985 | 21 | Marcus Campbell | £57,617 |
| 22 | Tom Ford | 20825 | 22 | Ken Doherty | £55,604 |
| 23 | Joe Perry | 20750 | 23 | Martin Gould | £52,370 |
| 24 | Mark Joyce | 20055 | 24 | Dominic Dale | £52,106 |
| 25 | Peter Ebdon | 20050 | 25 | Michael Holt | £47,813 |
| 26 | Andrew Higginson | 19965 | 26 | Ryan Day | £47,437 |
| 27 | Michael Holt | 19640 | 27 | Andrew Higginson | £47,300 |
| 28 | Ryan Day | 19520 | 28 | Joe Perry | £46,075 |
| 29 | Rod Lawler | 19235 | 29 | Jack Lisowski | £43,355 |
| 30 | Mark King | 19065 | 30 | Jamie Cope | £42,300 |
| 31 | Jack Lisowski | 18550 | 31 | Jamie Burnett | £41,930 |
| 32 | Martin Gould | 18535 | 32 | Mark King | £40318 |
| | | | | | |
| 33 | Jamie Burnett | 18515 | 33 | Rod Lawler | £40,223 |
| 34 | Michael White | 17630 | 34 | Mark Joyce | £39,536 |
| 35 | Ben Woollaston | 17550 | 35 | Stephen Lee | £38,223 |
| 36 | Liang Wenbo | 17520 | 36 | Cao Yupeng | £37,408 |
| 37 | Jamie Cope | 17275 | 37 | Fergal O'Brien | £37,063 |
| 38 | Dave Harold | 16830 | 38 | Kurt Maflin | £36,789 |
| 39 | Xiao Guodong | 16690 | 39 | Xiao Guodong | £34,572 |
| 40 | Cao Yupeng | 16655 | 40 | Michael White | £34,000 |
| 41 | Fergal O'Brien | 16620 | 41 | Liang Wenbo | £33,586 |
| 42 | Kurt Maflin | 16390 | 42 | Ben Woollaston | £32,119 |
| 43 | Rory McLeod | 16130 | 43 | Alan McManus | £29,781 |
| 44 | Anthony McGill | 15890 | 44 | Rory McLeod | £29,000 |
| 45 | Alfie Burden | 15880 | 45 | Anthony McGill | £27,774 |
| 46 | Nigel Bond | 15370 | 46 | Nigel Bond | £27,136 |
| 47 | Alan McManus | 14750 | 47 | Dave Harold | £25,495 |
| 48 | David Gilbert | 14660 | 48 | Matthew Selt | £25,285 |
| | | | | | |
| 49 | Ian Burns | 14660 | 49 | Pankaj Advani | £25,077 |
| 50 | Liu Chuang | 14635 | 50 | David Gilbert | £25,068 |
| 51 | Tian Pengfei | 14360 | 51 | Luca Brecel | £23,751 |
| 52 | Anthony Hamilton | 14310 | 52 | Steve Davis | £22,260 |
| 53 | Jimmy Robertson | 14050 | 53 | Jimmy Robertson | £21,983 |
| 54 | Thepchaiya Un-Nooh | 13915 | 54 | Ian Burns | £21,833 |
| 55 | Dechawat Poomjaeng | 13190 | 55 | Alfie Burden | £21,641 |
| 56 | Matthew Selt | 13120 | 56 | Anthony Hamilton | £21,102 |
| 57 | Luca Brecel | 13100 | 57 | Aditya Mehta | £19,364 |
| 58 | Steve Davis | 13000 | 58 | Barry Pinches | £18,263 |
| 59 | Barry Pinches | 12945 | 59 | Jamie Jones | £17,265 |
| 60 | Pankaj Advani | 12830 | 60 | Thepchaiya Un-Nooh | £16,845 |
| 61 | Yu Delu | 12815 | 61 | Liu Chuang | £16,263 |
| 62 | T. T'boon | 12340 | 62 | Yu Delu | £15,019 |
| 63 | Stephen Lee | 12220 | 63 | Dechawat Poomjaeng | £13,740 |
| 64 | Aditya Mehta | 12060 | 64 | Chen Zhe | £12,804 |
| | | | | | |
| 65 | Jamie Jones | 11940 | 65 | Tian Pengfei | £12,182 |
| 66 | Paul Davison | 11810 | 66 | T. T'boon | £12,005 |
| 67 | Chen Zhe | 11490 | 67 | Simon Bedford | £10,995 |
| 68 | Robbie Williams | 11060 | 68 | Gerard Green | £10,977 |
| 69 | Liam Highfield | 10750 | 69 | Jimmy White | £10,359 |
| 70 | Michael Wasley | 10120 | 70 | Paul Davison | £9646 |
| 71 | Zhang Anda | 10110 | 71 | Robbie Williams | £8,460 |
| 72 | Jimmy White | 9995 | 72 | Zhang Anda | £8,395 |
| 73 | Gerard Greene | 9220 | 73 | Peter Lines | £7,802 |
| 74 | Peter Lines | 8975 | 74 | Liam Highfield | £7,646 |
| 75 | Craig Steadman | 8805 | 75 | Craig Steadman | £6,964 |
| 76 | James Wattana | 8730 | 76 | Michael Wasley | £6,763 |
| 77 | Tony Drago | 8550 | 77 | James Wattana | £6,581 |
| 78 | Sam Baird | 8140 | 78 | Adam Duffy | £6,395 |
| 79 | Li Yan | 8060 | 79 | Andy Hicks | £6,187 |
| 80 | Adam Duffy | 8045 | 80 | Sam Baird | £6,095 |
| 81 | Simon Bedford | 7945 | 81 | Tony Drago | £5,773 |
| 82 | Martin O'Donnell | 7940 | 82 | Li Yan | £5,678 |
| 83 | Daniel Wells | 7770 | 83 | Mike Dunn | £5,500 |
| 84 | Andy Hicks | 7735 | 84 | David Grace | £4,691 |
| 85 | David Grace | 7505 | 85 | Scott Donaldson | £4,064 |
| 86 | Mike Dunn | 6870 | 86 | Martin O'Donnell | £3,868 |
| 87 | Scott Donaldson | 6710 | 87 | Daniel Wells | £3,486 |
| 88 | Joel Walker | 5490 | 88 | P. Suwannawat | £3,300 |
| 89 | P.Suwannawat | 5190 | 89 | Sean O'Sullivan | £2,282 |
| 90 | Sean O'Sullivan | 5190 | 90 | Joel Walker | £1,969 |
| 91 | Jamie O'Neill | 3660 | 91 | Ben Judge | £791 |
| 92 | Ben Judge | 3560 | 92 | Jamie O'Neill | £200 |
| 93 | Michael Leslie | 3490 | 93 | Hossein Vafaei | £200 |
| 94 | Mohamed Khairy | 1010 | 94 | Michael Leslie | £0 |
| 95 | Hossein Vafaei | 360 | 95 | Floyd Ziegler | £0 |
| 96 | Floyd Ziegler | 0 | 96 | Mohamed Khiary | £0 |
| 97 | Ronnie O'Sullivan | 0 | 97 | Ronnie O'Sullivan | £0 |
| 98 | Stephen Hendry | 0 | 98 | Stephen Hendry | £0 |