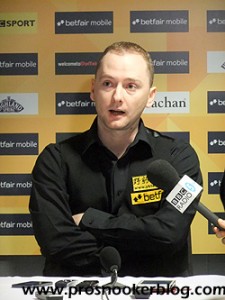 Following his gruelling 10-8 victory against 2002 world champion Peter Ebdon last night, in a match that required a third session in addition to its scheduled two, Scotland's Graeme Dott gave a typically passionate press conference, addressing the issue of slow play, toilet breaks and the role of the referees in helping to prevent the sort matches from over-running in that fashion.
Click below to read what Graeme had to say, as well as my thoughts on the issue…
Graeme told the assembled press:
"It's always hard playing Peter. I like Peter, so I want to choose my words carefully when I say it because I do really get on well with Peter and I like him, but I think there should be a rule brought in for slow play."
"I think that the standard nowadays is very high and there is no need to be as slow as what Peter was. Is Peter cheating? No because there is not a rule."
"There should be a rule brought in for slow play because I think he's been playing for 25 years, he knows the shot he is going to play. I know the shot, the crowd know the shot and he'll still take over a minute. I don't know what his average shot time was, but it must have been really high, really, really high, which I don't think there is any need to be as slow as that."
"If you don't kill the frame right away then you are going to get bogged down. I mean I was criticised when I won the World Championship. I get tagged as being slow. If anybody tags me for that match being slow, I'll sue them because I feel I'm playing quite quick. I don't know what my average shot time was, but it was probably half of what Peter's was, so I don't think that anybody this time can blame me for that one."
"I'm not a slow player whatsoever but everybody else seems to tag me with it and I don't know how because I'm probably quicker than half the field. Everybody will think "ah well, Graeme Dott and Peter Ebdon had to go into a third session", that I'll get the blame as well."
As to what could be done about it, Graeme explained that during the match he had himself been trying to think of a solution, concluding that the only option would be to introduce a shot clock, as seen in the Premier League and Shoot Out events…
"It's hard to bring in a rule for slow play. He was playing for so long, I was actually trying to think of one when I was out there playing and the only thing I can think of would be having a shot clock and giving time outs. It's the only thing I can think of because it is killing the game."
"Mark Allen actually asked me when I was practising, when are you playing and I said Sunday morning, Monday morning and depending on how Peter plays probably Tuesday, which I wasn't far off!"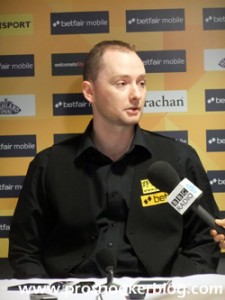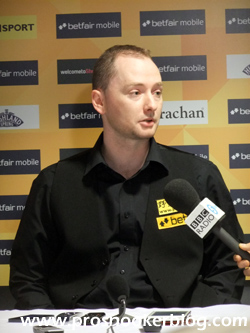 "As I said, none of this is against Peter, I like Peter, I really do like Peter. But I get the impression that 95% of the crowd wanted me to win because of how slow he plays. Even snooker plays probably wanted me to win, because they know he's taking way too long."
"Peter's not the only one that does it, there are other players high up the rankings that liberties and play which I think is wrong. But he is tagged with it worse than everybody else. But I do that if you have 35 seconds to play a shot, everybody should be able to play within that. You know right away what shot you are going to play."
"Because the game took that long, I was thinking of things right and you can't say to somebody that we will give you a minute to play because Peter will take a minute, he will just run the clock down. And you can't say we'll give you thirty seconds, because sometimes you need longer, Ronnie O'Sullivan might take a minute. The only thing would be 30 seconds and two or three time outs a frame. I think would speed the game up, even in the World Championship, in every tournament. I think that is more than quick enough for everybody."
"I think Peter would play better, I think Peter overcomplicates when he's there because any snooker player watching can see it's red-pink-red-black and I'm looking, to see what is he looking at? He must be thinking eight, nine, ten shots ahead and then he misses the next red. I think he over-complicates it. When he played quicker he was much better, but who am I to tell Peter, he's a great player and he is obviously doing it for a reason, but I don't think it's right."
Shot clocks aside, Graeme also spoke of the role of the referees in keeping the action quick, arguing that past officials would say something to the players:
"He's not cheating, he's well within his rights to take as long as he wants but the problem is, referees back in the day would have said "listen Peter, you need to hurry this on a bit." The referees nowadays say nothing. I asked the referee when he went to the toilet, it was like six minutes and I said "how long is he going to be at the toilet?" and he said "yeah I know it's bad isn't it?"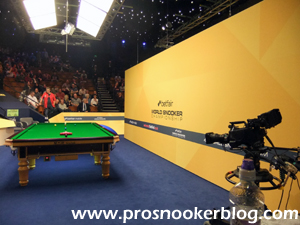 "So the referee is never going to say that you need to speed up. They warned Dean Reynolds, they warned Chris Small. I've never seen anybody in this day and age get warned. It doesn't happen."
"Referees back in the day were harder, I remember John Williams saying to Quinten Hann, 'no play, you are not going to the toilet, you've been to the toilet' and that would not happen these days. Len Ganley would have said something.
"I think the referees nowadays just referee, they don't want any controversy. Maybe they are not experienced enough to know when somebody is taking too long to take a shot. The players would know, if a player was refereeing they'd say listen you've had 40 seconds here, there's nothing to think about."
My View
Of course this is not a new issue. I remember on my first visit to the Crucible in 2005 when Peter recorded that infamous quarter-final victory against Ronnie O'Sullivan, the following day I shared a lift at the Premier Inn with the late Colin Brinded, referee for that match and we spoke about the rules and duties of the referee in such situations.
Does a problem really exist? As Graeme says, Peter is far from the only player prone to play slowly on occasion, though I would argue that for all of the 'slow' matches in professional snooker, there are several more 'normal' paced matches, that pass without comment due to their frequency.
An argument in favour of a shot clock is that with snooker looking to expand globally and attract new fans to the game, slow play and longer matches are not going to help, with the action being labelled by some as boring.
There is some merit in this, as evidenced by the fact that the most popular players in the game have always tended to be the faster, more flamboyant players such as Jimmy White, Ronnie O'Sullivan and Judd Trump.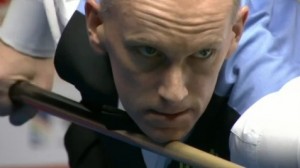 That said, there are plenty too who enjoy the tactical side of the game and find such action as engrossing as any of the free-flowing, potting sessions seen here. Indeed, the much-derided World Championship final between Ebdon and Dott in 2006 was described by Clive Everton yesterday as one of his all-time favourite three matches, while yesterday's match between the two gained as much attention as any of the other matches played during the day, despite the criticism levelled against it.
Long-term readers of the blog will know that from a fan perspective, I have always been against the introduction of a shot clock in ranking event snooker and despite Graeme's comments, that does remain the case.
It is true to say that the majority of shots can be completed in 30 seconds, something that is more than evident from the Premier League events staged over the past decade.
As Graeme says however, there are shots which are not routine and will therefore require greater thought. It is easy to envisage a situation where more than 'two or three' time outs would be required and in these circumstances, the players may be forced into a situation where they will be forced to rush into shots, without being able to consider all of the options available to them. This can often be seen in the Premier League, where players are out of time outs and have to perform a 'hit and hope' with the bleeps counting down.
For me, I would always rather wait one, two minutes to see a well-thought out shot, than see a player forced into something due to a shot clock. In fact I feel that the standard would be worse with a shot clock, with relatively little gain.
One of the greatest assets that snooker has is the variety of styles, that not everybody plays the game in the same way. Part of the sport is learning to adapt and to counter the tactics of different opponents, ultimately finding a way to win.
Players such as Ebdon and Mark Selby for example have often attracted criticism in the past following lengthy victories over quicker players such as Ronnie O'Sullivan, but for me they deserve every credit for doing what they need to in order to win. As Graeme was at pains to point out last night, it is not cheating because they are not breaking any rules and I find it hard to criticise those who do make the most of the time available to them.
Are there time when the referees should say something?
While in theory I am sure that they can, it would be some can of worms to open in practice and something that would be a lot harder to manage and to enforce in practice, than it sounds on paper.
It is easy to envisage a situation where different referees would see different shots and scenarios differently and therefore it would be very difficult to enforce consistently from match to match. With every shot being different, it is impossible to lay down a strict rule in snooker to say that 20, 30, 60, 120 seconds is appropriate for any particular situation, because it will always depend upon where the balls are and the situation that a player finds themselves in.
It is easy to say that a situation is 'obvious' and that referees should be able to enforce that, but any situation like that where the referees are required to exercise their judgement in that manner appears to be fraught with danger and something that I suspect the referees would rather do without.
Conclusion
On balance then, while snooker can have its slow matches, for me these remain a relative minority and in any event are something that I do not see as a problem.
If there were no variety and all of the players were quick, then for me the game would be worse for that and who knows, perhaps the feats of those quicker players would be harder to appreciate.
There are no doubt situations where the players are taking longer over a situation than is really necessary, but part of the enjoyment of snooker, indeed sport, is seeing how the opponent handles that and finds a way to win.
To finish, perhaps the situation in respect of the rules and the time limits was best summed up long ago by the Ted Lowe, who once said:
"There is, I believe, a time limit for playing a shot. But I think it's true to say that nobody knows what that limit is."
In 2013, it would appear that we are no closer to learning just what that time limit really is.