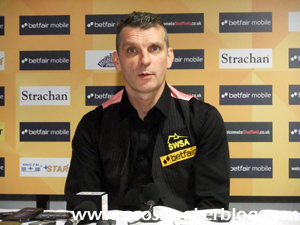 It might only be June in the 2013/14 season, but already the first seeding revision of the new campaign is fast approaching, with just two more events to come before the places are set for the Shanghai Masters.
While such seedings revisions will take on less significance in this new era of snooker, the Shanghai Masters remains one of the three ranking events to be played under the old system this season, this cut-off is one to keep an eye on.
Click below for a summary of who has to do what in Australia and Rotterdam, to secure a better seeding for Shanghai…
Click here to view the drawsheet for the Australian Goldfields Open
Click here to view the drawsheet for ET2
Click here to view the latest projected seedings
Click here to view the points tariffs for events this season
Click here to view when points will be deducted this season
On 22nd July 2013 following the ET2 event, the seedings list will be revised for the first time this season and will be used to determine the seedings for the Shanghai Masters.
As now confirmed by World Snooker, by 22nd July 2013, the points from the 2011 UKPTC1 and 2011 Australian Goldfields Open and will have been deducted and replaced by those from this season's ET1 event, up until that date.
As always, I have already removed those points from the appropriate column on my latest projected seedings list, to show the situation as up to date as possible…
Battle for Number 1
Following his victory at the recent Wuxi Classic, Neil Robertson has a lead of 7,320 over Mark Selby in the latest projected seedings and is guaranteed to remain top ranked player at the next seedings revision.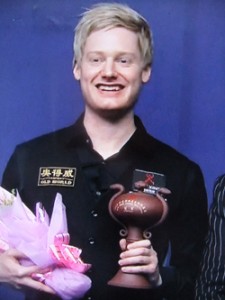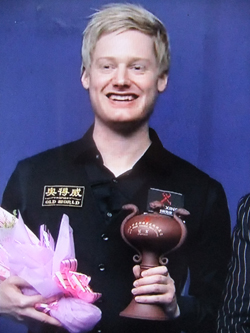 Of course, with John Higgins poised to defend his title in Shanghai, with Ronnie O'Sullivan set to be seeded second as reigning world champion, Robertson will be seeded third for the event, assuming that both John and Ronnie enter.
Battle for the Top 8 (7)
With Ronnie O'Sullivan installed as top seed, only him and the world's top seven players, (six if defending champion John Higgins were to slip out of that bracket), will be sure of avoiding each other until the last eight stage in Shanghai.
In all probability, this race looks like being a contest which will see one from Barry Hawkins, Ricky Walden, Ding Junhui and Stuart Bingham take the final spot, while Mark Allen is already out of the running having elected not to enter either Australia or Rotterdam.
Currently in pole position is Hawkins, but with a lead of just 735 points over Walden, Ricky could overtake the man who defeated him in the semi-finals of the World Championship by progressing a round or two further in Australia, depending on how far they both progress.
For Ding Junhui his task is complicated by the fact that he has not entered the ET2 event, while Stuart Bingham needs at least a semi-final run in Bendigo if he is to overhaul Hawkins going into Rotterdam.
Battle for the Top 16 (15)
With Ronnie O'Sullivan taking the top seeding, this means that only the world's top 15 ranked players at the next cut-off will earn the right to play in Shanghai without having to qualify for the tournament.
As ever, the unfortunate man currently in 16th place is Mark Davis, who lost ground on those around him when he chose to sit out the recent Wuxi Classic event. Trailing Robert Milkins by less than a thousand points however, while being just 1,015 behind Ali Carter, who has not entered the Australian Goldfields Open, Mark's fate remains to some extent within his own hands. A further 805 points ahead of Mark and also not making the flight to Bendigo, Graeme Dott is not yet safe either.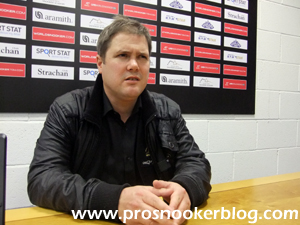 Also with work to do is Mark Williams, who following a difficult 2012/13 season has slipped to 17th in the latest projected list. Another who will not be in action in Bendigo, he must reach at least the semi-finals in Rotterdam if he is to avoid having to qualify for Shanghai.
Currently 1,335 points behind 15th placed Milkins, Marco Fu is also within striking distance of an automatic place at the venue, while the only other man mathematically in with a chance is AT1 winner Joe Perry, who would have to win both in Australia and Rotterdam to stand any chance.
The Top 32 (33)
With Stephen Lee's fate not to be decided until at least September, those ranked between 16-33 at the next cut-off (excluding Ronnie O'Sullivan), will begin the Shanghai Masters at the last 48 stage.
Those immediately in the fight, together which which tournaments they remain in are:
32 – Peter Ebdon – 41270 (not qualified for Australia, ET2)
33 – Michael White – 39315 (Both Australia, ET2)
————————————————————————————–
34 – Liang Wenbo – 38020 (ET2 only)
35 – Xiao Guodong – 37680 (Australia only)
36 – Jack Lisowski – 37645 (ET2 only)
37 – Fergal O'Brien – 37340 (Both Australia, ET2)
38 – Jamie Cope – 36105 (Both Australia, ET2)
Nearest man to 33rd placed Michael White then is China's Liang Wenbo, who must reach at least the final of ET2 if he is to overtake the Welshman.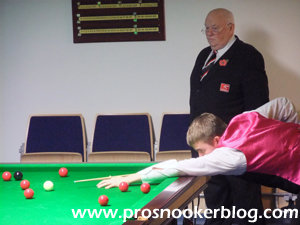 Just behind him is fellow Chinese player Xiao Guodong, who must reach at least the semi-finals in Bendigo if he is to stand any chance of claiming a top 32 seeding, while nothing less than the title in Rotterdam would be enough for Jack Lisowski.
Further back, the final two players who could come into contention are Fergal O'Brien and Jamie Cope, though the duo would have to win multiple matches over the final two events before the cut-off to do so.
The Top 48
Following changes to the tournament structure for the three events not to be held under a flat draw this season, there is not longer any benefit to a player being ranked inside the top 48.
The Top 64 (65/6)
With Stephen Lee absent, the top 65 in the rankings at the next seedings revision will be seeded through to the second round of the Shanghai Masters qualifiers, or as it stands the top 66, with the retired Stephen Hendry currently 65th on the list.
The first of two men ranked outside that bracket who can do something about it is Preston's Ian Burns, who 1,420 points behind Barry Pinches, would need to at least three matches over the next two events to make up the deficit.
The second is Paul Davison, who like Ian remains in both tournaments, but over 3,000 points further back, would need to produce the performance of his life in Bendigo if he were to catch Pinches.