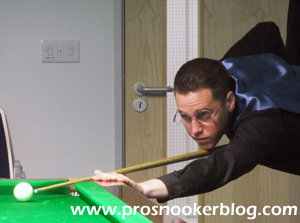 As was the case last season, alongside the 2013/14 European Tour, there will be a separate EBSA Qualifying Tour, which will see twelve players moving on to a final qualifying event at the end of the campaign.
From it will emerge three winners, who will step up to the main tour next season and following the second of this season's four regular events in Furth last weekend, we now have an early ranking list to follow…
The Events
There will be four events staged during the 2013 EBSA Qualifying Tour, held at the following main European Tour events:
Bluebell Wood Open (ET3), Doncaster Dome: August 14-17 – won by Oliver Lines
Paul Hunter Classic (ET4), Stadhalle, Furth: August 22-25 – won by Sydney Wilson
Kay Suzanne Memorial Cup, The Capital Venue, Gloucester (ET 6): November 7-10
Antwerp Open, Lotto Arena, Antwerp (ET 7): November 14-17
Tour Qualification
Following the conclusion of the year's four events, the four individual event winners will qualify for the final play-offs, in addition to the next eight players on the EBSA Qualifying Tour ranking list, giving a total of 12 players.
As was the case last season, the players will be divided into three sections of four, each playing semi-finals, followed by three finals, with the winners following in the footsteps of Stuart Carrington, Patrick Einsle and Jak Jones and earning promotion to the main tour.
The Rankings
Already assured of their places in the play-offs, Oliver Lines and Sydney Wilson are unsurprisingly high up the EBSA Qualifying Tour ranking list, however it is event one runner-up Gareth Allen who tops the rankings at the halfway point, having also reached the last 16 in Germany.
With two events still to be played, the latest ranking list is as follows…
Further updates will of course follow the final amateur cup events of the season, confirming who the twelve players progressing to the play-offs will be…
| | | | | | | |
| --- | --- | --- | --- | --- | --- | --- |
| # | NAME | ET1 | ET2 | ET3 | ET4 | Total |
| . | | | | | | |
| 1 | Gareth Allen | 120 | 60 | 0 | 0 | 180 |
| 2 | Sydney Wilson | 20 | 150 | 0 | 0 | 170 |
| 3 | Oliver Lines | 150 | 0 | 0 | 0 | 150 |
| 4 | Charlie Walters | 80 | 60 | 0 | 0 | 140 |
| 5 | Martin Ball | 40 | 100 | 0 | 0 | 140 |
| 6 | Ian Glover | 80 | 60 | 0 | 0 | 140 |
| 7 | Jamie Rhys Clarke | 100 | 40 | 0 | 0 | 140 |
| 8 | Matthew Day | 10 | 120 | 0 | 0 | 130 |
| 9 | Ashley Carty | 40 | 80 | 0 | 0 | 120 |
| 10 | Sam Harvey | 60 | 60 | 0 | 0 | 120 |
| 11 | Zack Richardson | 10 | 100 | 0 | 0 | 110 |
| 12 | Leo Fernandez | 100 | 0 | 0 | 0 | 100 |
| 13 | Steven Hallworth | 60 | 40 | 0 | 0 | 100 |
| 14 | Kishan Hirani | 60 | 40 | 0 | 0 | 100 |
| 15 | Thomas Wealthy | 20 | 80 | 0 | 0 | 100 |
| 16 | Damian Wilks | 20 | 80 | 0 | 0 | 100 |
| 17 | Daniel Ward | 60 | 40 | 0 | 0 | 100 |
| 18 | Andreas Ploner | 0 | 80 | 0 | 0 | 80 |
| 19 | Zak Surety | 80 | 0 | 0 | 0 | 80 |
| 20 | Eden Sharav | 80 | 0 | 0 | 0 | 80 |
| 21 | Ryan Causton | 20 | 60 | 0 | 0 | 80 |
| 22 | Jack Bradford | 20 | 60 | 0 | 0 | 80 |
| 23 | Ben Jones | 40 | 40 | 0 | 0 | 80 |
| 24 | Oliver Brown | 40 | 40 | 0 | 0 | 80 |
| 25 | Jurian Heusdens | 40 | 40 | 0 | 0 | 80 |
| 26 | Christopher Keogan | 10 | 60 | 0 | 0 | 70 |
| 27 | Kevin van Hove | 0 | 60 | 0 | 0 | 60 |
| 28 | Michael Tomlinson | 60 | 0 | 0 | 0 | 60 |
| 29 | Marc J Davis | 20 | 40 | 0 | 0 | 60 |
| 30 | Josh Boileau | 60 | 0 | 0 | 0 | 60 |
| 31 | Jamie Bodle | 60 | 0 | 0 | 0 | 60 |
| 32 | Michael Georgiou | 60 | 0 | 0 | 0 | 60 |
| 33 | Darren Cook | 40 | 20 | 0 | 0 | 60 |
| 34 | Hannah Jones | 20 | 40 | 0 | 0 | 60 |
| 35 | Joe Steele | 20 | 40 | 0 | 0 | 60 |
| 36 | Ross Higgins | 20 | 40 | 0 | 0 | 60 |
| 37 | Sean Hopkin | 10 | 40 | 0 | 0 | 50 |
| 38 | Hans Blanckaert | 40 | 10 | 0 | 0 | 50 |
| 39 | Jeff Cundy | 40 | 0 | 0 | 0 | 40 |
| 40 | Mitchell Travis | 40 | 0 | 0 | 0 | 40 |
| 41 | Adam Bobat | 40 | 0 | 0 | 0 | 40 |
| 42 | Alex Taubman | 40 | 0 | 0 | 0 | 40 |
| 43 | Shane Castle | 40 | 0 | 0 | 0 | 40 |
| 44 | Alain van der Steen | 0 | 40 | 0 | 0 | 40 |
| 45 | Joe O'Connor | 40 | 0 | 0 | 0 | 40 |
| 46 | Ben Harrison | 40 | 0 | 0 | 0 | 40 |
| 47 | Lukas Kleckers | 0 | 40 | 0 | 0 | 40 |
| 48 | Peter Wagner | 0 | 40 | 0 | 0 | 40 |
| 49 | Shaun Wilkes | 40 | 0 | 0 | 0 | 40 |
| 50 | Rhys Clark | 40 | 0 | 0 | 0 | 40 |
| 51 | Sanderson Lam | 20 | 20 | 0 | 0 | 40 |
| 52 | Tomasz Skalski | 0 | 40 | 0 | 0 | 40 |
| 53 | Joe Roberts | 20 | 20 | 0 | 0 | 40 |
| 54 | Jimmy Carney | 20 | 20 | 0 | 0 | 40 |
| 55 | Phil Barnes | 10 | 20 | 0 | 0 | 30 |
| 56 | Ryan Thomerson | 20 | 10 | 0 | 0 | 30 |
| 57 | Mark Owens | 20 | 0 | 0 | 0 | 20 |
| 58 | Jeff Jacobs | 0 | 20 | 0 | 0 | 20 |
| 59 | Kevin Vandevoort | 0 | 20 | 0 | 0 | 20 |
| 60 | Kilian Baur-Pantoulier | 0 | 20 | 0 | 0 | 20 |
| 61 | Dominik Scheruebl | 0 | 20 | 0 | 0 | 20 |
| 62 | Florian Werres | 0 | 20 | 0 | 0 | 20 |
| 63 | Luke Garland | 20 | 0 | 0 | 0 | 20 |
| 64 | Moritz Thomas | 0 | 20 | 0 | 0 | 20 |
| 65 | Roman Dietzel | 0 | 20 | 0 | 0 | 20 |
| 66 | Sebastien Thron | 0 | 20 | 0 | 0 | 20 |
| 67 | Stefan Schneider | 0 | 20 | 0 | 0 | 20 |
| 68 | Wang Chooi Tan | 0 | 20 | 0 | 0 | 20 |
| 69 | Anita Maflin | 0 | 20 | 0 | 0 | 20 |
| 70 | Arun Mehta | 20 | 0 | 0 | 0 | 20 |
| 71 | Bah Maqsood | 20 | 0 | 0 | 0 | 20 |
| 72 | Christopher Watts | 0 | 20 | 0 | 0 | 20 |
| 73 | David Frew | 0 | 20 | 0 | 0 | 20 |
| 74 | Terry Challenger | 20 | 0 | 0 | 0 | 20 |
| 75 | Adrian Schmidt | 0 | 20 | 0 | 0 | 20 |
| 76 | Kurtis Weaver | 20 | 0 | 0 | 0 | 20 |
| 77 | Stefan Schenk | 0 | 20 | 0 | 0 | 20 |
| 78 | James Silverwood | 20 | 0 | 0 | 0 | 20 |
| 79 | Lee Brookes | 20 | 0 | 0 | 0 | 20 |
| 80 | Norbert Hofheinz | 0 | 20 | 0 | 0 | 20 |
| 81 | Ali Kirim | 0 | 20 | 0 | 0 | 20 |
| 82 | Michael Williams | 20 | 0 | 0 | 0 | 20 |
| 83 | Stephen Groves | 20 | 0 | 0 | 0 | 20 |
| 84 | Adam Edge | 0 | 20 | 0 | 0 | 20 |
| 85 | Andy Marriott | 20 | 0 | 0 | 0 | 20 |
| 86 | Barry Campbell | 20 | 0 | 0 | 0 | 20 |
| 87 | Benjamin Buser | 0 | 20 | 0 | 0 | 20 |
| 88 | Charon Parker | 20 | 0 | 0 | 0 | 20 |
| 89 | Daniel Dieudonne | 0 | 20 | 0 | 0 | 20 |
| 90 | Danel Schneider | 0 | 20 | 0 | 0 | 20 |
| 91 | Dylan Craig | 20 | 0 | 0 | 0 | 20 |
| 92 | Fabian Tost | 0 | 20 | 0 | 0 | 20 |
| 93 | Olivier Vandenboheede | 0 | 20 | 0 | 0 | 20 |
| 94 | Ralf Hemmerling | 0 | 20 | 0 | 0 | 20 |
| 95 | Tommy Doherty | 20 | 0 | 0 | 0 | 20 |
| 96 | William Lemons | 20 | 0 | 0 | 0 | 20 |
| 97 | Reanne Evans | 10 | 10 | 0 | 0 | 20 |
| 98 | Saqib Nasir | 10 | 10 | 0 | 0 | 20 |
| 99 | Henry Roper | 10 | 10 | 0 | 0 | 20 |
| 100 | Michele Battaglia | 10 | 10 | 0 | 0 | 20 |
| 101 | Aaron Busuttil | 10 | 0 | 0 | 0 | 10 |
| 102 | Adam Edge | 10 | 0 | 0 | 0 | 10 |
| 103 | Brian Cini | 10 | 0 | 0 | 0 | 10 |
| 104 | Douglas Hogan | 10 | 0 | 0 | 0 | 10 |
| 105 | George Marter | 10 | 0 | 0 | 0 | 10 |
| 106 | Max Kribbe | 0 | 10 | 0 | 0 | 10 |
| 107 | Mitchell Mann | 10 | 0 | 0 | 0 | 10 |
| 108 | Peter Devlin | 10 | 0 | 0 | 0 | 10 |
| 109 | Ralf Guenzel | 0 | 10 | 0 | 0 | 10 |
| 110 | Sanjin Kusan | 0 | 10 | 0 | 0 | 10 |
| 111 | Thomas Davie | 10 | 0 | 0 | 0 | 10 |
| 112 | Tobias Hirmer | 0 | 10 | 0 | 0 | 10 |
| 113 | Andreas Hartung | 0 | 10 | 0 | 0 | 10 |
| 114 | Andrew Milliard | 10 | 0 | 0 | 0 | 10 |
| 115 | Andrew Rogers | 10 | 0 | 0 | 0 | 10 |
| 116 | Ashley Hugill | 10 | 0 | 0 | 0 | 10 |
| 117 | Billy Brown | 10 | 0 | 0 | 0 | 10 |
| 118 | Eric Pei | 10 | 0 | 0 | 0 | 10 |
| 119 | Gerhard Engelschalk | 0 | 10 | 0 | 0 | 10 |
| 120 | Jamie Brown | 10 | 0 | 0 | 0 | 10 |
| 121 | Jan Eisenstein | 0 | 10 | 0 | 0 | 10 |
| 122 | Luca Kaufmann | 0 | 10 | 0 | 0 | 10 |
| 123 | Matthew Glasby | 10 | 0 | 0 | 0 | 10 |
| 124 | Matthias Leuthold | 0 | 10 | 0 | 0 | 10 |
| 125 | Nico Elton | 10 | 0 | 0 | 0 | 10 |
| 126 | Sigurdur Kristjansson | 10 | 0 | 0 | 0 | 10 |
| 127 | Soner Sari | 0 | 10 | 0 | 0 | 10 |
| 128 | Stefan Gerst | 0 | 10 | 0 | 0 | 10 |
| 129 | Tobias Stelter | 0 | 10 | 0 | 0 | 10 |
| 130 | Zafran Ali | 10 | 0 | 0 | 0 | 10 |
| 131 | Bernd Strnad | 0 | 10 | 0 | 0 | 10 |
| 132 | Carl Rosenberger | 0 | 10 | 0 | 0 | 10 |
| 133 | Christian Rauscher | 0 | 10 | 0 | 0 | 10 |
| 134 | Christopher Giffney | 10 | 0 | 0 | 0 | 10 |
| 135 | Diana Schuler | 0 | 10 | 0 | 0 | 10 |
| 136 | Gary Steele | 0 | 10 | 0 | 0 | 10 |
| 137 | Imran Nisar | 10 | 0 | 0 | 0 | 10 |
| 138 | John Patrick Tyndall | 10 | 0 | 0 | 0 | 10 |
| 139 | John Sutton | 10 | 0 | 0 | 0 | 10 |
| 140 | Joseph Casha | 10 | 0 | 0 | 0 | 10 |
| 141 | Laurin Winters | 0 | 10 | 0 | 0 | 10 |
| 142 | Luke Stilwell | 10 | 0 | 0 | 0 | 10 |
| 143 | Matthias Porn | 0 | 10 | 0 | 0 | 10 |
| 144 | Oliver Kremp | 0 | 10 | 0 | 0 | 10 |
| 145 | Oliver Metzger | 0 | 10 | 0 | 0 | 10 |
| 146 | Richard Haney | 10 | 0 | 0 | 0 | 10 |
| 147 | Rick Kraaijeveld | 0 | 10 | 0 | 0 | 10 |
| 148 | Ronny Bucholz | 0 | 10 | 0 | 0 | 10 |
| 149 | Ronny Pawlitza | 0 | 10 | 0 | 0 | 10 |
| 150 | Sebastian Lahrius | 0 | 10 | 0 | 0 | 10 |
| 151 | Stefan Caspers | 0 | 10 | 0 | 0 | 10 |
| 152 | Stephane Ochoiski | 0 | 10 | 0 | 0 | 10 |
| 153 | Thomas Kiesewetter | 0 | 10 | 0 | 0 | 10 |
| 154 | Tobias Renner | 0 | 10 | 0 | 0 | 10 |
| 155 | Adam Longley | 0 | 0 | 0 | 0 | 0 |
| 156 | Angelo Rizzo | 0 | 0 | 0 | 0 | 0 |
| 157 | Brandon Sargeant | 0 | 0 | 0 | 0 | 0 |
| 158 | David Singh | 0 | 0 | 0 | 0 | 0 |
| 159 | Dean Sheridan | 0 | 0 | 0 | 0 | 0 |
| 160 | Filipe Cardoso | 0 | 0 | 0 | 0 | 0 |
| 161 | Jamie Barrett | 0 | 0 | 0 | 0 | 0 |
| 162 | Jamie McArdle | 0 | 0 | 0 | 0 | 0 |
| 163 | Jan Leichs | 0 | 0 | 0 | 0 | 0 |
| 164 | Joe Delaney | 0 | 0 | 0 | 0 | 0 |
| 165 | Jordan Brown | 0 | 0 | 0 | 0 | 0 |
| 166 | Joseph McLaren | 0 | 0 | 0 | 0 | 0 |
| 167 | Lewis Frampton | 0 | 0 | 0 | 0 | 0 |
| 168 | Marianyela Palacios | 0 | 0 | 0 | 0 | 0 |
| 169 | Mark Vincent | 0 | 0 | 0 | 0 | 0 |
| 170 | Martin Spiess | 0 | 0 | 0 | 0 | 0 |
| 171 | Mathijs Bokken | 0 | 0 | 0 | 0 | 0 |
| 172 | Michael Wild | 0 | 0 | 0 | 0 | 0 |
| 173 | Nicole Breitenstein | 0 | 0 | 0 | 0 | 0 |
| 174 | Pascal Camenzind | 0 | 0 | 0 | 0 | 0 |
| 175 | Ralph Mueller | 0 | 0 | 0 | 0 | 0 |
| 176 | Robert Marshall | 0 | 0 | 0 | 0 | 0 |
| 177 | Shokat Ali | 0 | 0 | 0 | 0 | 0 |
| 178 | Thomas Blang | 0 | 0 | 0 | 0 | 0 |
| 179 | Wayne Townsend | 0 | 0 | 0 | 0 | 0 |
| 180 | Wen Chen | 0 | 0 | 0 | 0 | 0 |