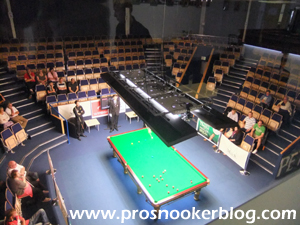 The qualifying rounds of the 2014 China Open will be staged at the Capital Venue in Gloucester next February 17 and 18.
The Capital Venue in the south-west of England has already staged events on the World Snooker Tour this season, and will once again host the best players in the world as they compete for places in the final stages in Beijing.
All 128 players who enter the event will play one qualifying match, with the 64 winners to go on to China for the season's penultimate world ranking event.
A spokesman for World Snooker said: "The Capital Venue has proved an excellent location for staging professional events and we are delighted to hold the China Open qualifiers there for the first time.
"These qualifiers are just before the Welsh Open so it is convenient for the players to make the short journey from Gloucester to Newport."
Tickets to see the action live start at just £5 and they are on sale now – for details see www.thecapitalvenue.com/china-open-world-snooker