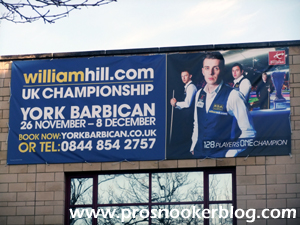 Day two at York and following yesterday's opening eight matches, today we have another twelve last 128 matches, with the likes of Jack Lisowski, Marcus Campbell and Andrew Higginson involved…
Click here to view all of the results from the UK Championship so far
Click here to view the latest projected seedings
16:13: Unlike my fellow blogger @davehendon of Snooker Scene Blog, I did not arrive in time for the free lunch in the media room, but was all set up before the conclusion of the match between Marcus Campbell and 15-year-old Lyu Haotian, which had been running for some four and a half hours.
Eventually it was to be Campbell's experience which would prove the difference as he came through a 6-5 winner, although as he told the media post-match, the deciding frame proved to be something of a comedy of errors between the two.
It was interesting to hear Marcus speak at some length about how the change to flat 128 draws has affected him, particularly financially, as after a few early defeats recently, he has seen his income reduced from past seasons when under the old system, he had a certain level of guaranteed income.
As for his own form however, he was clearly relieved to get over the line after a difficult time off the table and is hoping that a narrow victory such as this one can be the springboard to better things this season.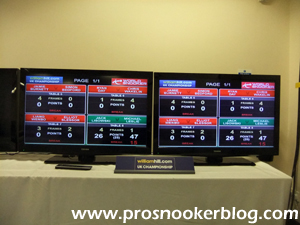 Away from the table, there was also much merriment to be had in the media centre as Hector Nunns gave me an eagerly anticipated edition of the ibilliard magazine featuring articles concerning the both of us. With a member of the Chinese press present, we were treated to a rather interesting translation by one of the Chinese journalists in here, particularly in respect of my piece!
The discovery that Elliot Slessor has worked as a poker dealer has also led to excitement on behalf of the headline writers, while rookie professional Chris Wakelin at the time of writing continues to impress on the baize, leading Ryan Day 4-1.
Perhaps the most impressive thing that I have seen today however is this video from World Snooker of Dominic Dale eating a water bug in homage to Steve Davis, who of course is currently in action on I'm a Celebrity Get Me Out of Here on ITV. Tucking in without hesitation, apparently choosing the water bug as the largest selection on offer, little over an hour after his deciding frame loss to Vinnie Calabrese, it is one of the strangest snooker related videos that I have seen in some time!
20:10: A frenetic afternoon session has seen a couple of upsets, as well as a moment of drama as Liang Wenbo sought to become the man to make snooker's 100th maximum break and earn the rolling prize of £59,000, in the final frame of what would be a 6-2 win against Elliot Slessor.
From the early stages, the balls looked to be well placed for Liang and as an ever increasing crowd gathered around my laptop in the media centre, it looked as though there was no real reason why he should not make the break.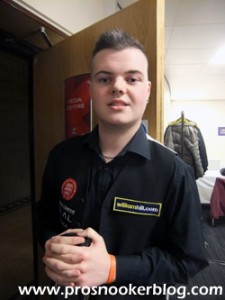 Unfortunately however, he got into the 15th black too much and left the cue ball close to the brown and though he was not snookered, he had a problem of holding the cue ball for the green. As it happened, he was to overcut the yellow and the chase for that 100th maximum goes on.
As he told the press following his match, he was unaware of the bumper prize on offer while he was attempting the break, he was just trying to concentrate, make a high break and play during the final frame. In the circumstances (he had still won the match after all), he seemed very happy and when told of the exact amount on offer for the max, simply replied 'next time!'
In the commotion as Liang gave his interview stood up, I managed to catch Elliot Slessor for a quick photo, carelessly referring to him as 'Gary' initially, having been talking to people about his link with fellow north-east cueman Gary Wilson earlier in the day. While I typically use qualifiers as my chance to get photos for my player profiles on the blog, the advantage of the new flat draw means that I can now get them at the venue!
Also coming in for his interview shortly afterwards was Jack Lisowski, understandably gutted following his surprise defeat to Michael Leslie, but still kind enough to say hello and tell me to have a good week here.
His conqueror Leslie would soon follow and he told us the following:
"Unbelievable, 4-0 down, I was playing quite badly, just letting Jack get in. He's such a good player is Jack and 4-0, I was just kinda thinking of 6-0 and just to try and get a frame on the board. I played each frame and I started to grow in confidence, my safety was great in the match, I'm very well known for being a good safety player and I am proud of myself the way I came back there.
When it went to about 4-3, I felt like I was right back in the match. Even at 4-0 at the interval I knew I could win. The way I came back was really satisfying and will stand me in good stead for the future.
Jack is such a great player, I think that everyone agrees he is destined for the top and destined for greatness so 4-0 could easily have been 6-0 but I dug in really well.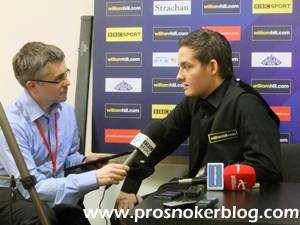 I have been playing well and I have had a few good results this season, so I was confident coming in, but at the same time I knew how good a player Jack was, so I knew if I wasn't on my game he could have just destroyed me. So I knew I had to play well and I never scored as heavy as I would have liked to, but I was really delighted with how I dug in.
It's amazing, I play in the PTCs and things like that but it just felt really special playing in there, it felt different, it felt like a really big tournament so yeah I loved it.
I play Wenbo next now, he looked like he played well so I will just give it my best shot and see what happens. I was on a 20-odd break [during Liang's maximum attempt] and I stopped to watch it and he was just unlucky at the end there.
Like Joel Walker, Michael is another player now starting to enjoy better results after 18 months as a professional and I asked him how much of a help it had been to him to have a two year card now:
"I mean when I look back at how I was in the first year, I was just like a headless chicken, I felt like I couldn't get back to my seat quick enough when I was at the table looking back now.
I feel like a completely different player in my second year, even though as it stands it looks as though I will be falling off the tour, I do feel like I have improved a lot since last year. If I can improve every year and maybe try to get back on, hopefully I can do well in the future.
It is just improving in the matchplay, everyone is so good. Coming through the amateurs I was just a young boy coming into the pro game, I learned the hard way. I had a lot of tough draws my first year, people will say that it stood me in good stead having these great players in my first season and maybe that is why I am doing ok now."
This is of course the first season in which we have had players coming to the end of their two-year card and it is interesting to see players such as Michael who as he said himself, struggled during his first season, but now has that extra time to be able to show what he can do. This is something that I will expand upon in a separate blog post in the coming weeks.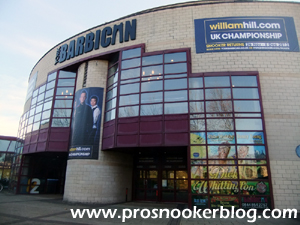 One man who has been able to hit the ground running during his first season has been Chris Wakelin, who survived a brave comeback attempt from Ryan Day to win the last two frames and emerge a 6-5 winner. He told us following the match:
"That was probably the toughest match that I have ever played in, I played really well to go 4-1 up and then I struggled, he played really well to come back at me and going 5-4 down was tough, because I felt like the match was slipping away from me. Then I got a couple of chances, I didn't really make the most of them but managed to get over the line in the end.
I did miss a couple of chances, I wasn't particularly thinking about the win early on, I still needed a couple of frames. It gets tough when they start coming back at you, he is such a good player is Ryan, he really put me under it, but I was pleased to get over the line in the end.
That was the best achievement [his recent quarter-final run at the ET6 event in Gloucester]. When it went 5-all I left the arena and just thought back over the matches that I played in Gloucester, the close wins that I had. I had three final frame deciders in Gloucester and using that experience. Thinking about the positives gave me the drive to go on and win that last frame.
I have been through a lot this year, this is the first match that I have won in a ranking event, I have done ok in the PTCs but it's good to get that first ranking event win, especially at the UK Championship.
I prefer playing at the venue, you get more people watching, the crowd are fantastic, they were very fair, especially towards the end. Playing here at the Barbican Centre it is much tougher playing in front of more people, obviously being new to the tour but I really enjoyed it. It was a great match and I was pleased to get over the line."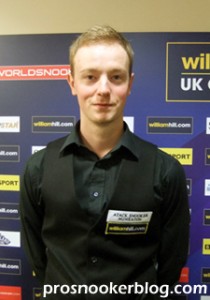 Having been there first hand to witness Chris' excellent win against Mark Davis during his run in Gloucester, which really caught my eye at the time, I asked him what came together for that tournament and also what he thought about the conditions today:
"That was the first tournament that I have actually done reasonably well in, I got to the quarter-finals. That match against Mark Davis was at the time the best win of my career. Mark is a top 16 player, he's absolutely granite on the table so being 3-2 down I really had to dig in deep and using all of the experience I've gained so far this season, managed to win that final frame decider and use that experience from that match to help me win this one as well.
I thought that the arena today was fine. Some of the players have said that it's not quite the same as playing in the arena, which I can understand the atmosphere is going to be different, but I didn't have a problem to be honest. The table was fantastic to be honest, nice and quick, not very many kicks, I thought that the conditions were very good."
23:19: Having adjourned for a spot of food with @snookeroland at the local Italian, I headed back to the venue to follow an evening session which saw Martin Gould and Alan McManus in action, as well as Anthony McGill and Kyren Wilson in one of the ties of the round.
Rather impressively there was also a sell out crowd, which while only amounting to 150 people in the sports hall, is a good amount for day two of a tournament which has not yet seen the current top 16 enter the fray. With Mark Allen floating around the media centre, commenting on the fact that despite the technology in the room, we were following the football on a mobile phone, the snooker matches in general looked to be far closer than they had the previous night.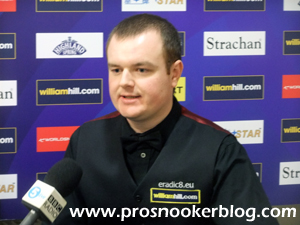 The first man to emerge victorious was Chris Norbury (not Christophe as stated on the scoreboard due to an unfortunate lack of space), who was a shock winner against former top 16 player Martin Gould. As he entered the media room, Martin was clearly feeling under the weather, saying that something came over him in the minutes leading up to his match and his interval attempts to recover by eating a banana only served to make him feel sick.
He was at pains to point out however that Chris played very well and Norbury himself was clearly delighted with his performance:
"Unbelievable! I don't really know where that came from to be honest, from 3-2 down I played some pretty unbelievable stuff there so I am well happy with that.
I just started feeling good, I made a good 68 to go 3-3, after that I just thought I was going to go for everything because I felt as though I was going to pot it for some strange reason, so I just kept going for them and they kept going in so really happy with that!"
The real drama was still to come however, as the final two matches of the season went to final frame, black ball deciders as the clock passed midnight.
First to reach a climax was the match between Alan McManus and Joel Walker, which had seen the experienced Scot forge three clear at 5-2, before the in-form Walker hit back to force a decider at 5-5. It had looked as though McManus would shade it on the colours, only for him to miss the final yellow and leave the way clear for Walker to dish up and force a re-spotted black.
As we refreshed the live scores in the media centre, we soon learned that it was McManus who had held his nerve to come through and take victory, before word reached us that victory had come in heartbreaking circumstances for Walker, as he had gone in-off on the re-spotted black to lose the match.
To his credit, Walker still came in to speak to the press and answered the questions well in difficult circumstances:
"I don't know where to start! I thought I'd lost, he'd cleared up, he's missed an easy yellow, I cleared up for a re-spot, I thought I had come back from 5-2 down, he's left me a double, I thought do I go for it or don't I? I decided to go for it and I thought the white was nowhere near in-off and I went in off. That's just snooker!
I'd have rather have lost 6-2 I think! (laughs), It's just one of them, I'm disappointed really. I missed a couple of chances early on in the frame to put it to bed and I was playing well and I thought I was going to take them but…
I've never lost a re-spot going in-off, especially 6-5 and that's one of the toughest ones to take that I have had. I have had a couple though, hopefully it will stand me in good stead when things get close again.
I settled quite well and I should have won the first frame. I think I missed a red in the middle and he played a great safety shot and left me in a lot of trouble. He is one of the toughest players to play, his safety is absolutely fantastic, probably the best safety game I have played against. just a tough one to take at the minute."
As with Chris Wakelin earlier in the day, Joel was a player who impressed me a lot in Gloucester and I took the chance to ask him about his recent form and also how having a two-year card has helped him:
"I know I have been playing well recently and I just weren't getting the results. I gained a lot of experience last year and I think things have just started to fall into place, I have just started to play well and take my chances and win frames in one visit a lot more and that is what you have got to do if you want to become a top player.
If I had got on and got one year I'd have been straight off, at least this year I think I have secured it for another two years from the PTCs barring a miracle. Hopefully it will help me even more, another two years to just progress."
We had to wait a while for Alan McManus, who stayed on to watch his friend and compatriot Anthony McGill, who was to get involved in his own deciding frame thriller, having come back from 3-0 down against Kyren Wilson. Following a long safety exchange on the blue, it was McGill who was able to sink it, to join McManus in the next round.
Like Walker, Wilson spoke well after the match in difficult circumstances:
"I played Anthony a lot as a junior, I know how tough he is to beat so I knew at 3-0 up it wasn't game over. I knew it wouldn't be plain sailing. It was 3-1 and he fluked the yellow and that done me. To go 4-3 down, 5-3 down from there, it completely done me. I'm proud of myself for fighting back from 5-3 down, I didn't stumble over the line to get to 5-5, I made good breaks, just gutted really that I've lost the decider, but my time will come.
I went for a stupid red when I was on a break of 48, stuck him up, let him back into the game and from there it was just scrappy after that, but he played well to be fair.
I'm playing well, I'm putting a lot of pressure on myself because I believe I can win ranking events. The performances I am putting in, I don't see any reason why I shouldn't, beating people like Shaun Murphy, Stephen Maguire. I'm sort of gagging for it now and I really want it to happen. I have just got to be patient. I looked at the one-year list and I think I'm top 30 in the world, so based on that I am having a good year."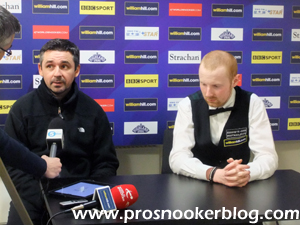 Following that match, Scottish duo McManus and McGill came in together to give their thoughts on their respective deciders, Alan first of all:
"I think we both kinda, 6-5 on the black, weird how things work out sometimes. I was fortunate to get over the line because he came back like a train. I know Joel has had a lot of good results lately and he is a very good player. If he keeps playing the way that he is playing, he's going to do plenty of damage on the tour, there's no doubt.
I've had a few 5-4 blacks, but 6-5 on a re-spot, that's probably a first. I had a chance at 5-2, made a mess of it and then never really saw much until 5-5. Even then I never saw much until he missed one silly red and I got a chance and made about 40 to get back in it and then it started getting a bit twitchy.  I held myself together alright, apart from I missed a daft yellow at the end but I played alright so I'm quite happy.
I feel good, the tables are beautiful, I've always said in November, the winter months, cold outside, warm inside, the tables are absolutely beautiful, the conditions couldn't be better."
The questions then turned to Anthony, who described the dramatic climax to his own match:
"6-5, black ball game, similar to Alan. I can't believe that I won, Kyren started so well, he's just playing awesome right now, but actually I played alright, it was a great game to be honest, very few mistakes really.
I wasn't nervous at all, even when I went 5-3 up, I didn't put a foot wrong to go 5-5 and I thought I'm not doing anything wrong at all. Usually, you would think that you would be very nervous, but I don't think either of us were, it was just a great game.
"It's a very significant results, I know a lot about statistics and stuff and the last two UK's I have lost 6-5 and I thought it was going to happen again, three years in a row, I just seem to keep losing deciders lately so to win one, over the moon! I went to the toilet at 5-5 and thought I can't keep losing deciding frames, I am due a win, so I'm glad."