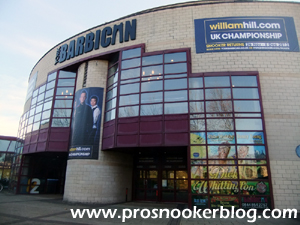 Day three at the UK Championship proved to be the longest of the tournament so far, with the final match not concluding until 2:18am the following morning. More headline grabbing however proved to be the comments of the likes of Judd Trump, Ali Carter and Graeme Dott, as the new format this year continues to divide opinion…
Click here to view all of the results from the UK Championship so far
Click here to view the latest projected seedings
Arriving at the venue at around 12:30pm, I learned that Ali Carter, Graeme Dott and Michael Holt had already completed comfortable wins, with Ali and Graeme taking to the press room to express their opinions on the subject that everybody is talking about, the new format for this year's tournament.
You can read their comments here, but in short it is fair to say that neither are in favour of the changes made, with 128 players coming to the Barbican Centre. As you will read further down this article, they were far from the only ones to be unimpressed, but it should also be said that I have heard from a number of players this week who are happy with the set up.
I intend to give my detailed thoughts after the event, as only then will we be able to fairly say how the tournament has compared to previous years, but as ever in snooker, it is evident that opinions will differ, depending on how particular players are affected.
Back on the table, the early drama was to come in the match between former finalist Ken Doherty and tour rookie John Astley, another in a line of players in action from the north east this week.
As we huddled around a laptop in the media centre to watch what would be a dramatic deciding frame on the smallest of screens, which led to somebody quipping that you would need the Hubble Telescope to see it, it was Astley who held his nerve  to pot the final colours and claim a major scalp
Following his victory, John told the press:
"It's huge, obviously it's the best win of my career so far.
I was nervous [in the final frame] but felt quite good at the same time, I felt like I controlled my nerves quite well throughout the whole match. I just took one match at a time really and make sure I potted everything. He didn't miss anything too easy, then just playing the right shots really because when the pressure is on you tend to play the wrong shots at the wrong time
I've been playing really well for the last month or so, especially in practice. I wasn't really bothered who I was playing to be honest, I knew if I play well I've got a chance of beating anyone.
I remember coming down here as a 12 or 13 year-old and watching the UK Championship, to think I've come here and played today and won my first round here is a special moment.
Last year it would have taken four matches just to get to the Barbican, so to be given this opportunity to play in such a great venue like this and in front of a good crowd against, it doesn't really get any better."
As I typed up the final interviews on my day two blog, word reached us that Lee Spick had withdrawn from the tournament, handing his opponent Shaun Murphy an unexpected walkover into the second round. This news was shortly followed by Murphy's arrival at the venue, as he took the moment to share his theory on eradicating kicks from the game with Dave Hendon, on day two of his flying visit to the north.
On a day which would see a whopping 24 matches played to a conclusion, with the main arena coming into play for the first time, the biggest match of the afternoon would see the ever-popular Jimmy White take on Michael Wasley, in what was an important match in particular for Jimmy, who is fighting to stay on the tour.
Having been pegged back from 3-1 to 3-3, Jimmy's fans might have been fearing the worst, but to his credit he stuck in there and won three of the next four to move into the next round and add £3,000 to his money list total.
As he was swamped by the great of the good of the press room post-match, Jimmy told us the following:
"I'm very pleased to win, it wasn't a great game of snooker, there were a lot of balls missed. I'm ok in the balls, I'm scoring ok, but because of my problem with my foot, my practisign has just been routines, I haven't played any matches. It affected me today because my safety was so bad it was unbelievable.
From 3-1 up I fancied I was in control of the match and then from 3-3 he touched a ball with his shirt and declared a foul, which was very honourable of him and I ended up going 5-3 up. He won a good game to go 5-4 because he missed a couple at 5-3 and got away with it, then I played a safety shot, left him in the balls and he took them well.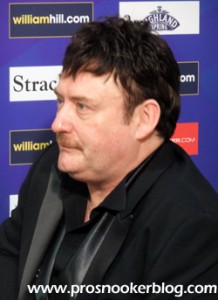 I'm very pleased to get through to the next round because obviously I am struggling to stay on the tour so there is massive pressure for me.
I'm just going to stay here, chill out, practice with my coach Patsy Fagan and get ready for my next match. Hopefully we can be a bit more in control.
My foot is an ongoing thing, I have a physio, acupuncture and because it's a serious operation it's just going to take as long as it takes. It's 100% better than it was four months ago, I couldn't walk.
If I can keep it a bit more in control, I can beat anybody."
As a former celebrity in the jungle himself, Jimmy was also asked as to whether he has been watching fellow legend Steve Davis on I'm a Celebrity Get Me Out of Here! and as to what advice he would have for the Nugget:
"All the time, I've been supporting him, I spoke to him before he went in, he's a great credit to our game, he's a good guy and once people get to know him as he has shown now, I think that he has got every chance of winning.
There is a lot of downtime, my job was to get the water and keep people away from Gino when he was cooking, so I went up to everyone and said 'you know what these Italians are like, let him cook!' and because I did that there was no trouble in our camp. But with them, there's a couple that want to cook, there's a journalist who wants to cook, so there might be a little bit of trouble stirred up, which is what the TV wants, but the Nugget has got every chance, I'd love to see him win it.
I went in three years ago, four years ago when the UK was on, but the game was in so much trouble at the time with only six tournaments. I was a bit surprised Davis went in at this stage, but obviously he was getting a free flight!"
Elsewhere in the afternoon, aside from the shocks, there were a few one-sided matches with Stuart Bingham predictably dispensing of Ahmed Saif in short order, while Barry Hawkins was another whitewash winner, defeating young Alexander Ursenbacher.
I was interested to hear Barry admitting to having almost lost interest following his Crucible final appearance, which would explain some of his recent results, while I also heard Swiss Ursenbacher saying that he is in fact half-Portuguese, his mother being of that nation. No doubt we will hear that story again when he hits the big time in a few years time.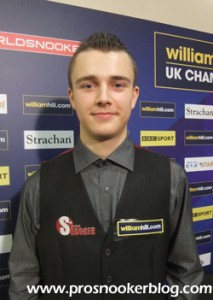 In other matches, Rory McLeod and Martin O'Donnell were embarking upon what would prove to be a long match, as were local favourite Paul Davison and Gerard Greene, the latter being promoted to the main arena following Shaun Murphy's bye. This match would eventually be taken off at 5-4 to Davison, before he would return later to complete a famous win for him.
As the afternoon progressed, perhaps the highlight of the day was soon to follow as Allan Taylor followed Dominic Dale in the hotseat with the infamous cork hat, though in his case it was not to eat something disgusting, but rather to perform a few snooker impersonations. As it turned out, they were rather brilliant and earned a well deserved applause from the media room, click here to watch it.
At around this point I adjourned to a local Indian restaurant with @snookeroland, before we returned to the Barbican and headed on up into the main arena for the first time this year.
The most immediate improvement from last year was the fact that spectators are now allowed to sit up in the balcony area, for me one of the best vantage points to be able to watch professional snooker these days.
My impressions of the set-up in all honesty were that it looked perfectly fine. Yes there were another two tables in there and the outer two were smaller than those in the centre, but comparing the view with photographs of the Crucible, the distance did not appear to be any smaller than that.
One man who was not a fan however was Judd Trump, who following a routine victory against amateur Gareth Green, described the set-up as being like a 'circus' and said that he felt like the tournament had been ruined. His quotes have been well documented here and no doubt provided the journalists in the room with some late night rewrite headaches. You can read the best of his quotes here.
Soon to follow Judd into the press room were Mark Williams and Mark Allen, who were clearly not sold on the format, but more accepting and measured with their thoughts. Williams told us:
"It was alright, it wasn't great but it's the first round and the most important thing is to just try and scrape through really, which I did.
It's the second biggest tournament that we play in and I played there then and there was no difference there to the PTC events really, felt near enough the same really, 128 and it was no different.
That's what Barry wants, me personally I think it is too many people at the venue, but there is nothing you can do with it, you just have to get on with it. Once you have got 128 at every venue, every tournament seems the same really.
It's [his form] been alright. I won one of the PTCs, done quite well in a few of the other ones and this is the first big ranking tournament that we have played for a little bit now, so if you can get a run in this then it is double the points, or money and you never know, I could be pushing for that Masters place if I have a good run here. I know it's there, I know I need to get to the semis or final but we'll just see what happens at the end of the week."
Like Jimmy earlier, Mark was also asked for his thoughts on Steve Davis in the jungle, while I also asked him if he had seen the video of Dominic Dale eating a water bug earlier on:
"I've been watching little bits, but I just want to see him eat some really nasty stuff, it hasn't happened yet but fingers crossed. I want to see him eat some live cockroaches or something!
Yeah, he eats stuff like that normally doesn't he, if he went in there he'd probably start talking to the creatures, not eat them!"
Soon after, Mark Allen added his comments:
"I just done enough really, Jak didn't put me under much pressure. He can play better than that, Terry Griffiths rates him very highly and if Terry is saying those things about you then you must be good, but he missed a few balls tonight. I'm sure he will be disappointed with his performance but I was out there to do a job and I've won so I'm happy.
You're expected to get through, I'm not too bothered about my performance, if I can get through the early rounds then the tournament starts for me when you get to the last 32. It has got a little bit of a PTC feel to it early on, open plan, lots of tables, it's not great but if you get to the latter stages then that will change."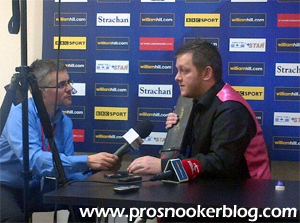 Mark was also asked whether he agreed with Judd's comments earlier that the tournament had been devalued by the format change:
"Probably yeah, for me they devalued it when they brought it down to best of 11's and I had that infamous press conference a couple of years ago.
I think that they keep devaluing the big tournaments which is a real shame. All 128 sounds good for Barry and telling people what happens in the game but it's not great in the long run. We have got 7-8 amateurs in this tournament. If I'm being brutally honest, I'd be surprised if many of them won many frames, let alone matches.
It could be discouraging for the game as whole long term. It's a good warm-up for us as being top players. Normally we are playing qualifiers, people who are right on top of their game so that's maybe one good thing, maybe we are playing someone who could be an amateur or one of the lower ranked pros so it is like a warm-up match.
I sort of know where he is coming from, it doesn't feel great when you are playing, but as I say, if you keep winning your matches and get to the later stages, it will improve. Hopefully!"
After that, the evening became a story of two matches in the sports hall, as Dechawat Poomjaeng played fellow Thai Thepchaiya Un-Nooh, while Barry Pinches and Adam Duffy were in it for the long hall on the adjacent table.
Trailing 5-1, it did not look as though it was going be Poomjaeng's day, but runs of 52, 83, 62, 62 and 82 from him at that point would see him turn the match around and run out a 6-5 winner.
Perhaps more impressive still however was the 6-5 win of Adam Duffy, as he came back from 5-3 down to claim an unlikely victory at 2:18am. Another match involving two players battling for main tour places, no doubt there was a lot of pressure out there on both players.