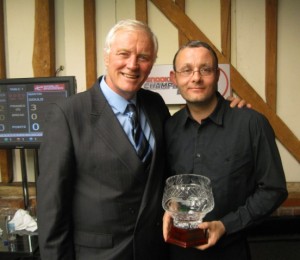 While most eyes will now be on the upcoming Masters tournament from the Alexandra Palace in around nine days time, next week sees the first professional snooker of 2014 staged, as the Championship League returns to Crondon Park for its seventh year.
Click below for my usual guide to the event…
The Event
First staged in 2008, the Championship League was initially introduced during a time when there were few professional snooker tournaments staged each season, as a means of providing the players with both match practice, financial reward and a place in the Premier League tournament for the following season.
Since then, the snooker landscape has now changed beyond recognition, with the Premier League no longer in existence, but its junior event continues, now with a place in the Champion of Champions event on offer for the winner at Crondon Park.
A rather quirky event, with its lack of spectators and renowned breakfasts, with the huge increase of events since its inception, on the face of it, there is an argument that the snooker circuit has now outgrown the Championship League. Indeed I mused over that possibility some three years ago now.
Yet on it goes and on reflection, why not? The event would not continue if it were not financially viable and with the match practice and opportunity to earn that it does provide to those involved, as well as extra snooker for those to watch online, it has its place on the calendar.
When?
As usual, the four Championship League weeks (comprising four days and two events each), are scheduled to take place in and around the ranking events during the second half of the season.
The dates in full are as follows:
Group 1 – 6-7 January 2014
Group 2 – 8-9 January 2014
Group 3 – 20-21 January 2014
Group 4 – 22-23 January 2014
Group 5 – 10-11 February 2014
Group 6 – 12-13 February 2014
Group 7 – 3-4 March 2014
Winners' Group – 5-6 March 2014
Who?
As usual, there is set to be a good line-up of players at Crondon Park, with eight of the world's top ten players involved, as well as former world champions John Higgins, Peter Ebdon, Mark Williams and Graeme Dott
The groups are as follows:
Group One
Judd Trump (4)
Shaun Murphy (8)
Stuart Bingham (7)
Ricky Walden (11)
Mark Davis (14)
Robert Milkins (13)
Ali Carter (17)
Group Two
Four players from Group One and:
Neil Robertson (1)
Barry Hawkins (6)
Matthew Stevens (19)
Group Three
Four players from Group Two and:
Graeme Dott (16)
Joe Perry (15)
Ryan Day (21)
Group Four
Four players from Group Three and:
Mark Selby (2)
Stephen Maguire (5)
Marco Fu (9)
Group Five
Four players from Group Four and:
John Higgins (12)
Dominic Dale (29)
Tom Ford (27)
Group Six
Four players from Group Five and:
Martin Gould (30)
Mark Williams (18)
Michael Holt (20)
Group Seven
Four players from Group Six and:
Peter Ebdon (22)
Liang Wenbo (23)
TBC
Format
This has yet to be confirmed on the tournament's official website (as yet not updated except for to state the 2014 groups), however the format for 2013 was as follows. I would not anticipate any great change for this year:
Seven groups of seven players produce seven winners who play in one further group to determine the winner of the 2013 Championship League Snooker.
In each group every player will play each other once in a best of five frame match (21 matches) after which the top four players will contest in the play offs – semi finals and final over the best of five frames.
Players will be awarded one point for each match won, then most frames won and the least frames lost in the league series will determine their position in the league table. Dead frames will not be played in either the league or knock-out stages.
The play-off winner will progress to the final league of the Championship League Snooker while the players coming sixth and seventh in the group will be relegated and will not feature in any further group matches.
Therefore after the group has played its total 24 matches (21 League matches plus play offs semi finals and final) three players will leave and be replaced by a further three players.
How to watch
As ever, the Championship League will be televised online via a number of betting sites, a list of which you can find here.
Note that you do not have to actually bet on the matches to be able to view them, you just need to register with any of the above websites and provide a deposit.
Roll of Honour
2008 – Joe Perry
2009 – Judd Trump
2010 – Marco Fu
2011 – Matthew Stevens
2012 – Ding Junhui
2013 – Martin Gould