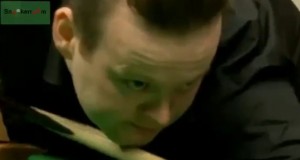 Day three at Crondon Park this week has seen two notable feats achieved, as first Shaun Murphy notched up the first 147 maximum break of 2014, while Neil Robertson produced a mesmerising display against Joe Perry to break the record for the amount of centuries recorded in a single season – and we are only in January!
Click below for more, including links to each performance on YouTube…
Click here to view the updated 147's list
Click here to watch Shaun's 147
Having narrowly avoided elimination from group one of the 2014 Championship League yesterday, Shaun Murphy today found himself in trouble against Mark Davis, trailing 2-0 in their best of five frames match in group two of the event.
The world number eight was to respond in the best fashion possible however, as he compiled a perfect maximum break of 147 during the third frame, on his way to completing a 3-2 victory.
The break represents 'just' the second maximum during his professional career and his first in 13 years, following his maiden 147 at the 2001 Benson and Hedges Championship event, notable in some quarters for being the only ton where the identity of the referee remains a mystery. There was to be no such confusion today though, as it was Paul Collier, who presided over his third maximum break and second in quick succession, following the historic 100th maximum at the UK Championship last month.
Having endured a tough start to the season, in terms of results at least, the feat should prove a timely boost for Murphy, who is looking to end a barren run which has seen him fail to win a trophy since the 2011 Brazilian Masters.
Click here to watch Neil's display against Joe Perry
One man who is used to lifting silverware however is world number one Neil Robertson, who today hit three centuries on his way to defeating Joe Perry, in the process breaking the previous record of 61 in a season, set by Judd Trump last term.
Now up to 63 by early January, can Neil make a century of centuries by the time that the season is out?
Click here to view all of the scores from group two of the Championship League.