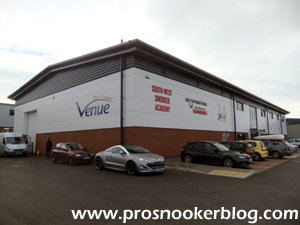 After last week saw group victories for Shaun Murphy and Martin Gould in the latest matches of the 2014 Championship League, today saw a return to ranking event action with the start of the China Open qualifiers in Gloucester.
Running until Tuesday evening, the event will determine which of the 64 players will be on the flight to Beijing for the final tournament ahead of the season-ending World Championship in April…
Click here to view all of the results from the China Open qualifiers
Click here to view the latest provisional money list
While there were a few shock results at the South West Snooker Academy today, both of last season's finalists Neil Robertson and Mark Selby were able to book their places at the venue stages of this season's China Open with victories against Li Yan and Ryan Clark respectively.
For Selby his 5-0 victory was to prove routine, top runs of 107 and 84 helping him on his way, but for Robertson his match was to be far closer, before he won the final three frames to secure a 5-3 win against Li Yan. For those following Neil's centuries tally, there were no more from him today, his total remaining at 86 with three months of the season remaining.
Of the other higher ranked players in action today, both Ricky Walden and Ali Carter were also able to book their flights to Beijing, Ricky edging a dramatic seventh frame against Liam Highfield before adding the next to secure a 5-3 victory.
There were however to be upsets, notably Joe Perry, who lost out 5-2 to Welsh amateur Duane Jones in today's morning session. While at first glance it would be easy to wonder how someone as good as Joe came to lose that match, a look at the breaks made by Jones gives the answer, runs of 141, 137, 75 and 74 in the final frame enough to earn surely the best win of his career to date.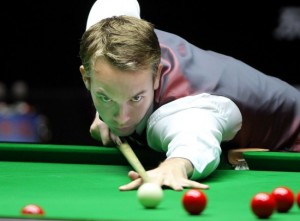 For Perry, the result is naturally a disappointing one, but for a player in the thick of the race for a place at the Crucible in April, it is important to note that the points earned from this event will not be added until after the crucial cut-off point following the PC Grand Finals, so Perry's bid is unaffected.
Similarly, defeat for Robert Milkins today against Gary Wilson will also not prove an obstacle in his battle for a place at the Crucible, but does mark another excellent result for Gary, who now climbs to 59th in the latest provisional money list, a fine achievement for someone barely 2/3 of the way into their first season of a two-year tour card.
Another surprise loser today was Welshman Matthew Stevens, whitewashed by Thailand's James Wattana early this morning. While James still has a lot of work to do if he is to break into the top 64 on the money list and retain his tour card for next season, he has at least given himself a chance as we head into the decisive phase of the season.
Elsewhere, 15-year-old Shane Castle came close to pulling off a landmark victory against Jack Lisowski, before Jack won the last two to secure an important 5-4 win. It has been a difficult season for the man who made his debut at the Crucible against Barry Hawkins last April, but perhaps this victory, clinched with a break of 68 from 41 points down in the decider, will prove a turning point for him. Time will tell on that.
There was to be progress of sorts by Libya's Khaled Abumdas, who won his first two frames as a professional against former world number six Ryan Day this evening, before the Welshman won the last three frames to progress to the venue.
Finally, Michael Wasley resisted a trademark comeback attempt from Steve Davis to move into the last 64 today, inflicting a minor blow to Steve's chances of retaining his tour card for next season, though he does still remain in 58th place at the time of writing.
The action continues from 10:00am tomorrow…