Shaun Murphy has today defeated world number two Mark Selby 10-6 to win the 2014 Haikou World Open, his first full-ranking event title since the 2011 PTC Grand Finals and his second piece of silverware in recent weeks, following his success at the Gdynia Open.
Click below for a round-up of the final and some thoughts following the event in general…
Click here to view the results from the 2014 Haikou World Open
Click here to view the latest projected seedings
Click here to view the latest provisional money list
Coming into the final it was difficult to know what to expect, Murphy having displayed the better form of the two during the tournament beforehand, but with Selby having comfortably won their last two encounters in major tournaments and possessing a style of play that some would say has caused Murphy trouble in recent seasons.
During the opening session however it was plain to see who was on top, the 2005 world champion winning seven of the nine frames played, including the first four and finishing off with back to back centuries to lead 7-2.
Still needing three frames for victory however, Murphy would have been well aware that he was not over the winning line yet, particularly against a player as renowned for comebacks as Selby during his career.
And whether it was the length of time since his last full-ranking event victory or rather the 'Selby factor' as Mark began to mount a comeback in the evening session, Murphy struggled to settle during the early stages of the second session.
Following a break of 78 from Selby to begin the session, he then won a dramatic 11th frame on the black, following a fluke on the final red when attempting to escape from a snooker. As Murphy struggled to take his chances, he added the next to close to within just a couple of frames, before Shaun then won a tactical frame prior to the mid-session interval to steady the ship at 8-5.
From there, although Selby would not give up easily, as demonstrated by a tenacious chase for snookers in what would prove to be the 16th and final frame, the damage had been done and Murphy would run out a deserved 10-6 victor.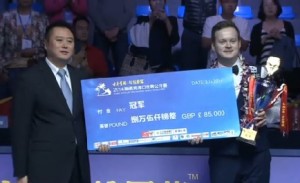 Following heat of the moment talk of retirement following his 6-1 defeat to Selby at the Masters back in January, Murphy's season has seen quite a turnaround, with titles in Gdynia and now China. Perhaps what will boost his confidence the most though is not just the silverware itself, but the calibre of player that he has had to defeat on his way, in particular this week.
Having edged out both form man Ding Junhui and former world champion Graeme Dott in deciding frames, Shaun then ended the run of two-time defending champion Mark Allen in the semi-finals, before his victory against friend and rival Selby today.
With the World Championship looming large, Murphy has timed his recent run well and it will be interesting to see whether he can carry this confidence through to the Crucible, though before that he has an appointment with Neil Robertson at the last 32 stage of the Players Championship Grand Finals later this month to attend to.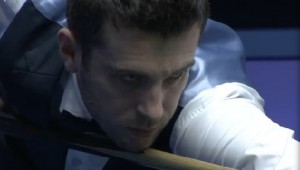 As for Selby, it is another final defeat, his eighth from 11 career ranking event finals and also his fifth from six in all competitions this season, surprising statistics given his ability and ranking. While I do not think that he is playing and scoring as heavily as a couple of seasons ago, his consistency cannot be disputed and he will now be hoping to go one better before the end of this season, either in Preston, or preferably at the Crucible in April.
So what of the event in general? It has been a difficult one to follow from afar, inevitably due to the timezone differences, but with a couple of matches settled by re-spotted blacks, fluked blacks and in the case of the outstanding last 16 match between John Higgins and Judd Trump, an exceptional comeback, it has not been without drama.
Of course there have also been significant developments in the race for World Championship seedings, with Mark Allen's last four run assuring him of his place at the Crucible Theatre, but I will cover these implications in more detail and what is still to play for in Preston in a separate post.
Next up, eight unusually snooker-free days, before we return to Preston for the first time in nine years for the Players Championship Grand Finals.