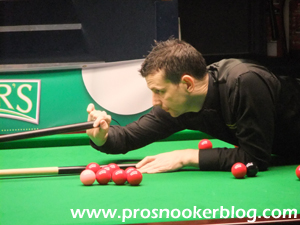 Following the conclusion of Q School and the qualifying events for the Wuxi Classic and Australian Goldfields Open, there are still another couple of weeks to go until professional snooker returns to our screens with the venue stages of Wuxi towards the end of the month.
That said, there have been a number of smaller news stories to come out during the last few days, so click below for a round-up of what you need to know…
First up, news of success for Peter Lines at the Pink Ribbon pro-am at the South West Snooker Academy in Gloucester last Sunday, as he defeated the likes of Tom Ford, Jamie Jones and Mark King to reach the final, before he saw off Welshman Lee Walker 4-1 to claim the title.
Always an excellent event, now in its fifth year, it comes a little too soon after the World Championship for me to make the trip down to Gloucester but I am pleased to read that more than £10,000 was raised for the breast cancer campaign over the weekend.
One player who was not in action at the event and will be away from our screens for the foreseeable future is Ali Carter, as he continues his treatment for lung cancer following his diagnosis a little over two weeks ago.
There was however a bit of good news for him yesterday, as a WPBSA/World Snooker statement hinted that Ali's world ranking may be frozen in some form:
"Following the recent announcement regarding Ali Carter's current illness, both the WPBSA and World Snooker would like to make it clear that Ali's current standing as a player will not suffer in relation to an extended period of time away from the tour. Further details will be released once Ali has completed his course of chemotherapy and wants to return to competition. We all look forward to welcoming Ali back to the World Snooker Tour in the not too distant future."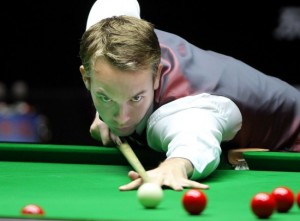 While it goes without saying that there are far more important things at stake in this situation than Ali's ranking, few will argue that it is not the right thing to do and Ali himself tweeted the following:
"Great news that @WorldSnooker1 is freezing my ranking whilst I beat this horrible disease. I can concentrate all my efforts on just that"
It will be interesting to see how this actually works in practice, for example if he is out of action for a year, will his points earned from the 12/13 and 13/14 seasons be carried forward 12 months? Or could there be a system similar to that employed in tennis where his ranking would drop, but his seeding would be protected at its current number for a particular amount of events?
Time will tell, but it is good to see common sense prevail, as was the case when Paul Hunter too was undergoing treatment back in 2005/6. On the subject of rankings, for those of you who missed it, over the weekend I had a look at the ranking list, to identify what themes there are to follow during the course of the coming months.
Elsewhere, there was more bad news for the suspended Stephen Lee, as the former world number 5 pleaded guilty to a charge of fraud by false representation yesterday, relating to an offence concerning the sale of his snooker cue, more details of which can be found here.
In more positive news, there have been a few interesting interviews with players to appear during the past few days, none better than Mark Halliwell's chat with Jack Lisowski, who is looking to bounce back from a difficult 2013/14 season during the coming months.
Having followed Jack since his PIOS days, I have always been a fan of his both personally and as a player and think that the decision to return home is a shrewd one. Indeed it is something that a number of people that I have spoken to on the circuit during the past 18 months have said that he should do and we shall see during the coming months whether those people are right.
With a reasonable amount of money to defend following a strong 2012/13 season, he will need to make a bright start if he is to continue his push for a top 32 place, but with the change to a prize money based ranking list this season, to me that goal is now far more achievable for a player like him.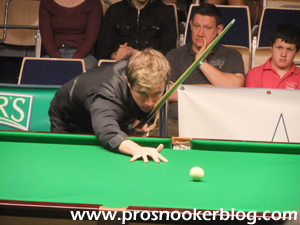 There are also Q&A's with the more experienced Peter Ebdon and Anthony Hamilton at World Snooker this week, Ebdon now experimenting with a new ferrule, as Steve Davis did a couple of seasons ago.
On the amateur circuit meanwhile, this week has seen the start of the Asian Under-21 Championship, which will run until Friday and see the prize of a main tour spot for the next two seasons won by its champion, who will succeed 2013 winner Noppon Saengkham. Could it be another Thai, in the form of Thanawat Tirapongpaiboon,a runner-up in the event back in 2010.
You can follow the latest scores and group tables here.
Also running during the past week has been the EBSA European Championship, the final of which will be contested between Mitchell Mann and John Whitty tomorrow, more details and a stream will be available here.
On the subject of young players, there was a good article from Dave Hendon at Inside Snooker, who barring a few Chinese players that I might have included, has cast his eye over the youngsters in the game most likely to make a breakthrough during the coming months. For me, I am probably most excited by Kyren Wilson, Joel Walker and Scott Donaldson at the moment, while Jack Lisowski is surely set for a better campaign too.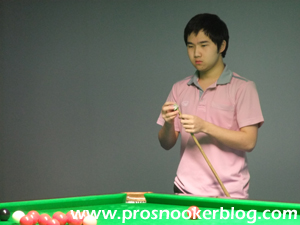 Finally, the draw is also out for the first Asian Tour event of the season which begins a week from now, while it has also been revealed that Andrew Higginson and Dominic Dale will play wildcards at the Australian Goldfields Open, Matthew Bolton and Johl Younger respectively.
Similarly, the wildcards for the Wuxi Classic have also been confirmed, with Andrew Norman, Yu Delu, Scott Donaldson and Robbie Williams the unfortunate four to be selected for an extra match. Keep an eye out for Norman's opponent Zhao Xintong, who appears to be the most promising of the four.