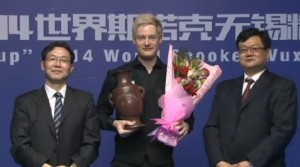 He might have been slightly disappointed with his haul of titles last season, but Neil Robertson has made a winning start to the 2014/15 campaign by successfully defending his Wuxi Classic today.
He was to be pushed all the way by friend Joe Perry, who fought back from 8-6 down to lead 9-8, but it was the Australian who would take the final two frames to secure a tenth ranking event title.
Click here to view the final results and draw
Click here to view the latest projected seedings list
Click here to view the latest provisional end of season rankings
Having made it through to his first ranking event final in 13 years with a hard-fought victory against Martin Gould yesterday, Joe Perry came into today's match as second favourite, but got off to the perfect start by taking a 3-0 lead early on.
Back though came Robertson to take the next two, before the final four of the session were shared to leave the score poised at 5-4 to Perry heading into the second session.
The second session of a final can often be hard going, particularly as the tension increases for both players as the winning line draws ever closer, but today the final was to be played to a high standard, Robertson taking three of the first four to move into the lead for the first time at 7-6.
After the interval, there looked to be signs that Joe might just be starting to struggle, Neil taking the next two move two clear at 8-6, before Perry hit back strongly to close the gap, no doubt relieved to make it 8-8 after he had initially missed the final black off the spot, before drilling it into the yellow pocket from distance.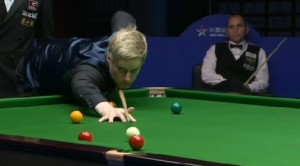 With the final reduced to effectively a best of three, it was Perry who struck first with a break of 93, to move to within one frame of a maiden ranking success, before Robertson did likewise with 87 to force a deciding frame.
The first chance of the final frame fell to Perry, but as he missed a long blue up into the yellow pocket, it was to be Robertson who would clear decisively with a break of 78 to successfully defend the title that he won here a year ago.
Earning him the top prize of £85,000, the victory represents the tenth full-ranking event success of Robertson's career from 15 finals, while it is a result that also sees him climb back above Ding Junhui into second place on the latest ranking list.
As explained within my previous article here, Neil can now reclaim top spot by making it to the final on home soil next week in Bendigo, though for now will surely be content to win his first major title since the UK Championship back in December 2013.
A close friend of Joe Perry, Neil was clearly emotional following victory and after the two had shared an embrace, looked to be on the brink of tears, a nice touch given that under any other circumstances and if Perry had been playing any other opponent, Neil would most likely have been cheering him on.
It was a disappointing way for Perry to lose, having come so close and it looked as though he was initially put off by somebody in the crowd as he lined up the final blue, but it has been another good week for him, during what has clearly been the best 12 months of his career.
Overall, it has been a strange tournament, with low crowds and a certain apathy in parts with the ongoing World Cup and Wimbledon perhaps distracting some, but there have nonetheless been a few talking points and some nice stories (Perry, Robin Hull), to come out of Wuxi this week.
Next stop, Bendigo for the venue stages of the Australian Goldfields Open, which start tomorrow…