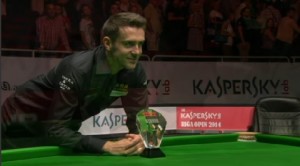 Mark Selby is the 2014 Riga Open champion, the new world champion coming back from 3-0 down to defeat Mark Allen in a deciding frame this evening and get his season off to a flying start in Latvia.
Click below for more, including a round-up of the key stories from this season's first European Tour event…
Having both made it through to the final in Latvia today, it was Mark Allen who would make the stronger start to the final, breaks of 74 and 56 helping him to go 3-0 up and one frame away from his first title of the season, his fourth European Tour event in all.
As he told the interviewer during his post-match interview an hour or so later however, Mark Selby is perhaps the worst opponent that you can have a 3-0 lead on and the reigning world champion once again demonstrated his never say die attitude by winning the next three frames with breaks of 100, 65 and 62 to force a decider.
Though Allen would have the first chance, ultimately losing position and missing a tricky red with the rest, it was Selby who would make the decisive break, a trademark 63 to all but win the match and capture the title.
His sixth European Tour title of all (two more than next best man Judd Trump), the victory earns him the top prize of €25,000 and perhaps more importantly, a place in next year's lucrative Players Championship Grand Finals tournament. It will be interesting to see how this early victory will affect his scheduling, with the opportunity there perhaps to now opt out of a few European Tour events later in the season.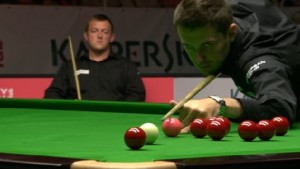 Though he started off slowly tonight, it was a deserved win for Selby, who has been consistently impressive over the course of the weekend, no more so than during his match against Ian Burns in which he made three centuries and was unfortunate not to make a fourth, but for a missed red up into the green pocket on 92.
Tougher tests and more pressure will of course come this season, but it is a good start and after a short holiday away, he seems well set to challenge for more silverware over the course of the season.
In addition, Mark also regains top spot in the latest projected seedings list, as well as in the latest provisional rankings, which in theory means that he will become world number one tomorrow. I say in theory only because I have noticed that World Snooker only seem to publish the revised rankings after each full ranking event, so it will be interesting to see tomorrow whether he now officially regains world number one, or if we have to wait until after Shanghai for this to be resolved.
As for Mark Allen, he was understandably disappointed following defeat, but having himself come back from 3-0 down on Friday, as well as 3-2 and 50+ points behind against Anthony McGill in his semi-final earlier today, it has still been a good week for the Northern Irishman, who has taken a big step towards earning a place in the Grand Finals event next year.
Elsewhere this week, what have been the main stories from Riga? One of them has to be the career-best run of Sean O'Sullivan to the quarter-finals, the former professional making an excellent start to his bid to regain a tour card for next season through the European Order of Merit.
Indeed not just for Sean, but for all of the amateurs, not to mention professionals ranked outside of the top 64, each European Tour event will take on that much more importance this season, with there being just six compared to the eight of last season. Time will tell as to just how important Sean's run will be, but clearly it will not do him any harm.
Another to impress was young second season professional Chris Wakelin who made it through to the last 16, while Matt Selt and Aditya Mehta were other lower ranked players to make it to the final day.
It was good also to see veteran Scot Alan McManus maintain his recent run of strong form by also reaching the last 16, as well as Peter Ebdon, who went one better before losing out to Mark Selby in the quarter-finals. Perhaps surprisingly, it is only the second time ever that Ebdon has reached the last eight stage of a PTC/European Tour event since their introduction back in 2010.
A more unfortunate tale was that of Adam Duffy and the leaky roof, which struck with the Sheffield amateur 3-1 up and ahead in the fifth frame against Norway's Kurt Maflin. With work needing to be carried out to the roof, the match was relocated to another available table and it would prove to be a key turning point, Maflin coming back to take a 4-3 win in the most unusual fashion.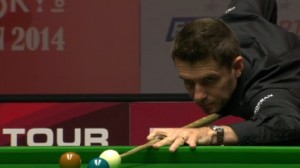 That apart however, it has been telling how well received both the event and the city of Riga have been by both players and fans alike on Twitter, a packed house tonight being treated to an excellent final between two top players.
While there is a lot of snooker to be played over the next 12 months, hopefully professional snooker will be returning to Riga next season after a successful debut this year.
Next up, back to Barnsley on Tuesday for four days of qualifying for next month's Shanghai Masters. I am planning to be there on Friday, so hopefully will see a few of you there.