It has been a strong start to the season so far for Paul Hunter Classic winner Mark Allen and recently I caught up with Northern Ireland's number one player ahead of this week's Shanghai Masters, to discuss a range of subjects as he gave a typically honest assessment on matters past and present.
Click below for part one of our chat, as we discuss his start to the season, look back at the last campaign, his decision to leave On Q Promotions earlier this summer and also consider how his early exposure to televised tournaments helped him to rise up the rankings as quickly as he did…

PSB: Hi Mark, it has been a good start to the season for you, particularly in the European Tour events, having just won in Germany and also having reached the final in Latvia…
Mark Allen: Yeah, I don't really know where it has come from to be honest because over the summer as you know I don't really practice too hard. I play a lot of golf and probably got found out in Australia. That's pretty much the way I expected the season to start.
I've been practising hard since Australia and got some good results. I don't feel that my form is quite there yet but I have been putting the work in so hopefully it will come soon enough.
PSB: And obviously it was good to win in Germany after what happened in Latvia as well [losing the final from 3-0 up against Mark Selby], you must have been pleased with that?
MA: Yeah I was, obviously to bounce back after losing the way I did, although I didn't really miss many clear cut chances to win the match, from 3-0 you do expect to close it out and I didn't do it. So to bounce back the way I did at the Paul Hunter Classic is very pleasing.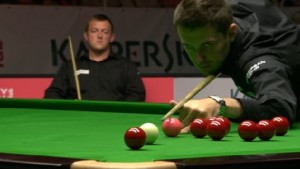 PSB: In terms of the full ranking events, you decided to skip the Wuxi Classic to have a bit more of a break and then in Australia like you say, you just got caught out a little bit…
MA: I think the qualifying for Wuxi was like the third or fourth week in May and that is pretty early for me. I like to play a bit of golf, relax and take a little bit of time off because it is a long season and it becomes more important to pick and choose which events to enter and to miss.
I think to be honest I shouldn't really have gone to Australia. I didn't put any work in and going there I hadn't practised but for about two days since the World Championship so I probably got what I deserved there. Since then I have been practising flat out and it is starting to pay off.
PSB: Are you a player who needs that practice?
MA: Definitely. You think you can get away with it but whenever you are playing at the top level in any sport, it will find you out and that is exactly what happened with me in Australia. Fergal [O'Brien] played pretty solid and made it pretty tough for me. I think he knew after a few frames that even though I got ahead early, he knew I wasn't quite at my best.
I think I got found out over distance. Whether it was a safety or a long pot over distances, that's where I really get found out when I'm not practising. In the balls I can sort of get away with it, I think any sort of top player could, but you do really get found out when you are playing a top match-player like Fergal and your safety is getting put under it and you need to pot a good long ball to get in.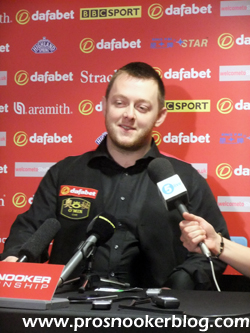 PSB: I've always had the impression that you are the sort of player who would like to finish your season at the Crucible and then just have a couple of months off and come back…
MA: Yeah, unless there is a drastic change in the calendar, that will probably be my plan every year. Unless they bring in a big massive money event after the World Championship, which I don't see happening, then it will probably be the case for a long time to come because as I said before, it is a long season and a good break for me after the World Championship is paramount to recharge the batteries.
PSB: Have you had a situation in the past where you have got towards the end of the season, say around the Players Championship, China and felt it a bit?
MA: Physically, I'm not in the best shape anyway so it doesn't really affect me that way! I think it's more mentally than anything else, whenever you are playing long, tough matches throughout the whole season, especially if you are competing in events, it gets longer and longer.
Obviously if you are losing in the first round of tournaments it doesn't really make any difference, but I think it's part of the reason why I didn't go to Beijing this year. I had it in the back of my mind that regardless of how well I did in the Players Championship, that I was going to pull out of that.
I think World Snooker have caught on this year and changed the cut-off date to after the China Open which makes sense now, though it's a bit disappointing because it would have been a chance to miss another event if possible, but we will just see when the time comes if I am safe in the top 16, then I will probably miss it again.
I think that even though I didn't get a good run in Sheffield, my form was pretty good. I played a good match against Neil Robertson and come up against a steam train in the last session, but I felt that my form was good and part of that was down to not going to China to be honest. I was able to spend another ten days at home and prepare properly for Sheffield, really get my head down and just get ready for the longer matches and not have to travel to China and back.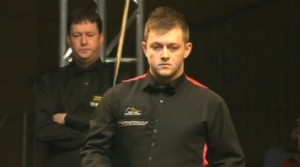 PSB: I was going to ask you about the Crucible next because I agreed with what you said in the press conference, because for the first two sessions you weren't ahead on the score but it felt like you were on top and in control, but he had a couple of great clearances, nicked a couple of frames…
MA: Yeah that's exactly how I felt to be honest. I felt that the first two sessions I was in charge and completely in control but it was weird because the scoreline said otherwise, I wasn't even level!
It was sort of hard to get my head around being 9-7 down after those two sessions because one or two shots here or there and I felt that I could have been 10-6 up and at that score I would have fancied going on and doing the job. But being 9-7 down, you can't afford too many mistakes against someone like Neil and obviously the way he started that session was pretty devastating and I didn't have much time to get back into it.
I went into it feeling positive, I had two good sessions, I was ready to go out there and do the same again. I had good memories of beating [Ronnie] O'Sullivan from 9-7 down, I had that in the back of my mind but just never had the chance to.
PSB: Just looking back on last season as a whole, how did you feel about it?
MA: It was pretty disappointing if I'm being honest. Even though my ranking position didn't change much, I just never really felt in control of my game. I had a lot of things in the early part of last season on my mind and I think that really affected my snooker.
I made the decision to part company with On Q Promotions and that had been on my mind for a few months. Everything was completely amicable and there was no fall out between myself and Paul Mount, it was just one of those things that I felt that I needed to do. I remember playing a match in the Welsh Open against Sydney Wilson in the first round and I really should have lost, I was 3-0 down and it was an embarrassment how badly I was playing. After that match when I managed to scrape through I ended up just having to ring Paul and say that we needed to talk. It had been on my mind and it was really starting to affect the way that I was playing.
I think it was a bit of a relief to get it off my chest, even though I didn't go on and do well, it sort of freed me up a little bit and I was able to not worry about things. It was a big decision for me because Paul had been very good to me over the last few years and I still don't really know why I've done it deep down, but I just felt like I needed to give things a go on my own for a while.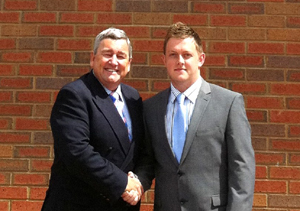 PSB: I was going to mention that because obviously you have worked with Terry Griffiths for a number of years and now you won't have that due to leaving On Q, how is that going to affect you?
MA: As much as I had a good relationship with Paul and Sarah themselves, the biggest thing that I am going to miss is obviously working with Terry. All my professional career bar the very first season I have worked closely with Terry. I'll definitely not rule out working with him again in the future and I don't think that he would rule out working with me again in the future, but obviously with the contract he has with On Q and those players, it is not possible for us to work together at the minute.
But we are still very close, Terry is more than a coach to me, we can still talk on the phone but working on the table is just out of the window at the minute.
PSB: When did you first work with him, at 110sport at the very beginning I guess?
MA: Yeah I joined 110 at the start of my second professional season and started working with Terry then, I think it was 2005 or 2006 and we have worked closely ever since. Over the last lot of years we have got very close, I see him as more of a friend now than I do as a coach, obviously he is very good to have on the table too.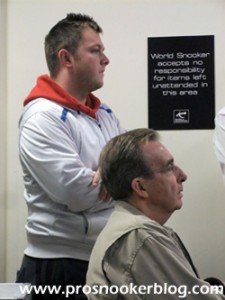 I think the last few years in particular we have been working on more things away the table about how to approach things a bit better, get mentally prepared that way, instead of all of the work on the table. But I think, as he does with all of his players I'm sure, he has given me notes along the way and I have them all on email and I have always kept going over and over them, so even though I am not working with him now, I'll still be able to look at those emails and remember what we did in those sessions. So as much as we are not together, we may as well be together (laughs), because everything that he has taught me is well remembered.
PSB: And just the last thing on the World Championship, did you watch much after you were knocked out? What did you make of Mark Selby ultimately coming out as the winner?
MA: To be honest I was surprised, especially with Ronnie O'Sullivan's record in major finals, he doesn't lose too many and he had never lost a final in Sheffield, so it was surprising. But I think that Selby has just got that little bit of a knack against Ronnie and I don't think that Ronnie particularly likes playing him.
I think he is probably one of the few players that could beat Ronnie over that distance and he proved it from 10-5 behind. I don't think that anyone in their right mind would have backed Selby at that stage, but he showed what he was capable of there and why he is world number one. As the match went on, he did the same against Robertson from what I saw in the semi-finals, the more the match went on the stronger he got. I don't think that Ronnie fell apart, but I don't think he had anything left after he had lost such a big lead and the last few frames were just a matter of Selby holding himself together because I thought that there was only one winner.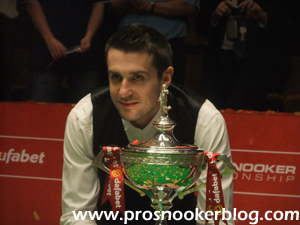 I think for the game it's great because after what happened the year before with Ronnie not playing all season and then coming back and winning, it made a mockery of the rest of us if I am being honest. It was really good to see Selby going on to beat him because you have to treat the game with the respect that it deserves, which is something that I haven't done in the past and it has found me out and it found Ronnie out in that final too.
PSB: You mention players beating Ronnie over that sort of distance, you were able to beat him over the best of 25 back in 2009, how proud of you were that result at the time?
MA: At the time it was probably my biggest win and even now it is still up there as one of my biggest wins. I think it shows that if you play your own game and play well, you are capable of beating anyone and that includes Ronnie.
I think the problem that players have is that there is a big percentage of them who are beaten before they start when they play Ronnie. That could be a mental thing because of the way that he is capable of playing, or it could be mental scars if you have played him a lot of times over the years. But I think for a lot of the younger ones like myself, Judd [Trump], even Selby, Robertson and people like that, they don't quite have those battle scars like a lot of the other ones do like say [John] Higgins or [Mark] Williams. They are not scared of beating Ronnie any more, I think that is really showing.
PSB: So onto this season we have Shanghai and the big events coming up. Have you got any targets, beyond the obvious of winning titles?
MA: If I am being honest I am not much of a target setter, I treat every tournament the same as every other tournament. The only difference in practice is that I change the length of my matches depending on the tournament I am getting ready for. Other than that I do nothing different, I work on the same things, so as much as everyone keeps putting importance on the World Championship, the UK, the Masters and things like that, I don't really do anything different. If I can go out and perform at the highest level that I have, then I am sure that tournament wins will come along. Whether that is in PTCs or major events, only time will tell.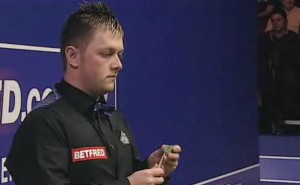 PSB: I know you said after winning in Germany that you don't really know why you keep winning European Tour events. It is surprising really because I have always had you down in my head as a big occasion player, because when you came through you always did well in the Masters, the UK and the World and now you are winning the European Tour events. It's strange!
MA: Yeah it's strange for me because I see myself as a player that is more suited to longer distance, I feel like I can take my time to settle into a match. I honestly can't put my finger on why. Maybe short bursts and performing for a couple of days is maybe the way forward for me (laughs), but as I say, I do nothing different preparing for a PTC, it is purely coincidental.
But it is up to me now to keep bringing those results forward into the main events, something that I haven't really done. Any time that I can get off to a good start in the season it is a bit of a bonus because of how little practice I do over the summer. If I can start the season well, it is a bit of a shock really if anything else and I have done that this year, I have got off to a good start, I am already in the Players Championship Grand Finals and the Champion of Champions. Those are a few things already crossed off of what you have to do at the start of the season and now I just have to go out there and do my best in the big events.
PSB: Just looking back early on in your career, you had such a good junior and amateur career, you won the World Amateur Championship and the European Championship. You always looked good against the top players from early on, obviously you had the Northern Ireland Trophy run when it was an invitational event and you beat Steve Davis and John Higgins, how important was that in giving you the belief that you could mix it with the top players?
MA: It was strange for me because my very first tournament was an invitation live on TV. There are not many newcomers to the tour that get that experience, even though I won against Steve Davis and John Higgins before losing to Stephen Hendry, I think even if I had lost first round, that experience so early on in my career was invaluable. In that first season I qualified for quite a few events and managed to get myself on TV quite a few times and then obviously the following year getting to the Crucible, I had sort of already tasted what it would be like on TV and knew what to expect.
It's probably a big thing for me to say but at the time I didn't think much of the invitation because I was a local player so they sort of had to give me a wildcard because I was local, but I don't quite know where I would be today if I didn't get that experience early on.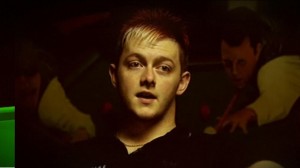 PSB: And you got into the top 16 within just three seasons I think…
MA: Yeah that's right at the end of my third season. It was actually my friend Joe [Swail] losing in Sheffield to give me the spot, it was a bittersweet way to get there but I am glad that it did happen the way it did because If I hadn't got into the top 16, even after only three seasons, it would have been tough to take because I had three very good years and obviously losing 10-9 to Hendry at the Crucible to pretty much guarantee the top 16 place would have been hard to take. I have always dealt with adversity pretty well anyway I think, any downs that I have had in the game or off the table, I have dealt with them pretty well and come back stronger but I'm glad that wasn't one of the ones that I had to bounce back from.
PSB: It sounds stupid because it is not a tournament win, but to people who know snooker, obviously to actually get into the top 16 that quickly from the bottom, that is some achievement…
MA: Yeah, I don't think that there have been many, I don't think that there have been many since that either, it might only be a handful of players that have ever done it. So I am in good company and it is something that I will always look back on and be proud of, but obviously with the changes in the game the top 16 isn't quite as important as it used to be.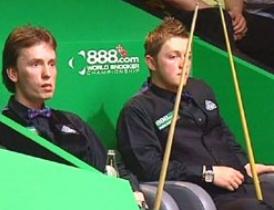 PSB: And when you made your début at the Crucible in 2007, I was at that match and was really impressed with just how comfortable you looked out there, perhaps that went back to that Northern Ireland Trophy approach, but did you feel that confident?
MA: I felt confident, strangely even though Ken Doherty was provisionally ranked number two in the rankings at the time, it was a draw that I didn't mind. I didn't see Doherty as one of the people that would outscore you like a Ronnie or a Higgins would have done at that time. I think it was a good draw because I settled into the match early and I did think that I would get chances and it was just a matter of being patient and I sort of lost my way a bit I remember in the second session, I think I lost the lead from 6-3 to 6-6, but I knew I had plenty still to give and that I was always going to get chances.
It was just a matter of holding out, waiting for those chances and taking them. I had already played earlier in the season against David Gray and Steve Davis at the UK Championship. I beat Gray 9-6 and lost 9-7 to Davis, I think that was the year he got to the final and lost against Ding, but to have the experience against the top players, Gray was in the top 16 at the time, I knew that I had nothing to fear when it came to Ken.
PSB: I remember he made a big break, 130-140 to come back at you and then I think you won the next couple to win the match…
MA: Yeah I think he made a 135 to go 7-7 but I think the last three frames I won pretty comfortably.
PSB: I remember being on the front row for that one…
MA: Some things never change! (laughs)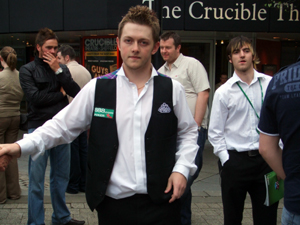 PSB: Yes! Moving on, obviously you have reached the semi-finals of the big three events since then, the final of the UK Championship, how happy are you with what you have achieved in the game so far? Ten years ago would you have expected to have won more by now or not?
MA: I don't really know, it's hard to say because when you first turn professional, obviously you dream of winning tournaments, but you don't really know that you are going to do it until you do it. You come on the tour at whatever I was, 18 or 19, you don't think you are going to be one of the top ten players and competing for all of these titles, until it actually happens it is hard to believe that. You might always have the inner belief but until you do it, it is a different matter.
I still am yet to do it in the major events but I know that because I have won seven tournaments now, unfortunately four of them are PTCs and one more invitation event, so as much as there are only two major ranking titles there, I know that I can do it now on the biggest stage against the best players. Every time I have won an event I have beaten the best players to do it, so I am not getting too down on myself. I would have liked to have won the UK, the Worlds or a Masters, but I know that it is in there and it is just a matter of putting the work in on the practice table and it will definitely come out.
PSB: Do you think that there is anything in particular that you need to work on to take that next step and win a major? Is it mental, is it physical?
MA: To be honest it is probably still mental, I think, without begrudging my luck a little bit too much, I think in the majors, particularly the Masters for some reason, I have had pretty bad luck…
PSB: You have lost to Selby a few times in deciders there!
MA: Yeah I lost to Selby two years in a row 6-5, I lost to Robertson 6-5 and I lost to Marco Fu in the semis 6-4 from 4-1 up. But in those matches, I remember at 5-5 against Selby I had him snookered and he fluked out of a snooker and cleared up to win the match, against Robertson he fluked one out of a snooker and made a hundred to win the match and against Fu I was in the balls at 4-1 up, I was flying at the time, probably the best I have played in any Masters, then I got a kick on the black and didn't see a shot for the rest of the match until I was 5-4 down and 55 behind, so I feel like I have been a bit unfortunate the way that those matches went.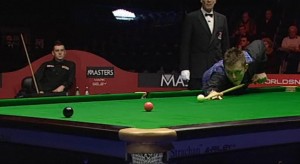 But I know that looking back at the end of your career, people aren't going to remember who fluked what or who did what, they are going to remember who won the tournaments. I just need to keep on putting in the work that I am doing, work a little more on the mental side and just get that little bit of luck when I need to, I don't think that I am that far away from winning one of the big three.
PSB: Do you see an opportunity now in a way because you have your Higgins and Williams' coming up to 40 and… I was looking at it and it surprised me a little bit to see that you are still the third youngest player inside the top 16, so there is an opportunity there I guess?
MA: I do think there is. A few years ago it looked like the top 16 was really going to change but it hasn't really turned out that way and the likes of Higgins and Williams and people like that are still there. It is weird saying it but it shows that the game hasn't really gone forward if I am being honest. The strength in depth I think has got much better, I think now the first round matches against the lower ranked professionals are very tough.
I think if they had brought in the current system a few years back then they might as well have given byes to the top players at that time, but now it's not like that and the players at the bottom of the tour are more than capable of beating anyone. I think the strength in depth has really gone up but I think the standard at the top hasn't progressed as much as the rest of the game has I think. And that's probably myself included.
PSB: I think that most would agree with that really, I don't think that is controversial…
MA: I think if you look at the late 1990's, early 2000's, when you had the likes of Paul Hunter, Mark Williams, John Higgins, Ronnie O'Sullivan, even Hendry at the time was still at the top, forgive me if I am missing any big names, but you had all those players and every single one of them was playing at the top of their game.
You don't quite have that at the minute bar Ding last season, Robertson obviously made a lot of centuries last year and Selby who is very consistent. Bar those three, there's nobody really that stands out in the game who is capable of dominating. You wouldn't have been surprised back in 2000 if any of those players that I mentioned went on and won five or six tournaments in a row. They were that good.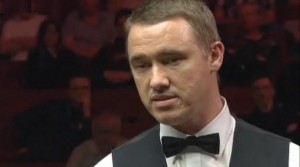 I think Selby, as much as he is world number one and world champion, you would never take any of that away, but I think he has only won three or four ranking events, which is very surprising for someone who has already won the UK, the Masters three times and the World. It's strange saying that.
You look at Robertson, for all his centuries, he did lose out in a few finals last season and Ding, obviously had his best season that he has ever had, but still didn't compete in the big three events, which is strange. So I don't know if there is still something missing. I think that is something that gives the other players in the game, particularly myself, the confidence that a big win is around the corner, because I don't really see that there are that many players that you have to beat.
Check back for part two of my chat with Mark in a couple of days, as I asked him whether his views on the changes to the tour during recent seasons have changed at all following his infamous press conference at the 2011 UK Championship…