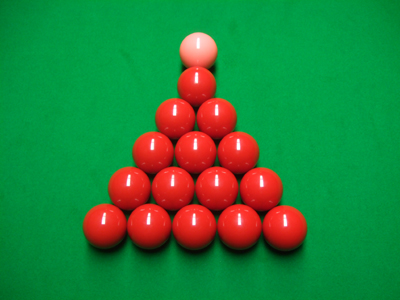 Whilst here at PSB I try to provide you with all of the latest snooker news and information, there are some things that escape even my attention. There are though other invaluable snooker websites on the internet and so as I like to do once a year, below I cast my eye over some of my favourites out there…
It will come as no surprise to regular readers and followers of my Twitter feed that the first site that I have chosen to flag up is the ever-excellent snoookerorg, maintained by Hermund Årdalen and his dedicated helpers.
While its appearance might appear basic, for me there is no better site on which to quickly view all of the latest results, drawsheets, orders of merit and recent head to heads. Indeed it is only thanks to Hermund's excellent work that in recent years I have been able to not produce my own drawsheets here, instead being able to focus more on interviews and analysis.
Traditionally mentioned in the same breath as snookerorg has always been Snooker Scene Blog, but this year saw Dave Hendon bring his blog to an end after eight years and instead launch the new Inside Snooker website, alongside fellow snooker journalist Hector Nunns. Like SSB before it, Inside Snooker offers the inside track that is simply not available anywhere else, alongside some of snooker's more quirky tales in its off-table section.
On the blog front, despite making more retirement threats than Ronnie O'Sullivan before he had heard of Dr Steve Peters, Snookerbacker continues to offer his no holds barred insight on the sport, with betting tips, wildcard bashing and more importantly these days, his highly successful amateur tournament the SB Classic, which is soon due to enter its fourth year.

I would confess to not being a regular reader of many of the other blogs, but one that I do always keep an eye out for is David Caulfield's SnookerHQ, Ireland's number one snooker website. Probably the most well written blog of all, I find that it does tend to offer something different from the other websites, particularly in respect of the Irish scene.
On the statistics front, the CueTracker website continues to grow ever larger and is particularly useful for head to head records, including a stated 89.464 matches from 977 tournaments. In terms of centuries, that information is now available here at PSB, courtesy of the man behind the Snookerinfo website which offers even greater detail.
For those of you who like to share your opinions by way of snooker forums, the two obvious ones are Snooker Island and The Snooker Forum, the former in particular offering extended interviews and in-depth analysis by site owner Roland.
While all of the above sites (and this one) are independent, we should not to forget the official World Snooker site which despite its dodgy (broken) search function, continues to offer ever-improved content and match reports, as well as live scores and information on ticket availability.
Interestingly however, one aspect of snooker's online presence which continues to surprise me is the lack of personal websites for snooker's leading professionals.
Indeed, as was the case when I last considered this topic a couple of years ago, the sites of Mark Selby, Shaun Murphy, Ronnie O'Sullivan (recently relaunched) and Neil Robertson continue to be amongst the best. Further down the rankings, talented youngster Scott Donaldson is a regular blogger on his latest results, while Joe Swail's site keeps readers updated with news from a website not far from here…

As has been the case for the past few years, the primary place for player interaction has instead become Twitter, with the likes of snooker legend turned food critic Stephen Hendry and Dominic Dale among the most interesting recent additions. You can view my list of snooker tweeters here, although this is in need of an update.
As ever, no doubt there will be a few sites that I have missed out (sorry), but if you stick to those mentioned above and hopefully this one as well, you will not go too far wrong. If that still isn't enough, click here to view my full links page, including some of the various international websites…