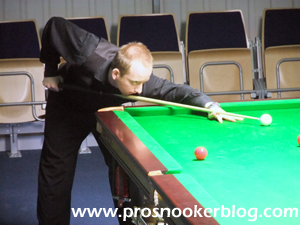 One of last season's most impressive performers of those to have started the season on zero ranking points, Irish number three David Morris has struggled for victories in the early weeks of the season and it has today emerged that he is currently suffering from the after-effects of a back injury sustained whilst at the gym.
The quotes from David and story in full can be found here at Ireland's SnookerHQ website, but clearly this is not a trivial issue for him and one that is likely to impact upon his schedule of events over the coming weeks and months. In that regard, the postponement of the Indian Open, originally scheduled for October, has proven to be a bonus for him and with little snooker now until the venue stages of the International Championship in late October, he has the opportunity to rest up and prepare for Chengdu..
Up into the top 64 on the latest projected seedings list and with no points to defend during the remainder of this season, David has a real opportunity not only to consolidate his place on the tour with a good 2014/15, but to top his previous career high ranking of 55 and hopefully therefore we will see him back in action as soon as possible.