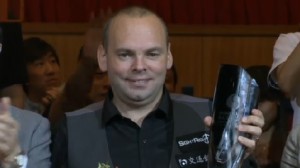 Congratulations to Stuart Bingham, who yesterday defeated 19-year-old Oliver Lines to win the AT2 title in Haining, China.
His fourth Asian Tour title since the series was established in 2012, the victory earns Stuart the top prize of £10,000 and ensures that he will qualify for the Players Championship Grand Finals later in the season…
Click here to view all of the results from AT2
Click here to view the latest projected seedings list
Click here to view the latest Asian Tour Order of Merit
Having previously won three Asian Tour events and also coming into the event on the back of victory at last month's Shanghai Masters, it was no great surprise to see Stuart Bingham make it through to the final of this week's AT2 event, but few would have expected him to meet young Oliver Lines in the final.
As it happened, the final was (on paper at least), to prove one-sided, as Stuart ran out a 4-0 winner, although in reality it was in fact far closer as the first two frames in particular were won on the colours.
It goes without saying and it is probably not necessary to repeat it again, but Stuart is renowned as being a player who is always prepared to travel and approach every event, be it Crucible or cubicle, with the same professional attitude and he is now reaping the rewards. The victory moves Bingham up one place above Marco Fu to eighth on the latest projected seedings list and more importantly, up to second on the Asian Order of Merit, securing him a place in the Players Championship Grand Finals next year.
As for Lines, it has been some month for the youngster, ever since he came back from 4-0 down to defeat Mark Selby 6-4 and qualify for the venue stages of the International Championship in Chengdu. Having now followed up that victory with wins against the likes of Ryan Day, Jimmy Robertson, Mark Williams and Jack Lisowski in subsequent events, he has now made it through to his first professional final, just five months into his rookie season on tour and deserves enormous credit for having done so.
Up to 78th on the latest projected seedings list, behind only Sam Baird of those players to have started the season on zero, hopefully Oliver can continue to win matches during the course of the season and build himself a solid platform upon which to secure a top 64 place at the end of his two-year tour card next season.
In other news, another positive from what was from memory one of the best Asian Tour events so far, with several professionals having entered the event, was the reportedly impressive playing conditions. Stuart was complimentary of the event following his victory, while Mark King added the following on Twitter:
Gotta say APTC2 was by far the best venue and conditions I have played in China for a long time,looking forward to going back there again.

— mark king (@markking147) October 25, 2014
There was also the season's second 147 break as compiled by Ryan Day, the first ever at an Asian Tour event, while players such as Matt Selt, Jimmy Robertson, Tian Pengfei, Ross Muir and Jimmy White also enjoyed strong performances, White continuing his improved form after a good run at ET3.
Stuart's victory also helps John Higgins and Ali Carter in the race for a place at the Champion of Champions event next month, Higgins now secure of his place in Coventry, while Carter must hope that a player not already qualified for the Champions event is not successful at the International Champion in Chengdu, which gets underway tomorrow…