During the past couple of years I have often seen it said that 'there are no upsets any more' in the professional game, in particular by professional players on Twitter and on the face of it, my reaction has generally been one of 'well of course there are' or words to that effect.
Increasingly however, particularly during the first half of this season so far, I have wondered just how true that is given the ever-increasing depth in the game and some of the results recorded by amateur players of late…
A couple of years ago during a PTC event in Europe, there was a match broadcast on Eurosport between Joe Perry and Martin Gould, at a time when it was Gould ranked up inside the top 16 and looking to be in the form of his life, while Perry was struggling by his standards and ranked outside of the top bracket.
Prior to the match, I tweeted something to the effect of 'can Perry cause an upset' which on the face of it, I thought was a reasonable thing to say bearing in mind the respective rankings and the form of the players at the time. One man who didn't agree though was Michael Holt, who wasted little time in telling me and with hindsight, he was quite right to do so, as Joe went on to win the match.
Looking back 10, 15 years, in those days it would have probably been a shock to see a top four player lose even to players ranked low down in the top 16. Of course that was in some part due to the fact that the top four at that period were arguably the best ever in snooker's history, but nevertheless it is commonly accepted that the standard and the depth further down the rankings was not of the same level.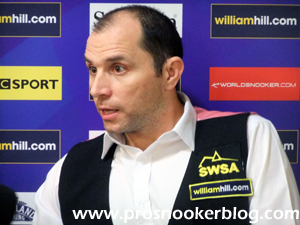 These days however, I see results such as Robert Milkins' win against Shaun Murphy, Li Hang's win against John Higgins and Joe Swail's win against Neil Robertson in the International Championship and am not really surprised in the slightest any more.
Take Robertson, who on paper as the third seed 'crashed out' to the 68th seed, on the face of it a big shock given Neil's status in the game and the difference in ranking between the two players. But although now 45 years of age, Joe Swail remains a fine player, twice a World Championship semi-finalist and in truth, while Robertson was a justified favourite for the match, at the same time I would not describe Joe winning a match against him as a shock.
Even Li Hang, who would not have been fancied by many against even an out of form John Higgins, but is a promising young player with a few years experience on the tour and of playing in venues in China. While I did not expect him to win 6-1, I certainly would not have bet against him winning that match.
Of course there are some results that are perhaps even more surprising, take Ding Junhui's losses to Oliver Brown and Wang Zepeng in qualifying for major ranking events this season, or what about world champion Mark Selby's defeat to 93rd seed and tour rookie Oliver Lines in qualifying for Chengdu? Even then though, those of us who have seen Oliver up close know how good a prospect he is and what he is capable of, so should we be surprised when he produces a display like that?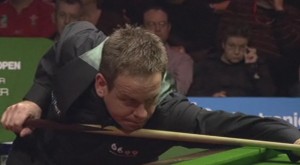 When I first started this blog, I used to find it fairly easy to make predictions for tournaments. Whether I would be right or wrong, I usually felt like there was an obvious favourite for matches, or matches where I expected one player to win. These days however, I find so many matches to be a coin toss, a case of who plays well on the day, or perhaps a matter of unknown factors such as their respective preparations.
Take the Champion of Champions, where so far I am 0 for 3 on predicted semi-finalists, yet am not surprised in the slightest to see Ding Junhui, Judd Trump or Ronnie O'Sullivan safely through to the weekend. All of the players involved in Coventry have a strong pedigree and have all enjoyed strong runs at one point or another during the past season, so it is particularly hard to separate them. Hawkins v Ding, Selby v Trump…all matches easy to see going either way.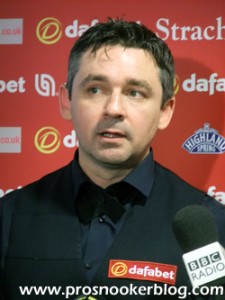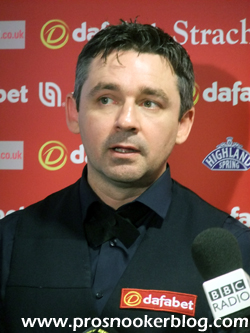 There were results at the World Championship back in May described as upsets, for example the wins for Ken Doherty and Alan McManus against Stuart Bingham and John Higgins respectively, but given the records of these players and the class that they will always have, are they really all that surprising? Looking back at Chengu, Robert Milkins' victory against Shaun Murphy was in no way a shock given how Milkins can play, but on paper given their respective rankings and records, could have been described that way by someone not so familiar with the sport.
Clearly in 2014, more and more players are capable of beating other players on their day and yes, while I do think that there are still genuine upsets in snooker, compared to the past, there are now very few results that genuinely shock me on the main tour.
Which results have shocked you the most during the past couple of years?