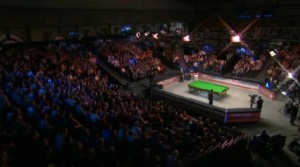 Following Ricky Walden's victory at the International Championship last week, there are now just two more events to run before one of the most important ranking revisions of the season, as the field for the 2015 Masters is set.
While the situation is now more open than in previous seasons due to the introduction of a prize money based ranking list, it nevertheless remains a race worth looking at and in reality can still be narrowed down to a few key contenders…
As ever, in 2015 there will be 16 players involved at the Masters in London, with Ali Carter guaranteed to be among them following his seeding freeze as announced in October. To avoid confusion, this is reflected on my latest projected seedings list, so it will be the top 16 on that page following the UK Championship event who will qualify.
With over £170,000 available to someone who can win both the ET4 and UK Championship events and 16th placed Robert Milkins currently sitting on a total of £174,891, in theory almost anyone on the tour can still make it. This is a world away from under the old points based list,  which would have generally ruled out anyone outside the top 20 or so by this stage.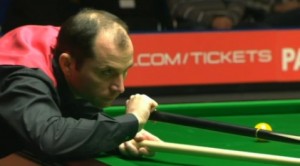 Looking good – Joe Perry
So what conclusions can we draw?
Although the winner of the UK Championship will pocket a whopping £150,000, the drop to the losing semi-finalists is steep, with 'just' £30,000 on offer to those falling on the tournament's penultimate day. That being the case then, barring a shock run to the title from somebody lower down the order, we can realistically narrow down the race to some degree.
Who can we say is safe? Aside from 13th placed Ali Carter, the top 11 down to 2011 UK Championship winner Judd Trump can probably book their London hotels for January, with a significant gap between Judd and even the next man, 12th placed Joe Perry.
Looking at Joe, although he is somewhat closer to 17th placed Mark Williams than those above him, with a lead of £46,307 and a bye through to the second round  in York already following the withdrawal of Liu Chuang, it is hard to see him being caught barring a number of results going against him during the next two events.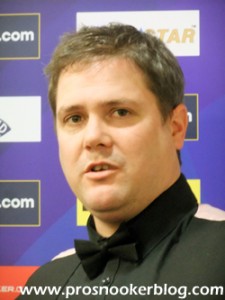 Holding on – Robert Milkins
Moving past Carter, we have Scottish duo John Higgins and Stephen Maguire, who occupying 14th and 15th places remain well placed, but would no doubt like to win a few matches in order to put some distance between themselves and the chasing pack. Scenarios which could see them drop out might include early exits both in Germany and York, combined with deep runs from the likes of International Championship semi-finalists Williams and Robert Milkins in York, or perhaps a European Tour victory in Germany leading up to a last eight run at the UK.
It is Milkins in 16th place who despite that last four run in Chengdu, leads Mark Williams by £9,210, with Graeme Dott only a further £854 behind heading into the next two events. A gap that could be overturned by a couple of wins in both York and Germany, or even one win depending on how deep they both go in the UK Championship especially, in the first instance it will be very interesting to keep an eye on these three players, who are effectively in a three-way tussle for the final Masters spot.
Back in contention – Mark Williams
Beyond those three, Xiao Guodong is a further £15,277 back, before you come to a whole host of players led by the resurgence Alan McManus, who could yet bring themselves into contention with a run to the final in York.
A further update will follow the ET4 event in Germany, when hopefully it will be a little easier to present some more definitive scenarios of who will have to win what to break into that all-important top 16…