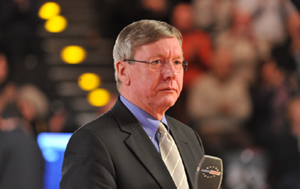 When thinking of snooker in Germany, it is impossible to do so without thinking of Eurosport commentator and tournament MC Rolf Kalb, who over the past 30 years has done more than probably anybody else to help promote the game in the country.
Ahead of the Ruhr Open, this season's second professional event to be staged in Germany, I caught up with Rolf to learn a little more about him and how snooker's popularity has grown in recent years…
PSB: Hi Rolf, how did you first come across snooker and what were your initial impressions of the sport?
Rolf Kalb: Initially I got in touch with cue sports as a young journalist, when I was reporting also about a local club for the local newspaper where I was working at that time. In 1983 then I became the media officer of the German Cue Sports Federation(while still studying at university), and in that capacity of course I also learned about a game called snooker. I was fascinated from the first moment, and quite quickly it became a love affair.
PSB: How popular was snooker in Germany during the 1980's and 1990's, prior to the increased involvement of Eurosport? I recall John Parrott winning the German Open in 1997.
RK: In the 80s snooker was hardly known in Germany. As this was the time where there wasn't something like the internet it was very difficult to get any information. For example I had to buy English newspapers to get some results with two days delay and ask somebody in the UK to send me VHS tapes to be able to see some matches.
Eurosport then started in 1989 and also covered snooker from the beginning, although not in the intensity like now. That lead to a first little boom in Germany, but still it only was a small thing. The ranking events staged in Germany in the nineties came too early, especially as they were staged without any local and/or regional promotion. There were enthusiastic snooker fans, but it still was a quite small group.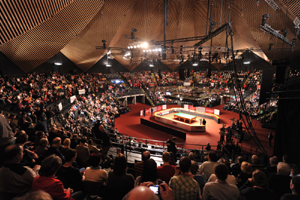 The Tempodrom
PSB: How did you come to be involved with Eurosport?
RK: When the German service on Eurosport was introduced in 1989 the head of German commentary service at that time knew me and asked me to join the team (I commentated my first program on Eurosport on November 11th 1989, so just 25 years ago, but it was not snooker). It was a do or die situation at that time: You did a program and the boss listened to you. When you were good you became a member of the team, if not it was a one-off and you were out.
PSB: How quickly did you notice the growth of snooker in Germany following Eurosport's coverage?
RK: The viewing figures for Eurosport Germany and the reactions I received proved immediately that a lot of German fans were fascinated by snooker. So it would have been hard not to notice what was going on. And as I am also in touch with the German amateur scene I also realised that the clubs were enjoying an increased interest.
PSB: I have seen footage of various exhibitions from Germany around 2006-2009 and by 2011 a ranking event in Germany was clearly long overdue – how much of a relief (if that is the word), was it when that event was confirmed?
RK: To have a full ranking event in Germany was a logical step. First the fans only could watch their heroes on TV. Then they were happy to see them at exhibitions. But everybody knows that an exhibition is fun and entertainment. So it was logical that more and more people wanted to enjoy the "real sport" and really competitive events.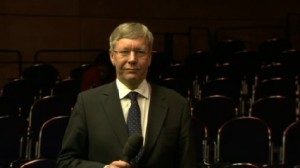 Rolf ready for action
PSB: Has the success and popularity of the professional events staged since 2010 surprised you at all?
RK: No – not in principle. It might have exceeded my expectations sometimes, but I was sure that the fans would love it.
PSB: You are obviously recognisable to fans not just in Germany, but across Europe now as the face of German snooker, acting as MC at events and also commentating, but what other roles and responsibilities do you have in the game that perhaps we don't know about?
RK: With my commentary work and the coverage on the German Eurosport website I'm already quite busy. Above that I'm also commentating other sports for Eurosport (i.e. rowing). So there is not a lot of time left. Therefore there is no room for any further responsibilities in the game, but whenever possible I'm always happy to help, i.e. creating public interest for new clubs and stuff like that.
PSB: Although the crowds in Germany are terrific, the only problematic area has appeared to be in terms of attracting sponsors, why is this and do you think this will improve?
RK: I think this is not only a German problem. In nearly all other countries but China it seems to be difficult to find sponsors for snooker, even in the UK. On top those responsible for the sponsoring budgets in big German companies don't have enough knowledge of the game and no experience in snooker sponsoring, so that they prefer to stay on the safe side. This is an area where surely still a lot of information work has to be done.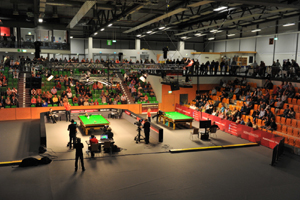 The Ruhr Open
PSB: Who are your heroes in snooker?

RK: I love the variety of personalities and plying styles. Therefore I cannot pick a player as a kind of hero. As I wrote before in the early days I arranged to get VHS tapes with snooker coverage from the UK. Surely some of the commentators had an influence on my commentary style for snooker, namely Ted Lowe and Clive Everton. But of course I didn't try to copy them but to learn from them (sorry … didn't pay them a fee for that).
PSB: This week snooker returns to Germany for the Ruhr Open, tell us a little about the venue and the success of the tournament in 2013
RK: The big advantage of the venue for the Ruhr Open is that it allows all fans to have a great overview over all the action. The Ruhr area also is a kind of hot bed for German cue sports. So there are a lot of clubs and players (not only snooker, but also other cue sports). Therefore the experience at last year's first edition was very encouraging.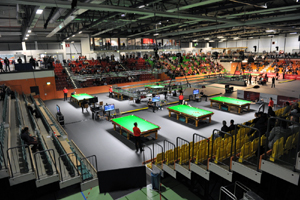 Snooker Returns to the Ruhr this weekend
PSB: Next year snooker will return to the Tempodrom for the German Masters, how do you think the tournament was in 2013 with the increased amount of tables, is it correct that only 32 players will be at the venue in 2015 and is this a good change?
RK: With the increased number of tables and matches the 2014 German Masters was too much for the players and too much for the fans. I can understand the philosophy behind that, but as it is not possible to extend the duration of five days I'm sure it has to be reduced again. Otherwise there would be the danger that the German Masters don't feel like a full ranking event anymore but like a kind of an European Tour event, which would be a shame.
PSB: Having now earned an established ranking event and its place as host to multiple European Tour events, what is the next step for snooker's growth in Germany – could there be a European Masters style event, over a longer format similar to the International Championship in Asia?
RK: With regard to more events in Germany I would advise not to push the fans too much. It costs time and money to attend snooker events, and both of that is limited for the fans. It is more important to have great events with a great atmosphere than to have a bigger number of events.
But basically this is an economic question. It is now also important to develop a steady growth on the playing side, but this is a work which mainly has to be done by the clubs. I think with the development we can see now we can be quite happy.
Success Story – The German Masters
PSB: It remains very difficult for players based outside of the UK to reach the very highest level in the game, what do you think needs to be done to help increase participation in Germany and ultimately German players to come through and reach the main tour? Is this realistic?
RK: Of course the German amateur snooker scene doesn't have the infrastructure and intensity like the one in the UK for example. That makes it hard to get a player through. We all have seen how difficult it is to establish yourself on the professional tour. A talented German player surely has to go to the UK to gain more experience. To be the big fish in the small pond is not enough. But that needs money.
On the other hand this player also needs a future if his dreams of a professional snooker career don't become true. That also is a point which needs to be worked on. I'm just working to put something together in that area. I keep my fingers crossed.
PSB: You must have a number of special memories from the years, do you have a favourite?
RK: I have the privilege to have a lot of great memories; to pick one as a favourite somehow would be unfair.
But of course there were also sad moments. I will never forget the special program we did after Paul Hunter sadly passed; that was the hardest program I ever had to do, and I hope I will never have to do such a program again.
Many thanks to Rolf for his time and also Monique Limbos for supplying the photographs.
Eurosport's coverage of the Kreativ Dental Ruhr Open gets underway on Friday as Mark Allen looks to successfully defend the title that he won 12 months ago.