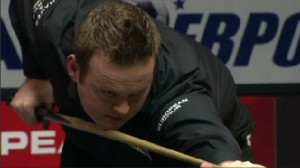 Following two near misses earlier in the day, Shaun Murphy has this evening made a magical maximum break during the final of the ET4 event against Robert Milkins in Germany.
During his first match of the day he was to break down on the final blue, before later leaving the green in the jaws of the corner pocket against Mark Williams in their quarter-final clash.
It looked as though it could be another near miss for Shaun during the second frame of this evening's final as he could not finish nicely on the final red, but following a tremendous pot on the final black from close to the jaws of the left-centre pocket, he was to make no mistake and go on to clear the table.
Not only was his maximum the fourth of his career, but it was also his third of 2014, which from a cursory scan of my 147s page here makes Shaun the first player ever to have hit three maximums in a calendar year.
The break was officiated by local referee Thorsten Mueller, the second career 147 that he has presided over.
Click here to view the updated 147s list.