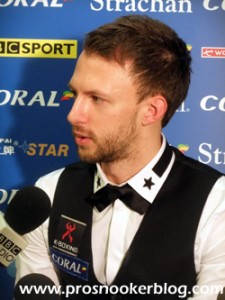 A month after their classic final at the Champion of Champions event last month, Ronnie O'Sullivan and Judd Trump will meet again tomorrow in the final of the UK Championship in York.
Having seen O'Sullivan come back from 4-1 down to defeat Stuart Bingham earlier in the day, Judd Trump this evening survived a similar comeback attempt from Stephen Maguire to come through a 6-4 winner and book his place in his second UK Championship final.
Judging by the reaction that I have seen on social media, it is the final that I think a lot of neutral observers wanted to see as the tournament reached its latter stages and if the standard is half as good as it was during their recent Coventry clash, it will be one worth tuning in for.
From O'Sullivan's point of view it has been an up and down week, from the early frustration with his foot injury, to his complaints about the conditions, to his magical 147 break and hard fought victories during his last couple of matches.
He has not been quite on the level that he was at at the champion of Champions last month, something that he has readily acknowledged during post-match interviews, but he has nevertheless made it through to a fifth UK final and as Trump said after his victory against Maguire, is sure to raise his game tomorrow, as he so often does.
For Trump though it is another chance to have a crack at O'Sullivan and as has been a common theme during the past couple of months when I have heard him speak, Judd has spoken confidently and seems to genuinely relish meetings with the four-time UK champion, particularly in finals such as tomorrow. He spoke earlier in the week of snooker needing a new rival such as himself against Ronnie to take the game to a new level and he now has the final that he perhaps wanted.
Will he be able to back up the talk with a winning performance against Ronnie? Of the two I think that Judd has been playing the best snooker so far this week, but I have seen enough snooker down the years that often that can count for very little when it comes to the showpiece match, particularly when O'Sullivan is involved.
Either way, it should be exciting.