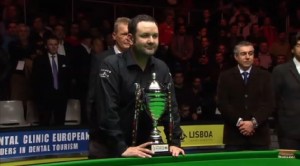 Stephen Maguire came close to glory in York last week as he reached the semi-finals of the UK Championship, but today has managed to go all the way in Lisbon by defeating Matt Selt to capture the fifth event of this season's European Tour.
Click below for more…
Scotland's Stephen Maguire came into this evening's Lisbon Open final as favourite, but for much of the first two frames he struggled to find his range, as first time finalist Matt Selt looked to seize the early initiative in his quest for a first professional title this evening.
1-0 up and looking to double his lead following a scrappy second frame however, perhaps the turning point came for Matt when having potted the black from the final red, he failed to come up the table far enough for the yellow and left himself snookered behind the blue. Although he was able to escape from that self-inflicted position, he would ultimately go on to lose the frame and with it, the chance to apply some serious pressure to a misfiring Maguire.
Although the match remained close, a century break from Maguire, followed by an excellent pot on the final red in frame five and a decisive clearance in the sixth, meant that it was to be a third career European Tour success for the world number 12, rather than a maiden success for Selt.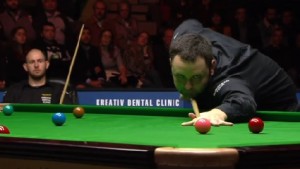 For Maguire it caps another good week for him after a strong run to the semi-finals of the recent UK Championship and marks a welcome return to form after a tricky year overall.
From what I know of Stephen and having spoken to him after one of his previous PTC victories in Gloucester, I don't think that he will get too carried away about the victory itself, but he will be happy with the way that he is playing at the moment.
Earning £20,833 towards the money list, the victory is also significant in respect of his position in the rankings, with him defending a large amount of points between now and the World Championship and needing victories if he is to avoid needing to qualify for the Crucible next spring.
While his position remains touch and go, the £50,000 or so that he has won during the past two weeks have put him right back into contention to avoid what will for him be the unthinkable of having to win three matches to qualify for snooker's biggest tournament.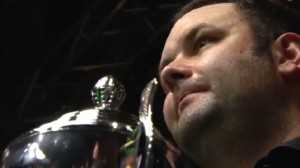 For Selt though, he was clearly disappointed this evening not to have brought the form that got him to the final in the first place, but nevertheless it has been a positive week for him as he looks to break new ground in the sport and claim his first professional title. Having applied himself to a greater extent over the past six months and got to two other European/Asian Tour event semi-finals in 2014, prior to his final run this weekend, there are clear signs of progress now and if he can take this momentum into 2015, will soon be knocking on the door for a place in the world's top 32 for the first time.
The final aside, it is fair to say that the Lisbon Open has been another real success on snooker's European Tour, with terrific crowds turning out for all of the tournament. Such a tournament in Portugal would have been unthinkable just a few years ago, but now it is hard to imagine that snooker will not return to the country for years to come.
Perhaps the main talking point of the weekend was that of the polish that was trialled at the event, in an attempt to reduce the amount of kicks and bad bounces in the game and it was fair to say that the experiment met with a mixed reaction from those who commented on Twitter. Notwithstanding that however, there were still a string of big breaks compiled by the players in action, highlighted by Ben Woollaston's maximum break on Friday. More on that in a future article.
Next up, and indeed the final professional action of 2014 comes from Wigan this week, as the German Masters and World Seniors qualifiers are played out back in the UK…