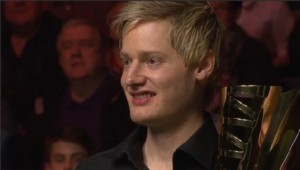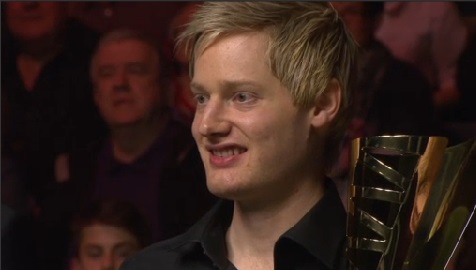 He arrived late for his first match before sneaking through on the colours yesterday, but Neil Robertson ended the Gdynia Open in imperious form, six centuries over the course of the tournament helping him to his third European Tour title in Poland…
It seems strange to say that Neil Robertson began yesterday, as it would turn out, needing to win his opening match against Adam Duffy to qualify for the Players Championship Grand Finals, but win it he did and today he would go on to defeat Oliver Lines, Judd Trump, Shaun Murphy and finally Mark Williams to walk away with the trophy in Gdynia.
Perhaps his biggest scare, Duffy aside, came from young Lines, as the Leeds rookie recovered from 2-0 down to lead 3-2 in their last 16 match, before Robertson came back to win a couple of tense frames.
It perhaps could have been different in the final had Williams been able to capitalise upon a missed frame ball black from Robertson with a clearance, but from there the Australian was generally untroubled and with a stunning clearance in frame three in particular, eased to his first title since the Wuxi Classic at the start of the season.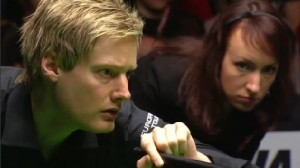 With wins against the likes of Trump, Murphy and Williams from the quarter-finals onwards, few can argue that Neil wasn't a worthy winner and his scoring in particular was of an extremely high standard. One thing that I did pick up on with Neil that I have perhaps not noticed before was how accurate he was when cueing from close to the cushion, a number of pressure blacks with the cueball close to the rail that John Parrott would have been proud of sticking in my mind from the matches I saw.
All in all though, a good couple of days work for the Australian, who moves up to number two in the world rankings and interestingly, ahead of Ding Junhui to third in the latest race to the Crucible, changing which half of the World Championship draw he would be seeded in, if he were to remain in his current position.
As for Mark, another good weekend for him which sees him move up above Stephen Maguire in the race to secure his place at the Crucible and most importantly, a little further away from nearest chaser from outside of the top 15, Robert Milkins. As Mark was at pains to point out after the match, although he is well placed at the moment, a long run from Robert Milkinsat one of the upcoming tournaments this month and it could all change very quickly. Still, he would have taken the current gap a fortnight ago before his run to the semi-finals in Cardiff I am sure.
Of course, those of you following me on Twitter and here at PSB this week will be aware of what a hectic week it was in respect of the various battles in the rankings, with tour places, Grand Finals places and spots in the Grand Prix going down to the wire in Poland.
As stressful as I know it must have been for some of the players involved, for the neutrals following from the outside, the battles acted as an increasingly interesting sub-plot to follow and I must thank everyone who both checked here on the blog and messaged me on Twitter about the battles. You can read about how the results affected players by reading my blogs at WPBSA.com, or looking back over my live article from the weekend.
Next up, the World Seniors Championship on SkySports, which gets underway tomorrow afternoon…